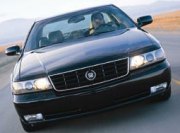 Forget the old story telling you that Cadillac once being the "world standard", that's a half century ago. The "world standard" has been ignored by the world for so many years so that I saw just a few times on the street. However, the most recent one I saw was the latest Seville, which is still rarer than Lamborghini here. I couldn't help falling in love with its unique styling - admittedly, I always prefer angular-shaped cars. I believe not just myself, not just American, but many other people also appreciate Seville's exterior design. In fact, this generation's Seville, despite of 90% changed in mechanical aspect, preserves the styling of last generation with little revision in details. And you might not know, the last generation was praised by styling master Giorgetto Giugiaro !

Good styling can also be found in the cabin, although fit and finish is not world class. The dashboard and console are nicely shaped and covered with light color leather and wood. It's a unique place to be in. Fluorescent back-lit dials and touch-screen TV / Sat. navigation add sophisticated appeal. Comfort is another strength for Cadillac, not only the cabin is larger than its direct rivals - BMW 5-series and Mercedes E430 etc., but there are a lot of expensive equipment fitted as standard, such as excellent Bose stereo system and adaptive front seats. What's "adaptive seat" ? it employs 10 airbags, by inflating and deflating, to fit the passenger's shape. Cool.

The powerful V8 engine has a beautiful name - Northstar - as well as a beautiful appearance. It was carried over from the previous Seville, yet it is still the most sophisticated American V8 today. All-aluminium structure, dohc per bank and 32 valves in total enable a remarkable 300 hp for the sportier STS model. That's more than BMW's 286 hp and Mercedes' 275 hp, or level with Audi A6 V8. Admittedly, the Cadillac has at least 200c.c. in excess of its rivals, but it is an older design and without the application of variable valve timing (when will GM develop that ?). A warmer SLS model has the engine detuned to 275 hp but it boosts 5 more pound-foot of torque over STS's 295 lbft. Both V8s feel as punchy as they are and deliver a sporty noise. They are not only better than Ford's dohc V8 but also gain respect from European. Fuel economy, on the other hand, worth no praise.

Performance is never short of - 60 mph should be reached in 7 seconds, although top speed cannot reach the European standard of 155 mph due to so-so aerodynamics. No problem to the American. In contrast, the real problem is that the Seville is the most powerful front-wheel-drive car in the world. Also, there's a lot of weight over the front axle. As a result, understeer dominates the overall driving character, follows by torque steer once the throttle pedal is pressed hard. Looking around, you'll find all its foreign competitors - 540i, E430, A6 V8, GS400, LS400 - all are driven by the rear wheels.

Straight line driving is fine, but attacking bends is another matter. Despite of the stability control named StabiliTrak, the Seville cannot overcome the basic physics to tame the understeer and torque steer. The kerb weight of 1857 kg and the width of 1905 mm handicap cornering agility. Steering feel is remote because of the front-wheel-drive rather than the Magnasteer electromagnetic power steering.

As seen, handling is by no means meeting world standard. What about ride comfort ? Firstly, you must know Seville is derived from General Motor's G-platform, with a satisfying chassis rigidity and hydroformed suspension subframes front and rear. Then, Cadillac converted the conventional semi-trailing arm rear suspensions to a multi-link design with forged aluminum control arms. Furthermore, Delphi's CVRSS (Continuously Variable Road Sensing Suspension) quick-acting adaptive suspension has been equipped to provide the most suitable damping rate according to road conditions and driving style. The latest iteration also added anti-roll ability. With all these ingredients, disappointingly, the Seville still rides not as supple and quiet as 5-Series or GS400. More work has to be done in tuning.

The automatic transmission is another weak link. Although it has a clever shifting program, it doesn't have a manual mode like ALL its foreign competitors. Moreover, it is limited to 4-speed only.

Overall speaking, the Seville is good to look at and to sit, but it is not a driver's car we hope for. Admittedly, it employs a lot of electronic technology from Delphi - adaptive suspension, stability control, adaptive seating, Magnesteer - but a summation of advanced components does not necessarily turn out to be a good car. A new rear-wheel-drive platform is desperately needed for General Motors.