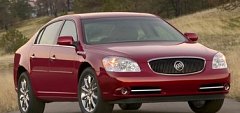 Everything seems new at Buick. Recently, the long serving nameplate Century and Regal have been replaced with LaCrosse. Now LaSabre and Park Avenue are being replaced with Lucerne. Reduce nameplates, reduce product overlapping and reduce internal competition are the new strategy of GM. To restore competitiveness against the Japanese, rationalization is the only way.

Buick used to be troubled by one problem - its customers are 60 years old in average. If the trend continue, in 10 years time it will lose all customers and sink like Oldsmobile. To attract younger customers, Lucerne draws on a sporty design. Its windscreen and rear window are angled to 60 and 70 degrees respectively, in addition to very long overhangs, delivering a sleek and sporty profile. However, the overall design is not as striking as the late Oldsmobile Aurora. Besides, its organic headlamps and grille look rather tasteless.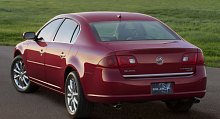 The Lucerne is very, very big. Measuring 5.2 meters long and has a 2934mm wheelbase, it is a modern dinosaur. Depending on engines and options, the car weighs between 1707 kg and 1820 kg, so it won't please environmentalists. It offers both 5 and 6 seats configuration. Each passenger should enjoy plenty of space, although the same can be said to Toyota Avalon. GM openly said this Toyota is the benchmark and the key enemy of Lucerne. Ironically, once upon a time Avalon was seen as an alternative to the dominating Buick....


Despite of the new look, don't ever think Lucerne is an all-new car. Because of the lack of fund, GM could not afford a new front-drive full-size platform. Instead, it updated the long-serving G-platform which was also the base of the outgoing Park Avenue and LaSabre. In its hey days, the G-platform served 6 cars in total. Today, only Lucerne and Cadillac DTS continue relying on it. The G-platform employs MacPherson strut and semi-trailing arm suspensions in an old fashion way. That's not a good starting point to build a modern car.

However, you must admire GM's persistence in old things. The small-block V8 of Corvette is one example, Lucerne's G-platform is another. Compare with Avalon, the Lucerne does not feel any inferior. It rides at least as good, handles a touch better, and noticeably better if the optional Magnetic Ride Control adaptive suspension is chosen. Its chassis feels strong and NVH engineering is excellent. The cabin is admirably quiet, even more so than the Toyota.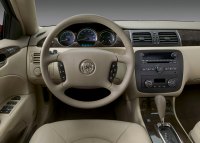 The design of the cabin is rather dull, but GM is proud with its vastly upgraded materials and build quality. Unquestionably, it is very good by GM's standard, but also unquestionably, it is not good enough to compare with the Lexus-like Avalon. That's why GM complements with generous equipment: 9-speaker audio, heated/cooled seats, remote engine start, rain sensing wipers and DVD navigation. But then Toyota is also pretty generous in this area.

Another ancient thing in the Buick is the 197hp 3.8-litre iron-block push-rod V6. I can't remember how many times I described it in AutoZine over the years. Frankly speaking, facing more and more new generation V6s from competitors (now even including Hyundai !), the Series III V6 is no longer competitive. It is reasonably refined, but today "reasonably" is no longer enough in this class. It is reasonably torquey, but it produces 83 horsepower less than Avalon ! this make us wondering why we have to pay the same money as Avalon for a rather slow performance (0-60 in 9 seconds), higher fuel consumption and less refinement.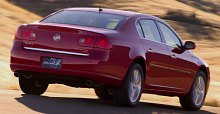 The engines Lucerne offers are very polarized. If the push-rod V6 is the South pole, then the North pole must be the all-alloy 4.6-litre 32-valve Northstar V8, which is shared with Cadillac DTS. It pumps out 275 horsepower and should take the car from 0 to 60 mph in a more competitive 7.6 seconds. That's still some way behind Avalon and Hyundai Azera though, blame to the heavy weight and the use of 4-speed automatic.

Performance-wise, Lucerne cannot keep up with most rivals. Otherwise, it is still a competitive but unremarkable package. Can it save Buick from falling? sadly, I don't think so. To lure customers back from the Japanese (and now Korean as well), Buick needs a really remarkable car. Unfortunately, both LaCrosse and Lucerne are not such cars.