Pontiac Bonneville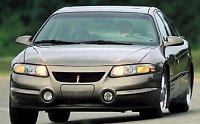 When General Motor's G-platform appeared in the Aurora in 1994, it was quite lack of chassis rigidity. Time changed that gradually. Today, the latest application of the platform, Buick LeSabre and this new Pontiac Bonneville, incorporates stronger cross braces under the floorpan, stiffer side frames integrated with the rear end and at last a hydroformed engine cradle. Of course, stronger body should translate to better handling, ride and noise suppression. That latter is also helped by front and rear sub-frame.

The new Bonneville looks lightyears handsomer than its predecessor. Although the aggressive nose and tail treatment won't please everybody, its long, coupe-like profile create an image of sportiness, very suitable to the Pontiac brand. You might expect higher build quality for such a large car, but remember cars in this size is very common in America. Don't believe ? look at the price tag. It is just a little bit more expensive than the Acura 3.2TL and is cheaper than BMW 328i. A great bargain, considering the amount of metal you get from it.

American call it full-size sedan instead of luxurious sedan. Yes, it is really big, just like any G-platform car. With a length measuring in excess of 5.1 meters, it doesn't need to attend Sir Issigonis's course of "Space saving technique". Both cabin room and boot space are generous.

Big cars, especially long cars, are not good at maneuvering tight corners. This can't be helped by the old fashion semi-trailing arm rear suspensions. Well, the customers for Pontiac are unlikely to be those pursuing ultimate engineering excellence. Roomy, moneywise and sporty image are what they want. You want more sophistication ? try Oldsmobile ... GM will tell you.

Unlike Oldsmobile, there is no multi-valve V6 or V8 on offer. You guess what ? yes, again that familiar Series II pushrod V6, with 3800c.c., with or without supercharger. Too familiar. You must know the normally aspirated version has 205hp on tap; the supercharged one has 240hp and a massive 280 lbft of torque. TORQUE, the word American are proudest of. Smoothness, Quietness and Fuel Economy ... these terms did not exist in American dictionaries until recently.

For such a big car, especially is badged as a Pontiac, the supercharged version SSEi is definitely the first choice. Drive it gently as most people do and the torque steer won't be too obvious. The lack of agility could be compensated by the huge grip from the 17-inch 235 tyres (could it ?) and the good acceleration from the torquey engine (American said it could !) Understeer is the basic instinct, a sharp contrast to the overstated styling.

After all, you cannot have a big car as big as a Cadillac, as good as a BMW while as cheap as a Honda. Something should be sacrificed.