Cadillac CTS

Debut: 2007
Maker: General Motors
Predecessor: CTS Mk1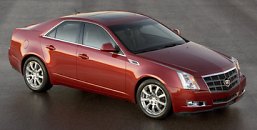 7 years since its birth, Cadillac CTS has entered the second generation. Although the outgoing CTS surprised us by outstanding handling (thanks to the RWD platform and good suspensions), it left a lot to be desired in build quality and refinement. In particular, the interior felt too cheap to compete with the likes of Audi A4 and BMW 3-series. In the remake, Cadillac lifted its quality standard. This is easily visible from the completely redesigned interior – now it is handsomely shaped, tightly assembled and made of high-quality plastics, leather and aluminum, although the design is more Japanese than European. Externally, you can see the assembly gaps are narrow, paint finish seems perfect, while the restyle on the "Art and Science" exterior design becomes smoother and has better attention to details. It looks prettier than the old car as well as the larger STS.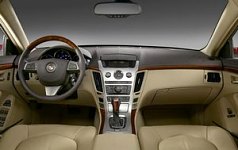 To deliver a perception of high quality, Bob Lutz asked his engineers to install triple door seals to insulate wind and road noise more effectively while producing the "thunk" of European cars. Ventilated and heated seats, classy audio system and infotainment system lifts its premium image right up to the level of Mercedes-Benz. The wider cabin offers more shoulder room. The seatbacks are made thinner in order to free up a couple more inches of rear legroom.

Dimension-wise, the new CTS changes little from the old one. It retains the already long 2880mm wheelbase. Overall length is 4766mm (-64mm from the old car), overall width is 1841mm (+46mm) and overall height is 1472mm (+32mm). The tracks are widened by 50mm. Basically, most of the chassis structural parts come from the larger STS as both are built on the Sigma II platform. Suspensions continues to be double-wishbone up front but the wishbones and knuckles are converted to aluminum. Besides, an aluminum tower brace has been added to strengthen the top of the suspension towers. The modified multi-link rear suspensions get aluminum upper control arms and strengthened construction. 3 levels of suspension package are offered: FE1 with comfort-biased tuning and 235/55R17 tires; FE2 with stiffer anti-roll bars and 235/50R18 tires; FE3 with stiffer dampers, larger brakes and sporty Michelin Pilot Sport 2 tires. The steering is assisted by ZF Servotronic II system. These premium ingredients inevitably push up the price to the level of its German rivals, but the resultant improved dynamics is worthwhile.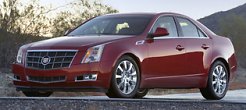 On the road, the new CTS with FE3 suspension package drives like a German premium sedan and makes most Japanese competitors boring. No matter grip, roll resistance, chassis balance, steering or high-speed stability, it is right up to the level of German cars. This is not a surprise, as the car was tested extensively in Nurburgring Nordschleife during development phase. The only area it can't quite match BMW 3-series and Mercedes C-class is agility. The CTS is as large as a 5-series and weighs some 1830 kg (with manual gearbox) or 1860 kg (with automatic). That's 300 kg heavier than 335i and C350 !

In the engine compartment, biggest news is a direct-injection version of the 3.6-liter DOHC VVT V6, which kicks out 304 horsepower and 273 lbft of torque while returning 3 percent lower consumption. It allows the Cadillac to compete on equal ground with Infiniti's and Lexus' V6. The next engine is the existing port-injected 3.6 unit with 263 hp and 252 lbft. For European, Chinese and Middle East market, the CTS is offered with a tax-friendly, 2.8-liter version of the V6 with 210 hp and 194 lbft.


To cope with the hefty kerb weight, our first choice is the 304hp direct injection V6, of course. It is capable to sprint from 0-60 in 5.9 seconds, a whole second quicker than the old car. Nevertheless, such improvement is partly due to a shorter final drive ratio chosen to compensate for its extra weight. If we observe the time taken for 0-100 mph acceleration, we will find it is considerably slower than BMW 335i, Infiniti G35 and Lexus IS350. Even the front-drive Lexus ES350 and Toyota Avalon are quicker than the Caddy to the ton. Apart from performance, we are not satisfied with the NVH level of the Holden-based engine. It produces more vibration than other premium six-cylinder engines and sounds quite coarse at the upper rev band.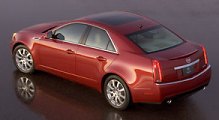 Caddy offers two transmissions for the new CTS. The first one is an updated Aisin 6-speed manual box. It claims to have improved shift linkage for shorter gear throws, but on the road it can't match a BMW gearbox for slickness. Fortunately, manual transmission is likely to account for only a few percent of the production. The majority of buyers will choose the new Hydra-Matic 6-speed automatic built by GM itself. Apart from the lack of paddle shift, this transmission has everything a good automatic ought to have: smooth in auto mode, responsive in sport mode, throttle blip at downshift to match rev, hold a gear until near red line during enthusiastic drive.

The new CTS does not set any new standards for compact premium class. It still needs to improve its engine and energy efficiency, but everything else is up to world standard. We are particularly impressed by its attention to interior quality and handling, the two areas at which European premium cars are so strong. Cadillac sold only 300,000 units of the first generation CTS. The new car deserves more success.


The above report was last updated on 3 Aug 2007. All Rights Reserved.
CTS-V

| | |
| --- | --- |
| | Can the super Cadillac beat the mighty BMW M5 ? |

As long as I could remember, the performance executive saloon market has always been dominated by the German, most notably BMW M5. No one could have imagined an American car could challenge them. 5 years ago, Cadillac surprised us by producing the CTS-V. A 400-horsepower pushrod V8 from Chevrolet Corvette Z06 provided a shortcut solution and serious performance to the unlikely contender. Its chassis was also adequately tuned in Nurburgring to make sure it deliver truly competitive real-world performance. Although in the end it did not beat its German rivals due to a lot of rough edges, it still left us a good impression.

5 years later today, CTS-V comes back as an even stronger challenge. This time its basis is much better than last time – the second generation Cadillac CTS is not only handsome and high quality inside and outside, its handling and refinement are up to European standards, as admitted by European motoring journalists. This leaves the development team of CTS-V nothing to worry about, and they could concentrate on upgrading its performance.

Compare with the understated designs of German performance saloons, this American car is a bit more aggressive. It has a sporty air dam, skirts, mesh grilles and a "power bulge" on the new aluminum bonnet. The latter is necessary to accommodate the 6.2-liter ohv V8 which has a supercharger sitting atop. Codenamed LSA, it is basically a detuned version of the LS9 serving the new Corvette ZR-1. Compare with that engine, LSA gets a smaller Eaton 4-lobe supercharger for lower boost pressure (max 0.6 bar instead of 0.72 bar), a single intercooler instead of two intercoolers, a conventional wet sump lubrication instead of dry sump, lower compression ratio (9.0 instead of 9.3:1), cast aluminum pistons instead of forged ones and sacrifices the expensive titanium connecting rods and intake valves. Still, its output is astonishing – 556 horsepower at 6100 rpm and 551 lb-ft of torque at 3800 rpm. That exceeds the naturally aspirated V10 of BMW M5 (507 hp / 383 lb-ft) and the mega V8 of Mercedes E63 AMG (514 hp / 465 lb-ft) by some margin ! Only the twin-turbo V10 engine of Audi RS6 is more powerful (580 hp), but the Cadillac wins back in peak torque because Audi's gearbox cannot withstand more than 479 lb-ft.


| | |
| --- | --- |
| | Call it the fastest production saloon in the world and I think no one will disagree... |

The Cadillac is offered with two choices of transmission. Those enjoy shifting by themselves may select the Tremec TR6060 6-speed manual box, which is also employed by Corvette, Camaro, Viper etc. However, in terms of gearshift quality it is not exactly world class (though considerably improved from last generation), so a better choice should be GM's Hydra-Matic 6-speed automatic. In fact, the automatic needs 0.2 seconds less to do 0-60 mph. This mean 4.1 seconds according to the usual American test method (which starts timing only after the car rolls out by 1 foot), or 4.3 seconds by European norm. 0-100 mph acceleration takes just over 9 seconds. These figures put it slightly above its German rivals. Moreover, without joining the European top speed agreement, the manual gearbox CTS-V could top an unlimited 191 mph (auto version is limited at 175 mph to avoid overrunning the gearbox). Call it the fastest production saloon in the world and I think no one will disagree.

However, the CTS-V is not just about straight line speed. It is also the fastest production saloon in REAL world. An automatic CTS-V lapped Nurburguring Nordschleife in 7 minutes 59 seconds, faster than BMW M5 by a massive 14 seconds ! Even the more agile M3 still trails it by 11 seconds. No cars could rely on brutal power to achieve this result. Its handling must be very good as well, especially when you consider it weighs some 200 kg more than M5 !

The chassis of CTS-V is not a big departure from the standard CTS. There are some strengthening (e.g. tower brace added to the front suspension towers) and stiffened suspension setting as usual. Power is laid down to the road via a limited slip differential and sticky Michelin Pilot Sport PS2 rubbers, which measure 255/40ZR19 up front and 285/35ZR19 at the rear. Brembo supplies powerful brakes, with 380mm ventilated discs and 6-pots calipers up front and 373 mm ventilated discs and 4-pot calipers at the rear. No matter grip, braking or chassis balance, the Cadillac is at least on a par with its German rivals.






Left: Corvette ZR-1 engine is low tech but hugely powerful.

Right: Recaro seats is a must-have option.


However, what separate it from its rivals is refinement – in normal driving it feels as calm as the standard CTS. The torquey supercharged V8 feels relaxed and well insulated from the cabin. While its supercharger wane is not the most melodious at high rev, its low noise level at cruising speed is a merit to driving comfort. The ride quality is another area of praise. GM's Magnetic Ride Control electromagnetic adaptive damping is still a decisive advantage to BMW's mechanical dampers or even Mercedes' adaptive air springs and dampers because of its ability to continuously adjust damping level. In normal driving it rides nearly as smooth as the standard CTS. Attack fast corners and it stiffens to resist roll. In comparison, M5 rides too harsh in normal driving while E63 rides too soft in attack mode. The German should have subscribed to this technology. (So far only Audi TT did.)

Here comes to our biggest question: can the super Cadillac beat the mighty BMW M5 ?

Purists may still prefer the M5. They may criticize the Cadillac's supercharged push-rod V8 lacks a high revving character - redline is just 6200 rpm, 2050 rpm lower than the BMW V10. It also lacks the thundering full throttle sound as its German counterpart. The steering of BMW is sharper than the Cadillac's, which is lighter and a little numb like Mercedes E63. The SMG gearbox is instantly responsive and sends shockwaves to your stomach. The M5 feels more hardcore than the Cadillac.

Nevertheless, you cannot deny the superior performance of CTS-V, no matter in straight line or in mountain roads. Its combination of ultra-performance, confidence inspiring handling and relaxed normal driving is exactly what we ask from a premium sports sedan. Moreover, the Cadillac seems a bargain at the same price as a BMW M3 and significantly cheaper than M5. Yes, it finally beat the German.


The above report was last updated on 9 Oct 2008. All Rights Reserved.
CTS Coupe

| | |
| --- | --- |
| | Bankruptcy-delayed coupe finally takes off |

Shortly after Cadillac CTS went into production, its coupe version was shown at Detroit motor show in the beginning of 2008. Although reaction to the aggressive-looking coupe was overwhelming, GM did not have money to realize it as itself was conserving cash to avoid bankruptcy. All new projects bar Volt were put on hold. Eventually, the emergency rescue plan fell through, and the American giant went into bankruptcy protection. The rest was history…

The bankruptcy explains why it took two and a half years to produce what is deemed to be a straight forward conversion. Mechanically, the Coupe is almost identical to the sedan. Powering it is none other than the 3.6-liter direct-injected V6 with 304 horsepower (the sedan's entry-level 3.0-liter unit was skipped as it won't be big seller anyway). Transmission is the same 6-speed manual or 6-speed automatic, although a higher final drive ratio is chosen to improve acceleration. Wider tires, a 50mm stretch of rear track and slightly stiffer suspensions complete the mild mechanical revisions.


| | |
| --- | --- |
| | Art & Science theme is taken to higher level by its wedge shape and sharper tail design |

In fact, the biggest change is cosmetic. From A-pillars forward, the Coupe looks identical to the sedan. Thereafter it starts to differ - a steeply-raked windscreen, fast-angle rear window and C-pillars, 2 large doors and a roof set 50 mm lower than the sedan's. These make it look exceptionally aggressive. The shallow windows seem out of proportion to the muscular body, generating enormous tension. Some may regard it as ill-proportioned, but it does look bold and striking, something American designs need. Cadillac's Art & Science design theme is taken to higher level by the car's wedge shape and sharper tail design, with cutting-edge taillights and a diamond-shape brake light that doubles as a rear spoiler. Twin-centrally mounted exhaust differs it further apart from the sedan, no matter visually or aurally.

Inside, environment up front is unchanged, although the front seats are mounted an inch lower. Of course, with shallow glass and a low roof, you feel the ambience less airy. Tall drivers may find headroom tight, so sunroof is best to be avoided. The back seat is designed for children or short adults as its headroom is reduced by 65 mm. That said, such compromises is just as expected on any coupes.


| | |
| --- | --- |
| | Shallow windows seem out of proportion to the muscular body, generating enormous tension. |

On the road, the big V6 produces enough power and torque to enable a brisk performance. 0-60 mph might be a couple of tenths quicker than the sedan due to the shorter gearing, but it doesn't feel night and day different. The Coupe is no lighter than the sedan, and its aerodynamic drag is actually slightly higher due to the wider rubbers and rear track. This mean those looking for BMW 335i or Infiniti G37 performance will be disappointed.

Generally speaking, the handling is slightly sportier than the sedan. There is more grip and tighter body control. The optional Sport package with stiffer suspensions, 19-inch wheels, 245/45 front and 275/40 rear rubbers delivers even stronger roadholding, but it is suitable to very smooth roads only. For cost reason, the Coupe does not offer magnetorheological adaptive dampers like the high-performance CTS-V, otherwise the sport suspension would have been a great choice. With standard suspension and tires, the CTS Coupe is reasonably capable, but it won't challenge 3-series Coupe for driving fun. Still, it is an interesting addition to the CTS family which will also include a wagon soon.


The above report was last updated on 9 Jul 2010. All Rights Reserved.
CTS-V Coupe

| | |
| --- | --- |
| | This Detroit muscle can beat BMW M3 easily in whatever performance measurements... |

Having known CTS-V and CTS Coupe, I guess you don't need more technical analysis on CTS-V Coupe, do you ? So let's concentrate on the outcome.

There are many things to love CTS-V Coupe. Most obvious of all is performance. Powered by the same 556hp supercharged 6.2-liter push-rod V8 as the existing CTS-V sedan, this Detroit muscle can beat BMW M3 easily in whatever performance measurements. 0-60 mph is achievable in just over 4 seconds. 5 more seconds will crack the 100 mph mark. Top speed is an incredible 191 mph with manual transmission, or 175 mph with automatic. It is hard to imagine who would need more performance.

Tremec's 6-speed manual gearbox has never been renowned for shift quality, so I suppose most buyers will opt for GM's Hydra-Matic 6-speed automatic. It makes the performance all the more appealing as it asks for so little effort from the driver. Yes, probably too effortless for keen drivers. This gearbox has manual mode, of course, but it does not add to driver involvement because 1) gearshift remains slow; and 2) the shift is implemented by two rocker switches located on the steering wheel, which is not as intuitive as paddles. The Hydra-Matic is neither as fast as new generation twin-clutch gearboxes nor as sweet as the ZF automatic on Jaguar XFR.


| | |
| --- | --- |
| | It won't bite you, just react to your wish with its deep reserve of talent... |

Gearshift aside, everything else looks positive. The stiff suspensions bring good body control yet the magnetorheological adaptive damping keeps an agreeable ride comfort. Grip from the monster-size Michelin Pilot Sport PS2 is beyond criticism. Ditto the huge Brembo brakes. You can push the CTS-V Coupe very hard into bends, using the gigantic torque to unsettle its rear tires and access its progressive power slide. The testing work carried out at Nurburgring ensures its handling to be nearly flawless. It won't bite you, just react to your wish with its deep reserve of talent. Hard to believe this car can belie its 1900+ kg weight so well.

In the end, is it as good as M3 ? In terms of driver appeal, it runs very close to M3, and probably would have surpassed the latter had it got a better transmission. However, taking other factors into account, the Cadillac seems not to be as good a purchase. First of all, it is more expensive than the German car, even at its home market. Then you will find a number of areas less polished than the BMW, such as more wind and tire noise on motorway, which are down to its huge rubbers and angular shape. The big supercharged V8 is inevitably thirstier, especially with more weight to haul. Moreover, the Cadillac's rakish design leads to a cramped rear accommodation. That also leads to a question: isn't the CTS-V sedan a wiser buy ? With virtually the same performance and handling, the more practical sedan just might be the biggest rival to the new coupe !


The above report was last updated on 7 Aug 2010. All Rights Reserved.
Specifications
General remarks
Layout
Chassis
Body
Length / width / height
Wheelbase
Engine
Capacity
Valve gears
Induction
Other engine features
Max power
Max torque
Transmission


Suspension layout


Suspension features
Tires


Kerb weight


Top speed


0-60 mph (sec)


0-100 mph (sec)



CTS 3.6

Front-engined, RWD

Steel monocoque
Mainly steel
4766 / 1841 / 1472 mm
2880 mm
V6, 60-degree
3564 cc
DOHC 24 valves, DVVT

-
DI
304 hp

273 lbft

6-speed manual or
6-speed automatic
F: double-wishbone
R: multi-link

-
235/50ZR18


1830 kg (manual)
1795 kg (auto)

155 mph (limited)


5.8* (manual)
6.7**** (auto)
15.5* (manual)
16.4**** (auto)

CTS-V

Front-engined, RWD

Steel monocoque
Mainly steel
4866 / 1842 / 1472 mm
2880 mm
V8, 90-degree
6162 cc
OHV 16 valves

Supercharger
-
556 hp / 6100 rpm

551 lbft / 3800 rpm

6-speed manual or
6-speed automatic
F: double-wishbone
R: multi-link

Adaptive damping

F: 255/40ZR19
R: 285/35ZR19
1905 kg (manual)
1950 kg (auto)

191 mph (c) (manual)
175 mph (c) (auto)
4.3* / 4.1** / 4.2*** (manual)
3.9* / 4.1** (auto)
9.7* / 9.4** / 9.5*** (manual)
8.7* / 9.1** (auto)










General remarks
Layout
Chassis
Body
Length / width / height
Wheelbase
Engine
Capacity
Valve gears
Induction
Other engine features
Max power
Max torque
Transmission


Suspension layout


Suspension features
Tires


Kerb weight


Top speed


0-60 mph (sec)


0-100 mph (sec)



CTS Coupe 3.6

Front-engined, RWD

Steel monocoque
Mainly steel
4788 / 1882 / 1420 mm
2880 mm
V6, 60-degree
3564 cc
DOHC 24 valves, DVVT

-
DI
304 hp

273 lbft

6-speed manual or
6-speed automatic
F: double-wishbone
R: multi-link

-
F: 245/45ZR19
R: 275/40ZR19

1783 kg (manual)
1773 kg (auto)

155 mph (limited)


5.8 (c) (manual)
6.4* / 6.1** (auto)

16.5* / 16.2** (auto)



CTS-V Coupe

Front-engined, RWD

Steel monocoque
Mainly steel
4788 / 1882 / 1420 mm
2880 mm
V8, 90-degree
6162 cc
OHV 16 valves

Supercharger
-
556 hp / 6100 rpm

551 lbft / 3800 rpm

6-speed manual or
6-speed automatic

F: double-wishbone
R: multi-link

Adaptive damping

F: 255/40ZR19
R: 285/35ZR19
1905 kg (manual)
1923 kg (auto)

191 mph (c) (manual)
175 mph (limited) (auto)

4.0* / 4.0** / 4.1*** (auto)


8.9* / 9.0** / 9.3*** (auto)


Performance tested by: *C&D, **MT, ***R&T, ****Autocar
Copyright© 1997-2010 by Mark Wan @
AutoZine