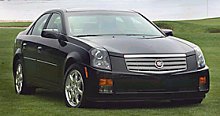 In Chinese we say "Failure is the mother of Success". That means without experiencing failures you are unlikely to achieve success. Also, you have to learn from failures rather than repeating them. Failures are nothing new to GM's Cadillac division since it tried to re-engineer its image in the 80s - from the Pininfarina-styled Allante coupe, high-tech Seville STS to the Opel Omega-derived Catera, all are flops, or at least fail to meet sales target. Will the new CTS be another inevitable failure, just repeating history? there is hope, because the new baby Caddy seems learning from the past at last, or more correctly speaking, learning from the successful BMW to inject real driver appeal to the chassis. They designed the basic Sigma platform in Australia - by Holden in the fame of Commodore VT, then covered it with an edge-cutting "Art-and-Science" design originated in Evoq prototype, installed a nice Opel V6 into the engine bay together with a Getrag 5M or a world-class 5A ... lastly, and most important, the chassis and suspensions tuning were carried out in Germany's Nurburgring race track. Perhaps the name CTS is also chosen to imply "Converted To Succeed". See, this time GM is really serious to rebuild the image of Cadillac.

CTS is roughly in the same size as a BMW 5-series, just having 50mm longer wheelbase and overall length. However, GM will price it aggressively to rival the high-end 3-series instead, once again proofing the fact that poor brand image and inferior quality pay the price. Anyway, when it goes on sale in Europe, the price gap between it and 5-series will be narrowed to negligible because the distribution and promotion cost there will favour the BMW. So I will still see it as a competitor of 5-series.
As aforementioned, the exterior styling evolves from the Evoq show car, sharing the same angular and polygon-surface profile and a new trademark grille. It is a little bit bland, a little bit bulky, blame to high shoulder line. On the plus side, it feels solid and distinctive. Inside, the dashboard design is no less unique, having a driver-oriented big block acts as center console. There is reasonable amount of space by class standard, but here you can also see traces of cost reduction - poor quality of plastics, cheap switch gears and some plasticky fake alloy decorating the gauges. If there are anything GM did not learn from the past, the first thing must be interior materials and build quality.
The chassis is all new, developed primarily by Holden to adapt to different usages across GM's line-up, such as the next Commodore and Cadillac Seville (CTS's big brother). While it may not be the most sophisticated platform from GM, it is rear-wheel drive and employs front double wishbones and rear multi-link suspensions so that handling can be optimized. Moreover, the monocoque is designed to be very rigid, capable of handling rough Australian roads as well as demanding driving style of European car nuts. This sounds like a press release, but several European magazines invited to test drive it in Nurburgring gave it very positive comments. The European test cars were equipped with sports pack including stiffer suspension setup, self-leveling rear shock absorbers, 225/50VR17 tyres and speed-sensitive power steering. Testers found the CTS has a sweet steering offering plenty of feel and sharp turn-in. Ride is a bit firmer and harsher than BMW but never fidget. The chassis balance well while the suspensions keep rubbers firmly on road so that cornering limit is surprisingly high. The highly rigid chassis seems able to cope with a V8 powerplant. Brakes are also excellent, no matter power or pedal feel.
Most CTS sold will be powered by Opel Omega's 54° V6, which has been upgraded to 3.2 litres. Compare with the previous 3-litre, it gains longer stroke, a modified head and a new 2-stage variable-length manifold to achieve 220 horsepower and 218 lbft of torque. The engine is silky-smooth and quiet, works eagerly with Cadillac's first 5-speed manual in 20 years. The Getrag-supplied transmission is reasonably slick and have close ratio to enhance acceleration, but the V6 is not torquey enough to trouble BMW 530i. Therefore choosing the 5-speed self-shifter may be a better idea, at least it is exactly the same gearbox using by the 5-Series. As some of you might know, GM's subsidiary Delphi makes one of the world's best 5-speed automatic transmissions but the box is just supplying to BMW rather than to GM itself because none of GM's existing cars were designed to mate that. Now CTS finally enjoys the superb box.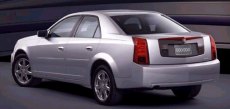 Pushing nearly 1600kg, it is quite doubtful whether the manual CTS can sprint to 60mph in under 7 seconds as claimed. Therefore a more powerful engine is always welcomed. It is understood that a 240hp version of the V6 will be added later on, so is a new generation small-block 4.3-litre V8 with unique 3-valve heads operated by pushrods. At the other extreme, Europe will be offered a fuel-efficient 2.6-litre V6 (now serving the Vectra). By then, the CTS will become a complete line-up.
No matter how many previous attempts failed, Cadillac's latest effort will be different. In the past, it just talked about this and that but never really carried out. This time we saw it really comes true. CTS is not just following the footprints of Lincoln LS to shift to European's territory, but its intention is more serious and the efforts made are far greater. If Lexus IS300 can succeed, why not the baby Caddy ? let's hope so.