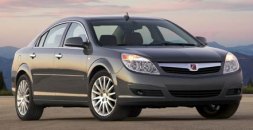 GM established the Saturn division in 1990 in order to strike back Japanese small cars. Unfortunately, that mission was never accomplished because Saturn was not capable to build small cars as good as the Japanese (now also Korean). To keep Saturn alive, GM tried to broaden its range to include mid-size cars. As it said, there were no reasons to skip America's best selling segment – the segment that sold hundreds of thousands of Camry and Accord every year. In this way, the mid-size Saturn L-series was born in year 2000. It was derived from the contemporary Opel Vectra platform but completely localized to suit American taste, claimed Saturn. Unfortunately again, the L-series was another failure and eventually left the world quietly in 2004.

When Bob Lutz took over the responsibility of reforming Saturn, he asked a logical question: why not simply rebadge Opel Vectra as a Saturn? Look at the Vectra, it is a very good car – well built, refined and drives better than any Saturn's own cars. Rebadging it to Saturn will be better than spending hundreds of million dollars to convert it into a degraded Saturn. Moreover, billions of dollars could be saved in production through sharing components - in contrast, the L-series had only 15% components shared with Vectra. Many import buyers will love the European styling too. In this way, Lutz decided to reposition Saturn from a Japanese small car-fighter to a Euro-style domestic brand. The first act will be Saturn Aura.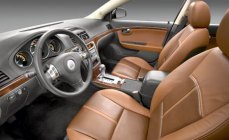 The Aura is engineered by Opel based on the new Epsilon II platform, which will form the basis of the next generation Vectra. From its exterior styling, you can see it has strong Opel flavour – sporty yet restrained. The headlamps and taillights are particularly close to the current Opel styling language. We expect the next Vectra will look much the same as this one, albeit in short wheelbase form. Overall speaking, the new design is handsome and will give Aura an upmarket appeal.

Inside, the simple dash layout is clear and all controls are initiative to use. Plastic quality and fitting is million miles better than any previous Saturns, though you won't say it is as good as Toyota, especially regarding the fake wood on the console. However, the cabin seems to be better built than Nissan Altima and Mitsubishi Galant, so we are not going to criticize it this time. Space-wise, there is little to complain or praise. Its passenger space is about the same as competitors, no more and no less. The steering wheel and driver seat have wide range of adjustment to enable a comfortable driving position. Most American sedans have serious flaws in ergonomics, but the German-engineered Aura has none of these problems.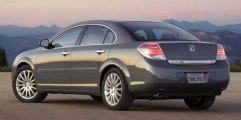 Having given up plastic polymer body panels, the steel-bodied Aura lost dent resistance but the sacrifice is worthwhile – the panel gaps are tight fit and paint finish is excellent. The chassis has a long wheelbase measuring 2852 mm, or the same as Pontiac G6 (which is derived from Epsilon I platform). The whole car measures 4.85 meters, slightly longer than Camry and Accord. Epsilon, no matter I or II, is a sophisticated platform emphasizing rigidity and NVH suppression. It employs a lot of high-strength steel, laminated glass and "quiet steel" (steel laminated with sound-deadening foams). That's why the Aura is a little heavy at 1650 kilograms. It rides on strut suspensions up front and 4-link suspensions at the rear. The front suspensions employ aluminum control arms to save unsprung weight.

The biggest departure from Opel Vectra is found under bonnet – it employs two American V6s to satisfy the American's demand for big power and torque. The entry level is GM's iron-block 3.5-liter push-rod V6, recently equipped with variable valve phasing at its sole camshaft to deliver 224 horsepower. Nevertheless, like many push-rod engines, it sounds coarse at high rev, lacking the smoothness and eagerness of twin-cam engines. Besides, the outdated 4-speed automatic transmission it mated leaves a lot to be desired.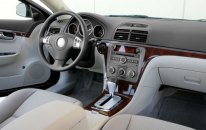 A better choice is GM's all-aluminum 3.6-liter DOHC CVVT V6. On paper, its 252hp / 251lbft output seems not much more than the push-rod V6, but in terms of smoothness, rev happiness and sound quality it is in another league. This engine mates with GM's new 6-speed automatic transmission with paddle shift manual control thus provides smoother gearshifts and faster response. Nevertheless, the car is still slower and less frugal than Toyota Camry V6.

On the road, Saturn Aura impresses with Opel-style ride and handling. The suspension setup is sportier than Pontiac G6, so body control is good. At the same time, the ride is firm yet compliant. The cabin is quiet. The rigid chassis, long wheelbase, NVH suppression and aluminum suspension bits contribute a lot to the good handling and ride compromise. The hydraulic power steering is linear, well weighted and delivers good road feel, certainly much better than the electrical system of Pontiac G6 and the one of Toyota Camry.

American sedans used to be rubbish in terms of driver appeal. Now with the presence of Ford Fusion and Saturn Aura, we have to change our view. However, one should remember the Ford was derived from a Mazda platform and the Saturn was developed by Opel. Globalization helps lifting American cars to world standard. Whether they can better the Japanese rivals is yet to be seen. In the case of Saturn Aura, it lacks the quality and attention to details of Camry. Its performance is average. Its entry-level V6 is underwhelmed. That said, to those who praise good handling and tasteful design, it is a good choice indeed.



Remark: a few days after posting this report, Aura won North America Car of the Year award against Toyota Camry and Honda Fit. - 13 Jan 2007