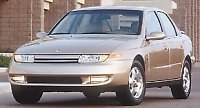 Look at this :
- an Opel Omega selling in USA as Cadillac Catera.
- a Holden Commodore derived from Omega but nearly changed everything, fitting Detroit's engines.
- soon, an Omega with Corvette engine will be on sale in Europe.
And then this :
- a Saab 9-3 based on the previous generation Opel Vectra.
- a Saab 9-5 loosely based on the current Vectra platform but with everything enlarged.
- a Saturn LS derived from the Vectra but nearly changed everything.

This is the so-called "global strategy" of General Motors. What a mess. Every decision was made without a long-term planning. The Saturn LS is an example. Its development chief admitted when they decided to "share" the platform with the Vectra to save cost, they didn't realise that so many things have to be changed to meet American's needs. Eventually not much saving was achieved. The project costs $1.2 billion even though the new four-cylinder engine (to be shared with Opel) is already excluded.


* * *

Saturn's fans may be serious to point out that the L-series is nearly an all-new design, so are those Patriots who would always like to say "We do it ourselves !" Pointless. The L-series was developed in Ruesselsheim, Germany, in the hands of Opel's engineers. Saturn just play the role of a customer, telling their German colleagues their requirements, monitoring the development process and waiting for the outcome. "Do it ourselves" is just limited to the exterior styling and interior, both are deemed to be least significant during a car's development.

The car is much larger than Vectra to suit American's needs and target the Camry / Accord segment - 70mm growth in wheelbase and 43mm increase in width to boost cabin space, and then a massive 340mm extension to the overall length ensures a class-leading boot volume. To cope with the heavier body, also because of the cheap gas across the Atlantic, the Saturn is powered by a detuned version of Omega's 3-litre V6 (or Saab 9-5's unit with turbo detached). 182hp is not impressive enough to trouble competitor's 200hp average, but the LS is at least 30kg lighter.

Another engine is a new, all-aluminium 2.2-litre four cylinder 16V, with twin balancer shafts to achieve smooth revving. Curiously, GM claimed this is a new development from Detroit and it is built in the US factory, but as I remember Opel has a similar unit (perhaps with iron block) powering the Sintra MPV. The base engine output 137hp under Saturn's bonnet, fair. However, the 135 lbft of torque seems rather poor considering it is a long stroke design (bore x stroke = 86 x 94.6mm)

One of the prides of Saturn is the space-frame chassis plus plastic body architecture. Saturn's marketing people still lies to the customers that the chassis is space-frame although they know it is actually a conventional monocoque as Vectra's. They said "depends on how you define a space-frame". Ask any mechanical engineers and see who believe the marketing people !

Nevertheless, they do retain the plastic body panels, which are said to be more durable and cheaper to repair than metal. In addition, they strengthen the front structure by introducing a hydroformed front cradle. During collision they will be pulled out, directing the engine down and away from the passenger compartment, something like Audi's Pro-Ten system. Besides, there are improvement to steering column's mounting and engine's mounting in order to reduce vibration.

The suspensions (front MacPherson strut and rear multi-link setup) is carried over from the Vectra with the same geometry. Spring and damping rate and anti-roll bar are tuned to deliver softer ride that American likes. They choose to increase the thickness of anti-roll bar and stiffen the spring but lower the damping rate.

Compare with Camry at least, the LS handles and rides more like a European sedan. Suspension setting is tauter but still soaks up bumps without fuss. Steering is responsive and have good feedback as long as it is not pushed too hard - it's still not in the league of Peugeot or Volkswagen. Nevertheless, the chassis feels very rigid, without rattle, shake or squeaks transferred to the cabin or steering wheel.

Saturn's fans may insists the opinion "We do it ourselves" by saying that 85% of the parts, including the suspensions are built in the US. For these kinds of mass production, lower price cars (Saturn should undercut foreign export), this is inevitable.