Ford Focus (America)

Debut: 2005
Maker: Ford
Predecessor: Focus (1998)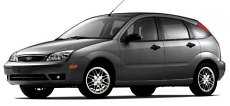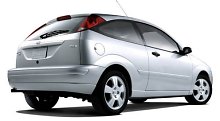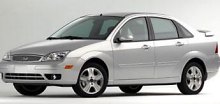 The first generation Ford Focus was a "World Car". Originally designed and engineered in Europe, it was also modified for the North American market, manufactured there and on sale there. It is the first car winning European Car of the Year award and North American Car of the Year award simultaneously. Being cheap, spacious and fun to drive, it is popular in the USA market.

However, the European Focus and American Focus split in late 2004 when the second generation Focus arrived Europe. The new Focus is considered to be too expensive for the US market, where Focus was the company's entry-level model. So Detroit would rather stick with the old Focus.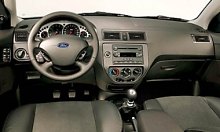 Instead of renewing it, Detroit gave the old Focus a "facelift" and a revamped interior. While the changes inside and out might not look better than the old car, the new engines are certainly better. As the old Zetec engines stopped producing, they are replaced with Mazda's MZR engines. The base 2.0-litre 16V produces 136hp, six horses up from the old engine.

Unfortunately, the exciting and bargain SVT Focus (equivalent to Europe's ST170) was dead, substituted by a cheaper, slower and less exciting ZX4 ST. This car is in sedan form only (the ugliest form of Focus). Powered by Mazda's 2.3-litre 16V engine which produces 151 horsepower and runs a 5-speed-only gearbox. No match with the 170hp, 6-speed SVT.

The American Focus is available in 4 body styles - sedan (ZX4), 3-door hatch (ZX3), 5-door hatch (ZX5) and station wagon. The hatches are the most loyal to the original design of European Focus, thus they are also the most beautiful. The sedan is the ugliest because it is not compatible with the original design of Focus, which was conceived as a hatchback only.

To please the American customer's taste, the American Focus gets softer suspension setup and lighter steering than the original European Focus. Despite that, its Control-Blade suspensions and nice steering feel still deliver more driving fun than Toyota Corolla and Honda Civic. Nevertheless, after 6 years, it shows its age in quality and refinement compared with its Japanese rivals. In the foreseeable future, low price will be a key to its survival.
The above report was last updated on 24 Jan 2005. All Rights Reserved.
Focus facelift 2007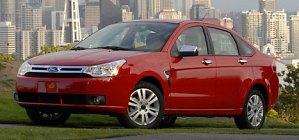 Poor American Focus is nearly 10 years old. What birthday present could be better than a new clothes ? Give it a pair of new headlamps and a chromed bar grille like its bigger brother Fusion, it looks almost like a new car… as long as you look from the front. Turn your vision to the side and you'll see it is still very much the old car in profile. People do facelift because it is the cheapest way to make things look new. Unfortunately, when you have a limited budget, you cannot alter the hard points, so the general profile remains unchanged. My experience tell me most facelifts actually ruin the original designs, because new elements are often incompatible with old ones. In the facelifted Focus, you can see its new front end design doesn't gel with the old body. Never mind, at least it looks better than the 2004 facelift.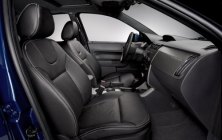 More successful is the new cabin, which gets a new dashboard and new seats. It still employs hard and shinny plastics, but the aluminum effect trim looks pretty good and there are some new gadgets to lift the ambience – what about a Toyota bB-style illuminated cup holder ? Or Microsoft's Sync infotainment control system ? The latter can connect your MP3 player and mobile phone with USB or Bluetooth and operate them via voice recognition. The new seats are equally impressive for comfort and support. What the cabin begs for is more rear passenger space to fight against newer rivals.

Mechanically, the biggest change is the deletion of 3 and 5-door hatchback body, leaving only the fastest selling 4-door sedan and the new 2-door coupe, which doesn't look as sleek as a coupe ought to be. To simplify production further, the previous 2.3-liter engine has been ditched, leaving only the 2.0-liter Duratec. Ford improved its intake and cooling so that it produces slightly more power at 140 hp. This engine is generally refined and gusty, providing decent performance. Both 5-speed manual and 4-speed automatic transmission shift smoothly.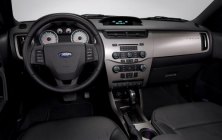 The chassis has been strengthened a little bit thanks to a stronger cross member running under the dashboard. NVH suppression is a major concern: it uses denser sound deadening foams, better sealing and thicker glass to insulate the cabin from noise sources. As a result, the new Focus delivers impressive refinement - engine, road and wind noise have been largely reduced such that it feels more refined than most Japanese rivals. This is definitely the most improved area of the new Focus. Similarly, the retuned suspension delivers a supple ride which may shame many rivals. At the same time, handling and steering remains excellent. If you could ignore its uninspiring look, this old soldier could be a better companion than Mazda 3.

Unfortunately, most people care too much about looks and age. No matter how good it drives, the new Focus will not be admired by many people. Sooner or later Ford must bring a really fresh small car to the US market. Let's hope it to be Focus Mk3 or the next generation Fiesta / Verve. It can't afford to lose any more business to the Japanese and Korean.
The above report was last updated on 5 Oct 2007. All Rights Reserved.