Focus ST170 (SVT Focus)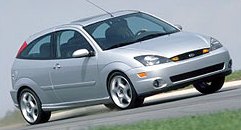 Since the retirement of Peugeot 306, the crown for hot hatches has been shifted to Honda Civic Type R. European car makers are of course displeased, as hot hatch was the invention and the strength of European. If any one is qualified to challenge Type R, it must be Ford Focus. Since Focus stormed the world in 1999, it was seen as a true driver's car as well as a sales winner - 2 things rarely compatible. What a pity, a high performance version was originally not in the plan. It was not until the car was proved successful in both continents that Ford started thinking of a hot version. Anyway, late is still better than nil. This car finally made its world debut in early 2002. It is available in both USA and Europe, being called SVT Focus and Focus ST170 respectively. For your information, SVT (Special Vehicle Team) is the performance division of Ford Detroit and 170 implies its maximum horsepower. Can it finally gun down the Type R ?

Technical View

As I know, the car was mainly developed by SVT in USA. Although European Ford was responsible for the whole Focus project, they were busy developing Focus RS and Focus Cosworth, both are regarded as greater challenges. However, SVT also seek help from Cosworth for developing the 170hp engine, therefore the car is actually a multi-national hybrid - German basis, British engine plus American tuning.

Focus is a perfect basis for hot hatches. Its control-blade rear suspension, like the Type R's double wishbones, is one of the few fully independent ones in the class. This give engineers higher degree of freedom for improving handling without sacrificing ride quality. What did they do ? front and rear springs have been stiffened by 10 and 20% respectively. Damping and rear anti-roll bar have been recalibrated after repeated testing to optimize handling. New power steering pump reduces assistance and improves feel. Brake discs have been upgraded to 300mm and 280mm diameter for front and rear respectively. 17-inch wheels are wrapped with 215/45 rubbers, wider than Type R's 205/45.

Comparatively, power-train caused more headache to Ford. Basically, the standard Zetec 2.0 is aging and leaves not much potential for improvement. A better alternative could be the new generation Duratec HE, as used by Mondeo and the forthcoming Focus RS. However, cost reason led to the decision to stay with Zetec, though asking Cosworth for heavy re-engineering. The cast iron block remains unchanged, but the head has bigger valves, higher lift cams, a continuous variable valve phasing at intake side (Ford claimed it as its first VVT, although I know the Yamaha-engineered Puma 1.7 and the Tickford-developed Falcon XR6 VCT also employ that) and a 2-stage variable intake manifold which switches to short runners from 6000rpm to redline 7200rpm. Both VVT and variable manifold help achieving broader spread of torque while improving high-speed breathing, hence ultimate power. Similarly, larger bore exhaust has been used to reduce back pressure. As for moving parts, forged connecting rods have been employed to handle extra power without increasing inertia. New cast aluminum pistons are not only lightweight but are also shaped to increase compression ratio from 9.6 to 10.2:1.

However, 10.2:1 is still a modest number, a far cry from Civic Type R's 11.0:1, not to mention Integra Type R's 11.5:1. This imply either it was designed to drink lower octane fuel available in the USA or Ford did not work hard to improve its knock control. Nevertheless, official figures are rather impressive: 170 horsepower at 7000rpm and 145lbft at 5500rpm. Although this is still 30hp shy of Honda, it runs extremely close to Renault Clio RS (172hp at 6250rpm and 147lbft at 5400rpm). Ford also claims a flat torque curve which sees at least 85% of maximum torque available from 2200rpm. Problem is: in reality it does not feel that strong. We shall see later ...

As Focus is a C-segment car, to keep pace with the B-segment (e.g. smaller) Clio it has to employ a 6-speed gearbox. The problem is that it does not have a lot of space, therefore it chose a compact Getrag 6-speeder which also serves Mini Cooper S. This clever unit employs twin shafts and 2 different final drive ratios to obtain 6 forward speeds, that is, a 2.88:1 final drive for 1st, 2nd, 5th and 6th and a 4.25:1 for 3rd, 4th and reverse.

Unlike Type R, the hot Focus does not employ limited-slip differential. Renault has already proved that a 170hp machine does not really need such things.

Sometimes too much technical stuffs may be boring. Now let's see the real thing ...

On the Road

Having changed so many things under the skin, it is disappointing to see both SVT and ST170 differ so little from the regular Focus, especially the European version. Ford might want to fool insurance companies, or deliberately tone down the ST170 to avoid stealing the limelight from Focus RS. There are a few subtle tweaks to air dam, skirts and tail spoiler, but only the 17-inch wheels catch eyes, yet they do not look as smart as Type R's in design. It is interesting to compare them: the Honda is a boring design fully transformed by some clever tweaks. In contrast, the Focus is a sharp-looking design without proper beef-up. More embarrassing is that Ford also offers ST170 in the form of 5-door and even Estate, ruining its driver-focused image.

However, the cockpit is free of criticism. As before, the driving position is perfect, unlike many newer hot hatches that mount seats too high. Optional Recaro front seats offer superb lateral support. Facing the driver is white-face gauges, sporty steering wheel and black center console. Focus is always a roomy hatchback, so all passengers enjoy good comfort.

Better still is handling and ride. Focus did not let us down, it knocks out Civic Type R thoroughly in this round. On the one hand, ride quality is surprisingly supple, absorbing bumps and potholes brilliantly and gives the occupants a comfort rarely found in hot hatches, just like the mighty 306GTI. On the other hand, it steers beautifully. We have seen so many modern hot hatches steer numbly, Type R and Clio RS included. In contrast, the Focus provides truly involving steering feel. It loads up when approaching corner, telling the driver what's up at the front wheels. It was this kind of communication that made the Peugeot 306 a better driver's car than others. Now it finds a worthy successor.

The talents of Focus are not just limited to ride and steering. It shines in every aspects - grip, braking, gearshift, and most notably, chassis balance. Few hot hatches can trim its line by applying throttle like it. Even fewer can do four-wheel drift as calmly.

Unfortunately, it lacks a great heart. No matter what the spec. suggest, the Zetec engine still feels relatively reluctant. From as early as idle you can feel some roughness, this does not die throughout the range. While Honda's i-VTEC is turbine smooth and becomes explosive at above 6000rpm - think about 200hp at 7400rpm, while Renault Clio RS feels torquey all the time, the Zetec lacks both real power and eagerness. Moreover, being heavier than rivals (1208kg for ST170 or 1245kg for SVT Focus, versus 1200kg for Civic Type R and 1060kg for Clio RS), no wonder Car And Driver found it accelerated from 0-60 mph in 7.8 seconds, some 1.1 seconds slower than Type R. By the time it reached 100mph, it was already a massive 6.4 seconds behind ! in fact, the magazine found a 160hp Civic Si actually matches the Focus.

Performance deficit is also due to inadequate gear ratio - the first is still too high, probably because the compact gearbox cannot accommodate a larger cog. Nevertheless, shift quality is as good as Honda's, with slick action and short throws.

Given a better engine, Focus ST170 and SVT Focus would have been world-beating. But until now it is only the best handling and riding hot hatch in the world. Civic Type R is still the overall winner.