| | |
| --- | --- |
| Published on 29 Sep 2008 | All rights reserved. |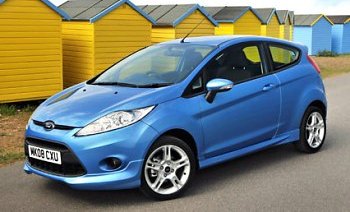 Fiesta used to be the most important model (together with Focus) to European Ford. Since its birth in 1976, it has been continuously in production and some 12 million copies were sold. Now it is becoming even more important: thanks to Alan Mulally's cost cutting strategy, global warming and oil crisis, the European supermini will be available to North America market for the first time ! This mean it will be Blue Oval's first "World Car" since Mondeo Mk1 and Focus Mk1.

Like the last generation, the new Fiesta shares platform with Mazda 2 (Demio). As much as 50 percent components are common to both cars, but you won't find any traces of this because it has a totally unique packaging, chassis tuning and some different engines. Ford's design department did a great job to give it a stylish exterior no matter in 3 or 5-door form. It follows Mondeo to employ a large trapezoidal grille, steeply raked windscreen and rising shoulder line to deliver a sporty image. The 3-door Zetec-S model with extra skirts and stylish 16-inch alloy wheels looks especially sporty. Young drivers will love it.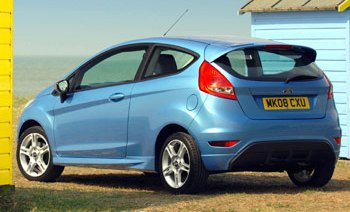 Inside, the cabin tries very hard to be young and different. There is a center console inspired by the control interface of Nokia mobile phones. The main console surface, dials, grab handles and the like are finished in alloy effect plastics. Frankly, they appear to be funky rather than tasteful. However, the big upper dash surface which fill your eyes is made of quality soft-touch plastics as you would expect in a top European supermini. Fit and finish of the cabin also deliver an air of quality. Noise insulation is first class - no matter wind, engine or tire noise are very well insulated from the cabin. These qualities elevate it above its Mazda sibling.



Like any typical European Ford products, the front seats here are supportive and comfortable. The fast windscreen did little to affect front headroom because the cab is so forward. Tall guys will enjoy the space up front, especially compare with the rear. Predictable for the class, rear knee room is tight for 6-footers. Otherwise few people would upgrade to the larger Focus. The weakest link is not the amount of rear seat space, but the rather conventional rear seat arrangement. The seatback may fold forward, but the resultant load area is not flat. Fiesta doesn't try to be a MAV at all.



That's not bad, as Fiesta has always been a driver's car instead of a housewife's car. In this generation, it is benefited from the lightweight engineering of Mazda 2. Engine by engine, the new Fiesta is 40 kilograms lighter than the old car. That might sound less impressive than Mazda, which cut 100 kg from its predecessor, but in return you get a more stylish and higher quality packaging as well as better refinement from the Ford. The weight reduction does not call for any expensive aluminum or composites. It trimmed weight component by component, even up to a screw. Trim weight also helps trimming the rising material costs, so it is good to both Ford and consumers.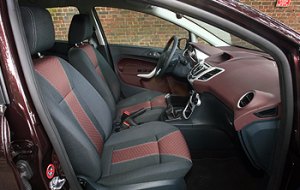 The Mazda 2 platform utilizes MacPherson struts suspensions up front and torsion beam at the rear like most other cars in the class. Ford also follows this format, although it gets different bushings, springs and dampers to deliver an even better combination of ride and handling. On the road it feels agile, responsive and well balanced. Ride is smooth and quiet on standard car. Zetec-S with stiffer setup and 10mm lower ride height trades some ride suppleness for tighter body control. The only let down is the steering, which follows the trend to switch from hydraulic to electrical assistance. It is lighter, more rubbery and less communicative than the old helm, thus ruining the greatest asset of the old Fiesta. That said, compare with other superminis employing similar steering, its setup is already one of the best. Overall speaking, the new Fiesta still delivers the best chassis dynamic of the class.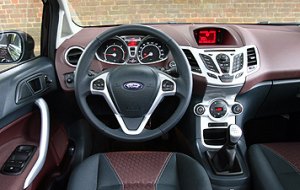 Ford offers 3 petrol engines (60 and 80hp 1.25-liter 16V, 90hp 1.4-liter 16V and 120hp 1.6-liter Ti-VCT 16V) and 2 diesel engines (68hp 1.4TDCi and 90hp 1.6TDCi) to the new Fiesta. Pick of the range is the new 1.6 Ti-VCT, which offers twin-variable valve timing. Although it is not exactly a fireball, it delivers smooth and adequately flexible power yet returns a remarkable 47.9 mpg fuel consumption. The 1.6TDCi is also a willing and refined performer. Mate to them is an excellent 5-speed gearbox whose short and slick gearshifts delight keen drivers.

As seen, the new Ford Fiesta has an all-round package - good handling, ride, refinement, powertrain, stylish packaging and quality build. It deserves to win the global challenge.

Verdict:





| | |
| --- | --- |
| Published on 20 Mar 2013 | All rights reserved. |
Fiesta ST





Following the introduction of Renault Clio RS, Citroen DS3 Racing, Mini JCW and Peugeot 208 GTi, these days 200 horsepower is considered to be a must for a B-segment hot hatch to challenge for the class leader title. However, does more equal to better? Not necessarily. More power usually leads to more weight, and the higher performance it brought needs stiffer suspension and fatter tires to match. The result is a harsher ride that makes the car less enjoyable to drive on B-roads, and a handling attitude that is less keen to steer on throttle. Moreover, the higher costs associated with enhanced performance will make the small hot hatches out of the reach of most drivers. This hurt both the manufacturers and motorists.

Ford is wise to keep the Fiesta ST relatively cheap and simple. It is powered by the familiar 1.6 Ecoboost direct-injected turbocharged engine which produces 182 hp and 177 lbft of torque (or 214 lbft for a short period of overboost). It employs a basic 6-speed manual gearbox instead of the DCT of, say, new Renault Clio RS turbo. As it is not overly powerful, it saves the need for sophisticated front suspensions and limited slip differential. A simple brake-actuated torque vectoring system is considered to be sufficient. These factors enable it to undercut its Renault and Peugeot rival by 10 percent in price. At this affordable end of the market, 10 percent makes a big difference to buyers!

Although it isn't as quick as the aforementioned rivals, the Ecoboost engine still produces respectable power and good spread of torque. With minimal turbo lag, it offers excellent flexibility for everyday driving while fuel economy should be much better than old-school high-revving motors like that of the old Clio RS. The 137 mph top speed and 0-60 mph acceleration in 6.6 seconds are more than adequate. The sound produces by the engine might be a bit uninspiring, but the same can be said to most modern turbocharged fours elsewhere, and that's the price you paid for living a greener life. The gearshift isn't as slick as the best Japanese gearboxes, but it is quick, precise and delightful to use.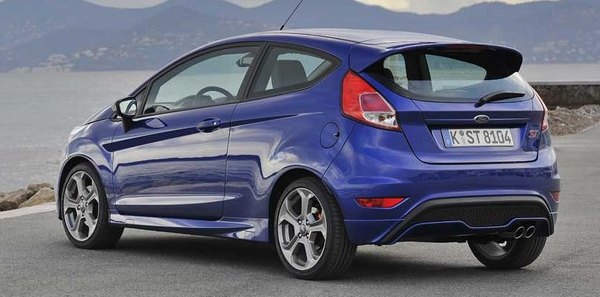 Modifications to the chassis are not particularly radical either. The suspension is lowered by 15 mm and stiffened by about 12 percent. The front suspension geometry is revised to give a bit more negative camber. The steering rack ratio is tightened to 2.4 turns lock to lock (it still goes without variable ratio), while the electrical assistance is retuned to be heavier. The front brakes are enlarged while the rear drums are finally replaced with disc brakes. Stylish 17-inch alloy wheels are shod with relatively narrow Bridgestone Potenza 205/40VR17.

These modifications might be mild, but don't forget that they are based on the best chassis in the B-segment world, and the tuning skill of Ford is not to be ignored. On the road, the Fiesta ST is fun to drive. It feels agile and keen to turn in, as you would expect for the hot version of Fiesta. The electrical power steering is accurate and linearly loaded to give a good sense of what the front tires are doing, even though it is not as feelsome as the best hydraulic racks in the past. Push it on mountain roads, the stiffer suspension keeps the car stable and composed without hurting bump absorption on poor surfaces. It rides with a composure rarely found on high-performance rivals. Roll resistance is not as tight as some, but the initial roll it displays contributes to feel and it settles quickly thereafter. Torque steer is not detectable. Traction is excellent. The torque vectoring electronics work smoothly behind the scene so that you are unlikely to be aware of its intervention.

Most remarkable is the inherent balance of the chassis. If you switch the 3-mode stability control to Off position, the car will dance on either sides of neutral depending on throttle input. Keep pushing to the limit and it understeers gently. Lift off mid-corner and it oversteers a bit. Apply counter steer and you can enjoy an interactive maneuvering like Mazda MX-5. A hot hatch with wider tires or poorer balance can never be as playful.

Another remarkable thing about it is the good match between engine and chassis. The power does not overwhelm the chassis. Neither does the grip level overwhelms the power. You can push the car right up to the limit without worrying of overloading either sides. Consequently, it tempts you to push harder and harder to search for its performance envelop, which is a rewarding process.

Having said that, the Fiesta ST is not as sharp as the outgoing Clio RS Cup. Neither can other modern hot hatches, including the new Clio RS turbo, match the old classic in this respect, blame to the call for green motoring. As far as the current generation is concerned, the Fiesta ST is probably the best choice. It might look a bit outdated outside and inside (despite of nice Recaro seats), but it excels in what counts to us: driving thrills. And simultaneously it meets the modern expectation for refinement, fuel economy and practicality. That makes it a bargain.

Verdict:





| | |
| --- | --- |
| Published on 21 Jun 2016 | All rights reserved. |
Fiesta ST200


Since it went on sale 3 years ago, Ford Fiesta ST has been unbeaten in the B-segment hot hatch ranking, thanks to its responsive chassis and keen driver interaction. However, in terms of power and straight line performance it has never been top notch. Cars like Peugeot 208 GTi, Citroen DS3 Performance, Renault Clio RS220 and Opel Corsa OPC offer in excess of 200 horsepower and are quicker to 60 mph by half a second. Ford responded by offering Mountune tuning kits as deal options, which raises output by 10 percent. Now the kits are adopted in the production car called ST200, which is also the farewell edition before the next generation Fiesta enters production next year.

As expected, the changes made to the final edition are hardly radical. The Mountune engine kits include rewritten ECU and an extra induction pipe for freer breathing. It raises the engine's rated output from 182 hp and 177 lbft to 200 hp and 214 lbft, which are actually the same as what the outgoing engine produced in overboost. There is no need for any changes in the engine's internals, cooling or lubrication systems. On the top of that, it also provides an overboost function for up to 20 seconds, this time producing 215 hp and 236 lbft. Mind you, American version of the car has this overboost listed as rated output even though the engine is exactly the same. Thanks to the extra power, the Fiesta now takes 6.4 seconds to sprint from rest to 60, an improvement of two-tenths. Its top speed takes a bigger leap from 137 to 143 mph. While this is still not exactly the fastest in class, it no longer feels underwhelming. Ford has also shortened the final drive ratio by 6 percent, so the ST200 feels brisker in any gears. The revised induction also dials up the sound volume a little.

The ST200 also sports improved chassis tuning, although the lesser ST also gets the same treatment now. Its front anti-roll bar and rear torsion beam get considerably stiffer, while springs and dampers get slightly softer. Ride height is dropped by 15 mm. The steering rack gets quicker ratio, shorter steering arms and revised assistance mapping. The brakes are enhanced with larger master cylinders and rear discs. Electronic stability control and torque vectoring software have also been retuned. These changes are well judged, as the new car rides better over low-speed bumps yet the responsive turn-in gets even sharper. Most important, it keeps the playful lift-off oversteering intact, so that while it is not the fastest car in the class it is still the most entertaining. The only area it can be improved is the lack of LSD, which is evident when pushing the car in tight corners. Considering Peugeot 208 GTi bPS has Torsen LSD fitted as standard yet costing less to buy, the ST200 seems overpriced. You pay premium for its fame.

Verdict:














Fiesta 1.6TDCi



2008

Front-engined, FWD

Steel monocoque
Mainly steel
3950 / 1722 / 1481
2489 mm
Inline-4, diesel

1560 cc
DOHC 16 valves

Turbo
CDI
90 hp
150 lbft

5-speed manual

F: strut
R: torsion-beam

-
195/50R15

1119 kg

109 mph (c)

11.0 (est)

-


Fiesta 1.6 Zetec-S



2008

Front-engined, FWD

Steel monocoque
Mainly steel
3950 / 1722 / 1481
2489 mm
Inline-4

1596 cc
DOHC 16 valves, VVT

-
-
120 hp
112 lbft

5-speed manual

F: strut
R: torsion-beam

-
195/45VR16

1045 kg

120 mph (c)

9.3 (c) / 8.7*

27.3*


Fiesta 1.0 Ecoboost



2013

Front-engined, FWD

Steel monocoque
Mainly steel
3969 / 1722 / 1495
2489 mm
Inline-3

999 cc
DOHC 12 valves, DVVT

Turbo
DI
125 hp
125 lbft (overboost 147 lbft)

5-speed manual

F: strut
R: torsion-beam

-
195/45VR16

1101 kg

122 mph (c)

8.8 (c) / 8.3*

-










Performance tested by: *C&D










Fiesta ST



2013

Front-engined, FWD

Steel monocoque
Mainly steel
3969 / 1764 / 1468
2489 mm
Inline-4

1596 cc
DOHC 16 valves, DVVT

Turbo
DI
182 hp (overboost 200 hp)

177 lbft (overboost 214 lbft)

6-speed manual

F: strut
R: torsion-beam

-
205/40VR17

1163 kg

137 mph (c)

6.6 (c) / 7.0* / 6.7**

17.0* / 17.0**


Fiesta ST200



2016

Front-engined, FWD

Steel monocoque
Mainly steel
3975 / 1709 / 1456
2489 mm
Inline-4

1596 cc
DOHC 16 valves, DVVT

Turbo
DI
200 hp (overboost 215 hp)

214 lbft (overboost 236 lbft)

6-speed manual

F: strut
R: torsion-beam

-
205/40VR17

1163 kg

143 mph (c)

6.4 (c)

-










Performance tested by: *Autocar, **C&D









Copyright© 1997-2016 by Mark Wan @ AutoZine