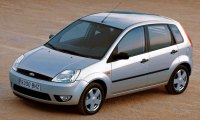 The old Fiesta always caught the heart of British media by its first-class handling. Autocar even gave it 4 stars out of the maximum 5. In contrast, AutoZine rated it just 2-star. Why ? because without an acceptable level of cabin space and build quality a mini hatch will never succeed no matter how nice it goes.

Ford also knew this. Therefore when it developed the new generation Fiesta it put space and quality into the top priority list.

The new Fiesta is a lot larger. However, instead of comparing with its predecessor whose origin can be traced back to 1989, we simply take the latest Volkswagen Polo for reference. The Fiesta is 26mm longer and 33mm wider. Wheelbase is 26mm longer too. Only the height is shorter.

As a result, the cabin becomes one of the largest in the class, matching Polo, Fiat Punto and Skoda Fabia while beating Toyota Yaris and Peugeot 206. Unlike the Volkswagen duo, it gains extra space without adding too much weight. For instance, a fully-equipped 1.4-litre Fiesta Ghia weighs 1000kg, some 100kg lighter than an equivalent Polo.

Ford's Zetec-series engines are not very powerful - 80hp for 1.4-litre and 101hp for 1.6-litre, so performance is just average. However, they have lightweight aluminium blocks to relieve the load at front wheels. Best of all, they operate smoothly and eagerly at all rev. Not particularly quiet at high rev, but the noise is pleasing.

Refinement is also high in the chassis and suspension department. The stiff bodyshell is attached to front MacPherson struts via an NVH-reducing subframe. Springing is firmer than most rivals but damping is superb. The Fiesta has the ride quality and composed handling of big cars, but with more driver appeal than the softly-sprung Polo.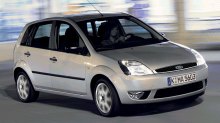 However, it is not a mini Focus yet. Remember, the Focus has an unique "control blade" independent rear suspension. The Fiesta uses the same torsion beam axle like most rivals in order to squeeze out more cabin and luggage space. Therefore, while it is tuned to deliver a safe-understeering feel that most customers want, it is not versatile enough to satisfy keen drivers.
The steering is also a let down. Previous Fiesta provided uncorrupted and sharp steering feel. The new one is not very communicative although it is kickback-free. Feel has been given way to refinement.
I am not sure whether it is the best handling supermini today. Toyota Yaris steers more eagerly and agilely, but the Fiesta is more stable and composed in twisty roads and on rough surfaces. However, its ride quality is definitely more polished.
4 six-footers can sit comfortably in the Fiesta, with plenty of leg and headroom. Build quality of cabin is very satisfying, especially the solidity of dashboard. It employs high-quality plastics just overshadowed by Volkswagen.
Get out of the car, look at its exterior shape once more and you may notice it is more like a Volkswagen than Ford. Admittedly, you don't know what a Ford is supposed to look like. If you judge it by the standard of Focus, you will be disappointed by its conservative styling. Mini car could be funny to look at, but not this one. It incorporates the nose of Focus into a conventional body with Punto-style rearlights. Not very imaginative. Just like the ingredients of the car, it satisfy most people but simultaneously lacks character.