| | |
| --- | --- |
| Published on 13 May 2008 | All rights reserved. |
G6E Turbo combines good looks, strong performance and smooth ride...

It is amazing that under the trend of globalization and platform sharing, Ford still keeps its Australian big car Falcon independent. Since the early 1970s, Falcon has been designed, engineered and produced in Australia. It serves mostly the Australia and New Zealand market, where it topped sales chart many times. Recently, sales of this rear-drive big family car has been declining - the same goes for its arch-rival Holden Commodore - and its domination of the local market has been replaced by the more fuel-efficient Toyota Camry. Nevertheless, Aussies are still proud of Falcon, as it represents Australian automotive industry. They must be grateful that Ford keeps the new generation FG Falcon engineered and produced exclusively in Australia.

The FG Falcon replaces the outgoing generation, AU / BA / BF Falcon which had been around for 10 years. From engineering point of view, FG is not exactly a big leap from the old car, because the latter had already got a major re-engineering in 2003 (such as new independent rear suspensions and new multi-valve engines) thus was considered to be modern enough. The old Falcon was also big enough, so the new car has barely grown a little (25mm longer, 4mm wider and 10mm longer wheelbase). What the old car really felt outdated were its organic exterior design and cheap interior packaging. In the new car, exterior design is updated. Although it is by no means striking, it looks comfortable to our eyes. Well, you may describe the base model XT as bland and the sporty model XR (either XR6 or XR8) as a bit too civilized, but in luxurious form G-series (G6 or G6E), with chromed mesh grilles and chromed window frames it looks every bit an European design. If not the current Mondeo grown so big (actually as big as Falcon), Ford Europe could have considered importing the G-series Falcon as the replacement of its defunct big car Scorpio !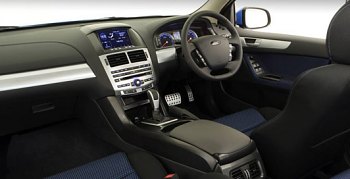 Cabin used to be the weakness of Australian cars, no more to FG Falcon...
Australian cars have been notorious for poor quality interior. This was true to the old Falcon as well as today's Holden VE Commodore. Gratefully, the new Falcon gets a much improved dashboard and instrument made of decent plastics. Although still lags behind the quality standard of Camry and Mondeo, it is no longer a complaint to most people. Not so good are the driving position (too high and adjustment range is limited) and seat comfort (not very supportive). Nevertheless, the cabin feels roomier than before, thanks to less steeply raked windscreen and rear window. Rear passengers will also find access to the cabin easier due to the larger door aperture. As before, the rear seat can genuinely accommodate 3 adults, although they won't find as much legroom and headroom as in Holden Commodore.

As expected, the FG Falcon remains rear-wheel drive, which is a delight to traditional motorists. Its new chassis is stronger and safer. Though still ride on double-wishbone front suspensions and "control-blade" multi-link rear suspensions, it is not lack of improvements. For example, the control arms of the front suspensions are now made of aluminum to save 22kg of unsprung weight. The rear suspension has higher roll center to match with the front and reduce body roll. New bushings, monotube dampers and 30 mm wider tracks improve handling as well as NVH suppression. Besides, the steering rack is now mounted forward to stabilize the steering response, and variable ratio rack is used for the first time. Lastly, to tame the previous scary oversteer - something inevitable for a powerful rear-drive machine - a modern electronic stability control is finally added.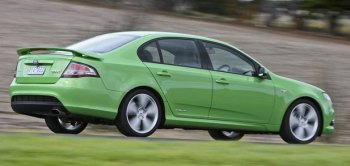 XR6 has sportier suspensions and extra aero kits

Powertrain gets plenty of improvements, too. The old 5-speed manual gearbox has been replaced by a Tremec 6-speed manual box. The old 4-speed automatic has been upgraded to a 5-speed unit built by Ford Europe. More expensive models employ ZF's 6-speed automatic, what else can you ask for ?

The base engine continues to be that 4.0-liter straight-six with 24 valves, double VCT variable cam phasing and (unfortunately) the same cast-iron block. However, it gets a new composite intake manifold with resonance type variable volume function to optimize torque spread and a new cylinder head with reshaped combustion chambers to promote swirl. Max output is 261hp and 288 lb-ft, 7hp and 6 lb-ft up from last generation.

Next up is turbocharged version of the straight-six. Now with 362 horsepower and 393 lb-ft of torque, it is actually on a par with the V8. Compare with the old engine, it gets a new cylinder head and a composite intake manifolds like the naturally aspirated engine (but with fixed geometry because the torque of turbocharging is so strong). A new Garrett turbocharger, accompany with shorter intake and lower exhaust back pressure, responds 30% faster to throttle. Turbo lag is reduced, torque curve is improved. 80% max torque is now available from 1250-5750 rpm, while max torque continues from 2000-4750 rpm. Bigger intercooler and higher efficiency turbocharger allows boost pressure to increase from 0.4 to 0.7 bar, resulting in 34 more horsepower. Moreover, the variable cam phasing of this engine is adaptive to driving mood - when the throttle is wide open, it switches to an aggressive valve timing to reduce turbo lag and sharpen engine response. In normal driving, the cam timing is less aggressive so that the car delivers 5% lower fuel consumption compare with the old car.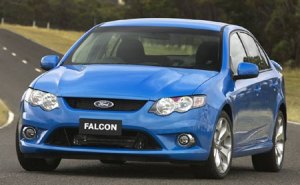 On the road, XR8 is the most disappointing...
On the top of the tree is the familiar Boss 290 5.4-liter 32-valve V8, hand-assembled by FPV (Ford Performance Vehicle). It produces 389 hp and 383 lb-ft of torque, probably not enough to persuade customers to choose it instead of the turbocharged 6. Admittedly, Australia Ford is phasing out V8 engines under the pressure of high fuel price. Therefore it simply dropped the mass production 3-valve V8 and offers only the low volume Boss 290 to the new Falcon. It is reserved for the XR8 model. Expect only the traditional V8 hardcores will be interested.

On the road, XR8 is the most disappointing. Wheels magazine found it is actually slower than the torquer XR6 Turbo by quite a margin. Moreover, its big V8 make it feels nose-heavy in corners and results in stronger understeer. Its exhaust noise is also too civilized for a V8 machine. In addition to the heavy fuel consumption, there is no reasons at all to purchase it instead of the XR6 Turbo, unless you are a V8 die-hard !

Both XR6 Turbo and G6E Turbo are deeply impressive. They share the same turbocharged six with the same refinement, flexible torque and the same astonishing performance: 0-60 mph take just 4.9 seconds when they are equipped with the excellent ZF 6-speed automatic ! The main difference between them is suspension tuning. The softer-riding G6E Turbo is a great high-speed cruiser while XR6 Turbo is more fun in corners. However, even the XR6 has smoother ride than rival Commodore SS-V.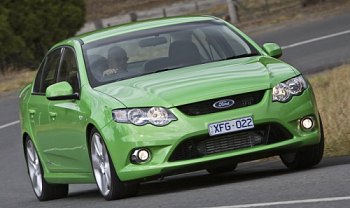 Even the XR6 has smoother ride than rival Commodore SS-V
All Falcons have well-sorted handling and ride. Their tuning induces slight initial understeer but could be balanced by throttle. Their steering is accurate, linear and communicative, although the rack could transmit rattle on bumpy surfaces. Overall speaking, Falcon has better chassis dynamics than VE Commodore. In addition to its stronger engines and better transmissions, it can easily steal the crown from its domestic rival.

However, questions remain over the future of the Australian big car. Declining interests in big family cars and a more open domestic market means Australia and New Zealand can hardly support an independent line of vehicle. Globalization is the only way for survival in the future. GM let Holden to lead the development of Zeta platform for use in North America and China. Will Ford allow its Australian arm to do the same ? Let's hope so.
Verdict:




| | |
| --- | --- |
| Published on 19 Jun 2008 | All rights reserved. |
FPV Falcon F6 and GT



FPV, or Ford Performance Vehicle, is a joint-venture between Australian Ford and British racing / tuning / engineering consultant Prodrive. The formation of FPV was a response to Holden's HSV in order to lure Australian performance cars lovers as well as to lift the company image. Through the years FPV has been concentrating on modifying Falcon. This time is no exception. For the FG series Falcon, FPV offers mainly two models: the six-cylinder turbocharged F6 and the V8-powered GT, which are based on the production XR6 Turbo and XR8 respectively.


F6: superior torque delivers instant pull at any rev and any gears...
F6: 4.0 turbo



Externally, the F6 looks a lot more aggressive than its donor car, thanks to a radical mask design, aero kits upgrade and 19-inch graphite alloy wheels through which you can see the red brake calipers. The open lower intake gives free access to the enlarged intercooler. A larger intercooler is required because FPV dialed up the boost pressure of the turbocharged straight-six from 0.7 to 0.91 bar, accompany with other inevitable modifications such as a slightly lower compression ratio (down from 8.7 to 8.5:1), strengthened pistons and con-rods and a freer intake system. The result is 53 more horsepower at the top end (now 415 horses in total), and a stronger yet broader torque curve – some 416 lb-ft is available from 1950 rpm continuously to 5200 rpm !

On the road, this tremendous torque translates to sensational acceleration. We believe given a skillful launch it can finish 0-60 mph in 4.8 seconds and 0-100 mph in about 11 seconds. Though not enough to mount a challenge to BMW M3, its superior torque delivers instant pull at any rev and any gears. Speaking of gears, F6 offers a Tremec 6-speed manual or ZF 6-speed auto like the XR6 Turbo. We would choose the latter because it costs the same, loses no performance to the manual and promotes the effortless performance character of the car.

Modifications to the chassis are quite mild. FPV did not alter the suspension geometry, only firmed up the springs at front suspensions a little and softened the rear springs a little for better dynamic balance. Sportier Dunlop Sport Maxx 245/35ZR19 tires and Brembo brakes (335mm discs and 4-pot calipers front; 328mm discs and single-pot calipers rear) complete the chassis mods. Ride quality and quietness suffer a little, but overall speaking the F6 remains comfortable by the standard of sports sedans. Grip and body control are both improved slightly from the already good XR6 Turbo.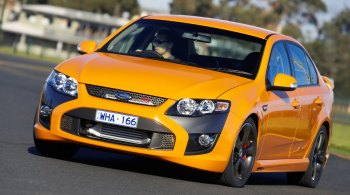 Performance and handling-wise, the upgrade from XR6 Turbo to F6 is not as big as its appearance suggested...
However, the F6 has some weaknesses. Firstly, its wet weather handling is questionable because the tremendous torque may overwhelm its rear-wheel traction if you are not extremely careful on throttle. Secondly, like the regular Falcon, its steering kickbacks on coarse surfaces, although we have no complaint on its accuracy and feel. Thirdly, its standard brakes are not powerful enough to handle extended hard use, so you had better to tick the upgraded Brembo brake package which consists of 355mm cross-drilled discs and 6-pot calipers up front and 330mm discs and 4-pot calipers at the rear. Fourthly, its sheer size and weight make it less exploitable on mountain roads than the compact M3, C63 AMG or RS4. Admittedly, this is a common problem of Australian sports sedans.

Lastly but not least, in terms of performance and handling the upgrade from XR6 Turbo to F6 is not as big as its appearance suggested. Many people will be satisfied with the competent XR6 Turbo and regard the extra cost of F6 hard to justify. In Australia, the F6 costs A$66,000 against XR6 Turbo's A$45,500. Equip it with the must-have brake upgrade and leather trim interior, the F6 will set you back at A$74,000. That is still significantly cheaper than the European imports, but an imported Chrysler 300C SRT-8 asks for the same money in Australia. That make you wonder how much it will charge if it is exported to a third-party country like the United States. My estimation is it will be pricier than BMW 335i M-Sport and runs near the territory of M3 sedan. Are you willing to pay so much money for a Ford ?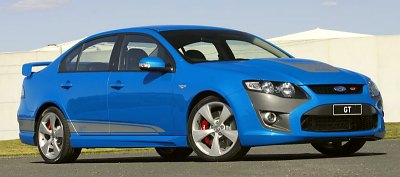 Ironically, GT needs those visual drama to compensate for its lack of real talent...
GT: 5.4 V8



The V8-powered GT faces the same problems. Some may think its "BOSS 315" 5.4-liter DOHC V8 may claw back a few points, but in reality the V8 is no where as powerful as the 4.0 turbocharged straight-6. FPV smoothened its intake and exhaust to deliberate its top end to 6500 rpm. This results in 422 horsepower, only 7 hp more than F6. However, the V8 loses decisively to the turbocharged six in torque output – it produces less (406 lb-ft vs 416 lb-ft) yet the peak arrives at a high 4750 rpm. The relatively peaky torque curve dictates its acceleration performance. We estimate it will take 5.5 seconds to go from 0-60 mph, slower than most performance sedans on the market, especially at this price.

The GT can be distinguished from F6 by its power bulge over the bonnet and some fancy graphics. Ironically, such visual drama is necessary to compensate for its lack of real talent. Modifications to the chassis is the same as F6, so apart from more nose-heaviness – which means more understeer, pitch and dive – we have nothing to add.

The V8 model used to be the flagship of FPV. However, knowing its inferior performance this time Ford does not dare to charge any higher price than the F6. Still, there are not many reasons to choose it instead of the more competent F6. V8-diehards may prefer it, but then again HSV has better offerings. Taking oil price and emission into account, the days of FPV GT could be numbered.
Verdict:
F6:





GT:


| | |
| --- | --- |
| Published on 22 Jan 2011 | All rights reserved. |
FPV GT Boss 335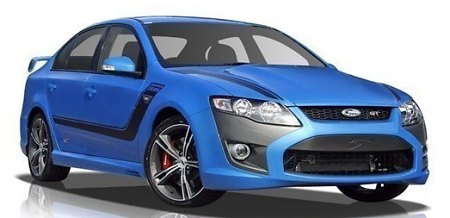 We dislike the outgoing FPV GT for its lukewarm performance and nose-heavy handling. Now with a more powerful yet lighter engine, maybe it deserves a second chance. Replacing the old 5.4-liter iron-block V8 is an all-aluminum V8 based on the one serving the American Ford Mustang 5.0 GT. It saves 47 kilograms from the front axle, yet comes with modern intake and exhaust variable valve timing. On the top of that, Prodrive (co-owner of FPV) added a supercharger into its V-valley. The supercharger is based on the internals of Eaton TVS, with four-lobe rotors like those on Audi S4, Corvette ZR1 and Jaguar XFR to enhance efficiency. However, to fit into the Ford V8, Australian performance engineering firm Preston custom-made a housing for it. As you can see in the picture below, the whole thing looks quite after-market.

Considering the Mustang V8 is already capable of 412 horsepower and 390 lbft of torque, we should expect the supercharged version to pump out the north of 500 hp and 500 lbft, shouldn't we ? Unfortunately, the aftermarket approach of modifications mean there is no intercooler included, thus the supercharger has to run a light boost pressure limited to 0.4 bar. Consequently, its output is only 450 hp and 420 lbft. Very disappointing, isn't it ?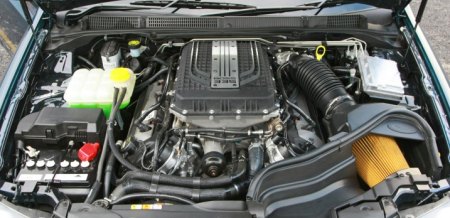 That said, on the road the supercharged V8 feels far more energetic than the old engine, thanks to its thicker mid-range torque. On the other hand, it also spins more freely to its 6200 rpm redline. This should shorten its 0-60 mph sprint from 5.5 to sub-5 seconds, although the official time of 4.7 sec might be a little optimistic. We are still not quite satisfied with such performance, but to be fair, you can hardly ask for more from this price range. Despite of a small price bump, the car is still cheaper than a BMW 335i in Australia.

Moreover, the Boss 335 engine (the number refers to its output in kW) has improved on sound quality as well. Its exhaust note gets louder and more exciting, thanks to a two-stage exhaust that is tuned to release angrier bark at high rev.

Less improved is handling. The lighter load on front axle can be felt, but it does not make a night-and-day difference to handling. Overall, the big Falcon is still more floaty in corners and over undulation than European performance sedans. Its softer suspension setting leads to more pitch, roll and understeer. Its unsophisticated axle and electronics also struggle to put down all the power on the road through its rear tires. In the age of E-diff, torque-vectoring and adaptive suspensions, the big Falcon looks hopelessly outdated.
Verdict:



| | |
| --- | --- |
| Published on 11 Jun 2012 | All rights reserved. |
Falcon FG Mk2 and 2.0 Ecoboost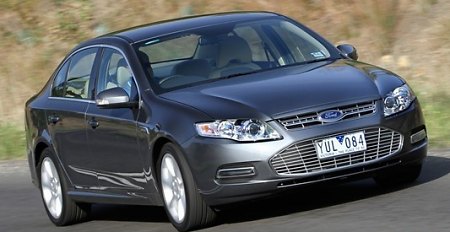 Ford Australia gave the FG series Falcon a facelift late last year. Breaking away from tradition, this car is called FG Mk2 rather than given a new series name. It makes sense, because the modifications done are modest. The nose of the car is revised with a slimmer upper grille and an octagonal lower grille. The fog light assemblies are also restyled. Inside, there are some minor equipment updates but the environment is unchanged, which means both the design and quality fall behind modern standards.

Coming together with the facelift is the addition of 2.0 Ecoboost engine. The big Falcon has always been using 6-cylinder engines, but the call for reduced fuel consumption led to the adoption of the European 2.0-liter Ecoboost four-cylinder. Similar to the one fitted to Mondeo, but turned to longitudinal position and tuned to produce 240 hp and 260 lbft of torque, it trails the 4-liter straight-six by not much. A flatter torque curve and lighter weight means it loses to the 4-liter car by only a tenth in 0-60 mph, so the 18 percent boost in fuel economy comes nearly free.

The Ecoboost engine is 64 kg lighter than the iron-block straight-6. It is also considerably shorter. Both factors lead to the front-to-rear weight distribution improved from 56:44 to 54:46. Moreover, the 2.0 Ecoboost car is fitted with slightly stiffer suspensions, so it displays better handling. Subjectively, the straight-six is still preferred for its faster throttle response, linear power delivery and superior smoothness.

If Ecoboost is proved to be popular, it could threaten the future of the six-cylinder engine, which is widely speculated to die in a few years' time. Whether it can save the Australian-built Falcon from the axe is another matter. Last year, the domestic sales of Falcon dropped to a miserable 18,741 units, blame to the market trend that shift away from big cars (Holden Commodore and Toyota Aurion are also in the fall, though not as bad as Falcon).
Verdict:



| | |
| --- | --- |
| Published on 29 Jul 2014 | All rights reserved. |
FPV GT F 351




No matter you like or not, Australian motor industry is cruising to sunset. Owing to high production costs and limited demand, Ford and Holden decided to quit manufacturing in Australia by late 2016 and 2017 respectively. This means the final death of both Falcon and Commodore and the end of their legendary rivalry. Ford's performance division, FPV, will be shut even earlier, expected at the end of this year. The car seen here is its last product.

The name GT F 351 implies two things – the F means Final for obvious reasons, and the number refers to its power in kilowatt. For a final edition with only 500 units to be built (plus another 120 pickups), you won't expect any costly modifications. That is true. The 5-liter supercharged V8 with nickname "Miami" is the same as the existing one on GT Boss 335, just with a remapped ECU to release another 20 horsepower, or 470 hp in absolute terms. This can be overboosted further to 542 hp for up to 20 seconds, though the old engine also had this feature. Maximum torque is unchanged at 420 lbft, a relatively low figure these days. The company said 0-60 mph dips by a couple of tenths to 4.4 seconds, but in the real world its extra power and performance are hard to detect without driving the old car back to back. HSV's supercharged Gen-F GTS is obviously faster.


You can't distinguish the GT F from the old car without looking at its paint stripes, as there is no new body parts at all. Likewise, changes to the interior are limited to some minor things. However, once put the car in corners you can tell the difference, because it gets R-spec package as standard. This includes stiffer springs and dampers, thicker rear anti-roll bar, firmer strut mounts, 20 mm wider rear tires and stronger Brembo brakes. It feels less nose-heavy, more willing to turn-in and rolls a lot less in corners, although ride comfort suffers a little. That said, the improvements are probably too small and too late. As a final edition, it fails to leave us an unforgettable impression.

Verdict:



| | |
| --- | --- |
| Published on 21 Jan 2015 | All rights reserved. |
The ultimate Falcon - FG X




It is always a deep sorrow to say goodbye to an iconic car. Ford Falcon has been around Australian motorists since 1960. Together with Holden Commodore it used to be the symbol of Australian motor industry. However, since a decade ago its sales have been declining every year, from 73,220 units in 2003 to a miserable 6,349 units last year. Some attributes this to the market trend towards smaller and more frugal cars. Some blame the lowering tariffs – back in the late 1980s, the government was still charging 45 percent tariffs on imported cars. That was gradually lowered to 15 percent in year 2000, 10 percent in 2005 and then 5 percent from 2010. Without tax protection, the Australian motor industry is hard to compete with Japanese and Korean cars, because its local manufacturing cost is much higher – Ford said it is twice as much as its European plants! Eventually, the firm decided to cease production of Falcon and shut down the Australian factory by October next year. Before that happens, the Falcon is given its last and ultimate facelift. Its codename is FG X.


Predictably, Ford is not going to invest heavily into this swan song. All engines and gearboxes are carried over unchanged, as is the chassis. However, it gets a desperately needed facelift. The Aston-Martin-style new corporate grille and slim-line headlamps fit amazingly well into the 7-year-old car, proving that a well-proportioned body is great for any dresses. Meanwhile, the tail is made more elegant by using slim taillights linked by a chromed bar. Overall, the FG X looks a lot handsomer than before.

Sadly, the cabin is left unchanged. 7 years ago it might look modern enough, but today it feels dated and cheap. Ergonomics remains poor, as the driver seat is mounted too high and the steering wheel is set too low. Rear passengers are much happier. As you would expect for an Australian large car, there is plenty of space for 3 full-size adults. Standard equipment is more generous in this ultimate version. It gets the reputed Sync connectivity system which is easy to connect to smartphones and give voice commands.


Although no engines are new, they have been reshuffled to different models. The base Falcon, executive-oriented G6E and sporty XR6 are fitted with the venerable normally aspirated 4-liter straight-six with 261 hp. The former two may get optional 2.0 Ecoboost four with 240 hp. The storming 362 hp 4.0 straight-six turbo can be found under the bonnet of XR6 Turbo or G6E Turbo. On the top of the tree, XR8 returns. It is now benefited by the Miami 5-liter supercharged V8 previously serving FPV GT Boss 335, offering 450 horsepower hence sub-5-seconds 0-60 mph. As FPV division has already been shut down, this is the last chance Australian motorists can buy the performance Falcon.

Being one of the last two Australian-built rear-wheel-drive cars, the FG X does not disappoint keen drivers. Even the cooking models offer good performance, nice handling and supple ride. If not because of poor fuel economy and cheap interior, it would still be a highly recommendable choice, especially now with a handsome face. It will leave us a fond memory forever.

Verdict:












Falcon G6E



2008

Front-engined, RWD

Steel monocoque
Mainly steel
4967 / 1868 / 1453 mm
2838 mm
Inline-6

3984 cc
DOHC 24 valves, DVVT

-
-
261 hp
288 lbft
6-speed automatic
F: double-wishbones
R: multi-link

-
235/50R17
1704 kg

-
6.7 (est)

-

Falcon XR6 Turbo



2008

Front-engined, RWD

Steel monocoque
Mainly steel
4970 / 1868 / 1453 mm
2838 mm
Inline-6

3984 cc
DOHC 24 valves, DVVT

Turbo
-
362 hp / 5250 rpm

393 lbft / 2000-4750 rpm

6-speed automatic
F: double-wishbones
R: multi-link

-
245/40ZR18
1694 kg

-
4.9*

-

Falcon XR8



2008

Front-engined, RWD

Steel monocoque
Mainly steel
4970 / 1868 / 1453 mm
2838 mm
V8, 90-degree

5408 cc
DOHC 32 valves

-
-
389 hp / 5750 rpm

383 lbft / 4750 rpm

6-speed automatic
F: double-wishbones
R: multi-link

-
245/40ZR18
1770 kg

-
5.7*

-









Performance tested by: *Wheels










FPV Falcon F6



2008

Front-engined, RWD

Steel monocoque
Mainly steel
4955 / 1868 / 1433 mm
2838 mm
Inline-6

3984 cc
DOHC 24 valves, DVVT

Turbo
-
415 hp / 5250 rpm

416 lbft / 1950-5200 rpm

6-speed automatic
F: double-wishbones
R: multi-link

-
245/35ZR19
1822 kg

155 mph (limited)
5.0*

-

FPV Falcon GT



2008

Front-engined, RWD

Steel monocoque
Mainly steel
4970 / 1868 / 1453 mm
2838 mm
V8, 90-degree

5408 cc
DOHC 32 valves

-
-
422 hp / 6500 rpm

406 lbft / 4750 rpm

6-speed manual
F: double-wishbones
R: multi-link

-
245/35ZR19
1881 kg

155 mph (limited)
5.5 (est)

-

FPV GT Boss 335



2010

Front-engined, RWD

Steel monocoque
Mainly steel
4968 / 1868 / 1453 mm
2838 mm
V8, 90-degree

4951 cc
DOHC 32 valves, DVVT

Supercharger
-
450 hp / 5750 rpm

420 lbft / 2200-5500 rpm

6-speed manual
F: double-wishbones
R: multi-link

-
245/35ZR19
1855 kg

155 mph (limited)
4.7 (c)

-









Performance tested by: *Wheels









Falcon G6
2.0 Ecoboost

2012

Front-engined, RWD

Steel monocoque
Mainly steel
4967 / 1868 / 1433 mm
2838 mm
Inline-4

1999 cc
DOHC 16 valves, DVVT

Turbo
DI
240 hp


260 lbft
6-speed automatic
F: double-wishbones
R: multi-link

-
235/50R17


1648 kg

-
6.8 (est)

-

FPV GT F 351



2014

Front-engined, RWD

Steel monocoque
Mainly steel
4968 / 1868 / 1453 mm
2838 mm
V8, 90-degree

4951 cc
DOHC 32 valves, DVVT

Supercharger
-
470 hp / 6000 rpm
(overboost 542 hp)

420 lbft / 2500-5500 rpm

6-spd manual or 6-spd auto

F: double-wishbones
R: multi-link

-
F: 245/35ZR19
R: 275/35ZR19

1855 kg

155 mph (limited)
4.4 (c)

-









Performance tested by: -










Falcon G6E
2.0 Ecoboost

2014

Front-engined, RWD

Steel monocoque
Mainly steel
4949 / 1868 / 1494 mm
2838 mm
Inline-4

1999 cc
DOHC 16 valves, DVVT

Turbo
DI
240 hp

260 lbft
6-speed automatic
F: double-wishbones
R: multi-link

-
245/40R18


1668 kg

-
6.8 (est)

-

Falcon XR6 Turbo



2014

Front-engined, RWD

Steel monocoque
Mainly steel
4949 / 1868 / 1494 mm
2838 mm
Inline-6

3984 cc
DOHC 24 valves, DVVT

Turbo
-
362 hp / 5250 rpm

393 lbft / 2000-4750 rpm

6-speed automatic
F: double-wishbones
R: multi-link

-
245/35R19


1793 kg

-
5.0 (est)

-

Falcon XR8



2014

Front-engined, RWD

Steel monocoque
Mainly steel
4949 / 1868 / 1494 mm
2838 mm
V8, 90-degree

4951 cc
DOHC 32 valves, DVVT

Supercharger
-
450 hp / 5750 rpm

420 lbft / 2200-5500 rpm

6-speed automatic
F: double-wishbones
R: multi-link

-
F: 245/35ZR19
R: 275/35ZR19
1861 kg

155 mph (limited)
4.7 (est)

-









Performance tested by: -








Copyright© 1997-2015 by Mark Wan @ AutoZine