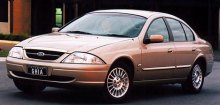 Reading the press release material of the latest Ford AU Falcon made me laugh. Its hard-selling style did nothing to me but negates my good impression about this car.

In the beginning, it spent thousands of words to describe the styling as "New Edge" design. Don't fool me ! Except the headlamps, the new Falcon strictly follows the Taurus School's curvy-is-beautiful philosophy. Yes, in many ways it looks like the American Taurus - long and big, curvy, with steeply-tilted windscreen and rear window, and lack of aggression. As usual, this school has little compassion to the space efficiency : while the roof has been raised for 20 mm, the rear head room gains just 2.5 mm. Anyway, at least the smooth body helps improving the aerodynamic drag to 0.30.

Then, the press release spent another thousand words to describe how superior the independent rear suspension is. (Oddly, Australian still used to call this as IRS, while European and Asian have long forgotten this short write because it has been standardized in there for one and a half decade.) As last year's Holden Commodore VT introduced IRS, Ford follows by installing double wishbones suspensions to all corners in the higher-spec Falcon, and makes it optional to most other versions. However, since Falcon will continue to be offered as taxi, a low-cost, highly reliable non-independent live-axle rear suspension (with Watts link) will continue to serve the bottom of the range.

In the past, there's die-hard Falcon lovers defended the car's non-IRS by saying that IRS cannot cope with Australian rough roads. As both Commodore and Falcon have switched to IRS, it's time to shut up.

There's some very minor modifications to the 4-litres single-cam in-line 6 and the pushrod 5-litre V8. However, since I'm not Ford's salesman so I'm not going to discuss more about these trivial bits. The only new item worths mentioning is the adoption of variable cam timing (VCT) to Falcon XR6's in-line 6, raising power to 230hp at 300rpm higher than the standard engine. My memory tells me this is probably the first ever 2-valve engine equipped with VVT, and perhaps will be the last one also.

The reason that Ford uses VCT is obvious : it wants to improve the output but couldn't afford to develop an all-new 4-valve engine. By the way, the whole development budget for Falcon is just 270 million pounds.

Another joke from the press release is : "Overall length reduced 10mm - ease of parking." Pardon ? Reduced by how much ?

The joke stops here. Back to the car itself, Autocar's Australian correspondent reported quite good impression. He said the huge Falcon displays better dynamic than the Taurus. Steering weight consistently and turns accurately. Good brakes. Improved body control. The abundance of torque mated with the popular automatic gearbox delivers effortless performance.