FIAT Panda Mk2

Debut: 2003
Maker: FIAT
Predecessor: No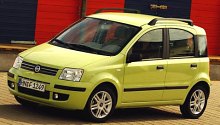 The Giugiaro-designed original Panda (1980-2002) was a great success. Even though it was a small range offered with limited choices of engines and options, its honest personality and practical functions earned it 4.6 million units of sales. But this car has no relationship at all with the Panda we are going to talk about. The new Panda is not only not a direct successor to the old one, but it would have been named "Gingo" if Renault didn't slam it for pronouncing too close to Twingo. In the end, Fiat decided to rename it to Panda.

The new Panda falls into the "sub-mini" segment consists of many Japanese K-cars, Volkswagen Lupo, Renault Twingo, Hyundai Atoz, Daewoo Matiz and the like. Measuring 3.54 meters in length, it is 33cm shorter than its bigger sister Punto but 22cm longer than baby Seicento. While its 2.30 meters wheelbase is shorter than most K-cars (who can beat them in space efficiency?), its 1.54m height is simply MPV-like. People sit high in the cabin, enjoying excellent visibility through huge windows over the low waistlines. The bright and airy cabin has plenty of headroom and decent legroom to fulfill the task as a city car. Wide-opening doors aid easy access. The one-piece plastic dashboard is dominated by a big center console on which gear lever is mounted. The latter makes gearshift more relaxing. In terms of materials, it doesn't set any new standard, but with some soft-touch plastic and decent cloth trim, it feels far better made than Korean mini cars.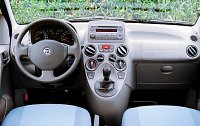 Now you start understanding its design philosophy: this is a no-frill car. Functions and practicality are put in first place. The same goes for exterior styling. Here, I must admit my disappointment that it lost the charming style of traditional small Fiat, say, Uno, the old Panda and Punto Mk1. Like the recently facelifted Punto, the new Panda proves that Fiat's studio needs to be revitalized. It seems that since the 4-line logo was replaced by the circular badge, Fiat's fortune as well as creativity has been falling. The square, bland and featureless design of Panda is so conservative that even Volkswagen would not adopt.

However, the new Panda is a much better car to drive than to look at. Its chassis is unusually mature for the class. This means high rigidity, absorbent and quiet ride (even on bad surfaces) and excellent noise insulation. Its FIRE engines are sweet. Although the 54hp 1.1-litre and 60hp 1.2-litre still employ 2 valves per cylinder, they are torquey and never noisy. The 60hp engine is especially lovely, giving the not-so-lightweight Panda a competitive acceleration (0-60mph in about 13 seconds), while 75 lbft of torque is useful for overtaking.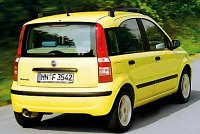 However, the best of the bunch is the new 1.3-litre common-rail turbo diesel. It's the world's most compact diesel engine. Sophisticated multi-jet common-rail direct injection enables it to produce a respectable 70 horsepower and 133 lbft of torque yet returning 66mpg of fuel consumption. And unusually, the diesel engine tops the Panda range as the fastest and most expensive model.

In driver's point of view, the new Panda is also fun to drive. Although the skinny tires lack the necessary grip to exploit its potential or to test its suspicious body control, its handling is agile and predictable, while steering is sharp and direct.

Whether it will succeed is difficult to predict. That will depend on how well people accept its conservative styling. Our first choice is still Daihatsu Mira, as it is a little faster, a little more spacious, a little better built and a little prettier than the Panda, if not as refined. Anyway, the Panda proves that Fiat is still capable of making good small cars. We wish it could help the Italian giant overcoming its darkest days.
The above report was last updated on 26 Sep 2003. All Rights Reserved.
Panda 100HP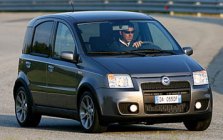 A supermini won't be a complete range without a hot hatch model. After 3 years, Fiat Panda is finally offering us its hot hatch version, Panda 100HP. Outside, this car looks really cool, thanks to the new bumper with huge intakes, the extra skirts, the obviously lowered ride height (yes, it is 25mm lower than the regular Panda), the widened fenders which push all four wheels outside to enhance cornering stability, and the eye-catching 15-inch alloy wheels wrapping with 195/45 rubbers. Its sporting intention is apparent.

Underneath the clothes you will find a superb engine: Fiat's new 1368cc twin-cam 16-valve engine with variable valve timing and port-deactivation. It produces 100 horsepower, hence giving the name of this car, and 97 lb-ft of torque - both slightly more than those offered in Grande Punto. However, what really matters is not numbers, but its real-world behaviour: it has sharp throttle response (especially if you press the Sport mode button), it has even spread of torque across a wide band, and most important, it is smooth and eager. It loves to rev towards 7000 rpm limit, something no one else in this segment can match. It reminds us Fiat used to build the world's best twin-cam four-cylinder engines in the 60s and 70s.

Delivering as much joy is the new 6-speed manual transmission. Slick gearshifts combined with well-chosen ratios means the gearbox works flawlessly with the sweet engine. In this way, the Panda 100HP always feels more satisfying to drive than its average performance suggests (115mph top speed, 0-60mph in 8.9 seconds).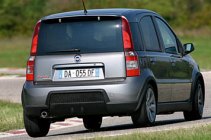 In the handling side, this car also exceeds our expectation. It grips well, balances well and corners stable. Any worry about cornering stability from the tall body is washed away by the 25 percent increase in spring rate and the 25mm lower ride height. Brilliantly, the conversion did not sacrifice much of the supple ride associated with the regular Panda. The reason? Fiat has replaced the rubber bump stops with items made of Cellasto polymer. Besides, the rigid chassis also helps to absorb vibration and harshness. The lifeless electric power steering is also improved by the Sport mode button, which weighs up steering effort while sharpening throttle response. The bigger brakes, come from Grande Punto, are more than capable to do the job.

Overall, the Panda 100HP feels agile and energetic through corners. Quick it may not be, it guarantees a great deal of driving fun from just £10,000 (UK price) while cost little to run (fuel consumption is 43.5mpg for combined cycle). Fiat is finally back to form.
The above report was last updated on 6 Dec 2006. All Rights Reserved.