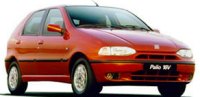 Base on the old UNO platform, Fiat has recently created its first so-called "World Car". This world car is very unlike Ford Mondeo, it is mainly destined to those developing countries rather than Western Europe and North America. So let us call it "Third World Car" !

Despite of brilliant packaging, styling and new engine, the UNO chassis is still short on handling, riding and torsional stiffness. We understand that the people in developing countries are usually less demanding on driving fun, but is Palio good enough to fight against Japanese cars ? or the winning key depends on productivity and the co-operation with governments ?

Palio will never re-import to Western Europe because its more-advanced brother, Punto, responsible for there. It will be produced in Brazil, Argentina, India and perhaps finally in my home-country, China. Production has started in Brazil, where used to be the biggest overseas market of Fiat. Not all Palio will be the same, they will be modified according to the needs of the market, for example, the Brazilian Palio can drink lower RON petrol as well as a mixture of petrol and alcohol.

Fiat is currently negotiating with the governments of India and China about the set-up of their production facility. If everything goes right, the annual production of Palio will easily exceed 1 million per year and become the no. 1 seller in the world.