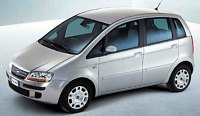 Idea is the MPV version of Punto. Inevitably, its prime rival in Europe is Opel Meriva, which is similarly sized and priced. We know Meriva is strong at interior space and flexible seating plan, both are very important for a mini MPV. Fiat Idea could not better it in these areas, but in the end it is actually the better car here and even the most outstanding MPV since Fiat's own Multipla and Renault Scenic II. So, what make it so outstanding? we shall see....

Externally, the Idea's styling looks cleaner, prettier and cultier than Punto II. This is because it was conceived by Giugiaro and finished by Fiat's own Centro Stile while the Punto II was completely the job of Centro Stile. Look back to history, Fiat's most successful cars in the modern era were all penned by Giugiaro - the Panda, Uno and the original Punto. Unluckily, Fiat switched back to its own studio in recent years and resulted in the less convincing Punto II and Stilo. Both cars sold badly, which is hardly a coincidence. I guess Fiat's management also saw this and therefore decided to seek help from Giugiaro to do the Idea. The only bad styling in the Idea is the conservative grille and headlamps, which have a lot in common with the facelifted Punto II thus are undoubtedly the job of Centro Stile.

The MPV version is just 48mm longer than Punto in wheelbase, but it is 180mm taller, a little wider and a little longer. The high roof and high seating level (40mm above Punto) boost usable space a lot, enabling the accommodation of 4 six-footers in comfort. Best of all, the 60/40-split rear seats are mounted on rails and can be slide back and forth while their backrests can be adjusted for a wide range of angles. As a result, passengers of different sizes won't have problem to find a comfortable sitting position. Besides, the cabin is covered with big windows, feeling bright and airy.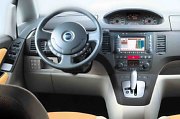 The luggage compartment is not as big as Meriva, nor the rear seats fold as cleverly. They don't fold flat, but flip forward to release a loading area, whose volume is of course no match with Meriva. Nevertheless, the Fiat MPV strikes back in visual quality. Its 2-tone styling is cool. Switch gears and air vents have quality feel. Soft-touch plastics used in the main dashboard and console is a first in this segment. Fit and finish is first class. In terms of quality, it is million miles better than Meriva and has nothing in common with Punto. How Fiat manage to package its small car so expensively is unknown.

The Idea MPV also drives like a much more expensive car. Its 80hp 1.2-litre 16V and 95hp 1.4-litre 16V petrol engines, 70hp 1.3-litre Multijet and 100hp 1.9-litre Multijet turbo diesel engines are all refined and eager, if underpowered. The Idea is 200kg heavier than the similarly-engined Punto, thus performance is inevitably unremarkable. However, it is undeniable that while AutoZine always pick the most powerful engines, the market actually favours the less powerful versions for their price and fuel consumption benefit. Fiat knows very well what the customers of small cars need, that's why they did not put a 1.8-litre petrol engine into the Idea, unlike Opel Meriva. What they need to make sure is to have the best small engines on the market, especially diesel. And it did that convincingly.


Punto was never renowned for driver appeal. The same goes for its MPV version. However, by MPV standard the Idea is competent. Its electric power steering lacks feel but is light and pretty accurate. Its handling is good enough, thanks to a 20% stiffening of suspensions. Body roll and understeer are well checked. Despite that, it still rides smoother than the Punto. The longer wheelbase and higher load may be part of the reason.

In short, Idea is an all-rounder with an especially desirable packaging. The only area it lost to Meriva is luggage-carrying capability. However, mini MPVs are not supposed to be trucks. The Idea overshadowed Meriva in most other areas, including mechanical refinement and build quality, which should be a shock to its German rival. If Meriva can sell 200,000 units a year according to plan, Fiat's target of 130,000 units will seem to be too conservative.