FIAT Croma

Debut: 2005
Maker: FIAT
Predecessor: no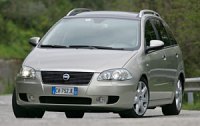 Remember Croma ? 20 years ago Fiat joined project "Type 4" with Lancia, Alfa Romeo and Saab. Based on the same platform, they developed Lancia Thema, Saab 9000, Fiat Croma and Alfa Romeo 164. The Croma was a big car to Fiat as well as to Italian. You know, the country used to be dominated by Vespa and small cars like Fiat Uno and Panda. It taxed cars over 2000 cc like luxurious cars. However, the Italian found Fiat Croma was not only spacious and practical but also affordable. It was affordable because Fiat made its body from just 321 components, 30% fewer than ordinary cars. High level of robotized manufacturing also helped raising production efficiency. On the other hand, its turbocharged 2-litre four-pot engine escaped from heavy tax penalty while providing sufficient punch. The Croma was designed by Giugiaro, so it was pretty outside and spacious inside. While it looked like a 3-box, it was actually a practical 5-door hatchback. With all these good attributes, no wonder it immediately became the national big car. It was used commonly as government official transports, police cars and executive cars for those could not afford import products.

Nevertheless, after 450,000 cars built between 1985 and 1994, the curtain finally fell down. As Fiat group tried to push Lancia and Alfa Romeo upmarket, while Saab went into the hands of GM, Fiat did not have enough partners to make the development and production of Croma Mk2 feasible. As a result, the Fiat large car disappeared from price list for a whole decade. About 3 years ago, the project was revived as it finally found a partner to share costs: General Motors. During the short-lived merger between Fiat and GM (2000-2005), the two companies agreed to develop cars based on the same platforms. The first fruit is what they called the Fiat "New Large", which is now known as the second generation Croma.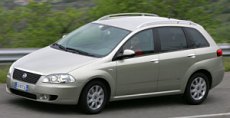 The new Croma was derived from the Opel Vectra platform. This means its sister cars include also Opel Signum, Saab 9-3, Chevrolet Malibu / Maxx and Pontiac G6. This platform is available in 3 different wheelbases – 2700mm (Vectra and Malibu), 2830mm (Signum) and 2852mm (Maxx and G6). The new Croma chose the shortest of them, though it is already longer than the original Croma by 40mm. Like others, it employs strut and multi-link suspensions, electro-hydraulic steering and a pretty stiff chassis with 17600Nm/degree torsional rigidity.

What made the difference is packaging. Once again, Giorgetto Giugiaro was responsible for the styling. Instead of a conventional sedan, he decided to create a crossover between estate and MPV. The Croma has a fat, volume profile, very tall (1600mm) height, which exceeds a BMW 3-Series by 170mm ! The benefit is of course a spacious cabin and a fashionable high sitting position which delivers a commanding view. From function point of view, the design works flawlessly.



However, from styling point of view it is a nightmare. I am very disappointed with Giugiaro this time. Perhaps he got accustomed to the mediocre designs he delivered to Korean car makers in recent years, he is no longer capable of designing beautiful Fiats. The uncharacteristic shape, the dull grille, ugly headlights... everything points to a Korean car. Remember the magics Giugiaro did to Panda, Uno, Croma Mk1and Punto Mk1 ? Can you believe the same designer styled this Croma Mk2 ? Poor Fiat, all bad luck happened to it at the same time: sales crisis, lost of GM's partnership and the reliance on an off-form Giugiaro.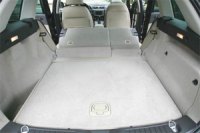 Anyway, the cabin is highly spacious and practical. There is a lot more passenger room than Opel Vectra. Even when the front seats are in their rearmost position, rear passengers enjoy plenty of legroom. The high-mounted seats allow more natural sitting position, thus Croma is good companion to take the whole family for weekend long journey. They will also find the car capable of carrying a lot of luggage - 500 litres in normal form and 1610 litres when the rear seats fold down. What a pity they do not fold completely flat onto the floor.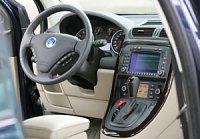 The cabin has a lot of big storage spaces, such as a 11-litre glovebox and a 3-litre drink cooler under the front arm rest. The dashboard is clear but material quality is just average - Fiat learned a lesson from the high-quality but slow-selling Stilo, so this time simply save the money. A useful feature is a MPV-style, high-mounted gear lever, which eases gearshift. Unfortunately, the relation between steering wheel and pedals is typical Italian-style (long arms / short legs), thus a comfortable driving position is difficult to find.



Start the engine, you will be pleased with the 150hp 1.9-litre 16V common-rail JTD diesel engine. It is one of the most refined and quiet diesel engines in the class, plus a bonus of remarkable power and torque. It proves that Fiat is not struggling in all fields. At least it is leading in diesel technology. At launch, the 1.9 JTD is the fastest Croma, but it is still slower than the first generation Croma turbo ie. Therefore later this year Fiat will give it a new 200hp, 2.4-litre JTD. It is basically a 5-pot version of the 1.9 JTD. This is the fastest diesel of the class and should be a strong reason to consider Croma.



In the petrol side, Fiat is less enthusiastic. At the bottom end it provides a 140hp 1.8-litre 16V engine, which is an old engine but recently added with dual VVT (previously only at intake side). We used to love this engine for its eager manner. Another engine is GM's L850 2.2-litre 16V, which is not as rev-happy but delivers more torque. However, the additional torque has to deal with another 80 kg of weight, thus performance gain is rather slim. In fact, all Cromas are heavyweight machines (see specification table below), therefore the torquey diesel engines are better bet.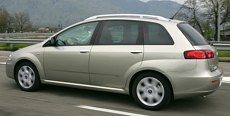 The Croma drives very much like its platform donor Opel Vectra. It grips, corners and stops competently, control its tall body surprisingly well. But like Vectra, it is not very inspiring to drive. It lacks the sharpness of Ford Mondeo and the neutrality of Peugeot 407. Its steering delivers little feel.

As for refinement, its revised springs, dampers and bushings deliver a slightly more supple ride than Vectra, but it does not isolate noise and harshness as well as the new Volkswagen Passat. The smoothness and quietness of the JTD engine compensates a little, but not enough to challenge the VW for overall refinement.



Anyway, no one expect the MPV-style Croma to deliver a sporty driving character, nor anyone expect a Fiat to match Volkswagen in quality and refinement. The problem is, building another average car is unlikely to pull Fiat out of its financial trouble. Fiat needs a hit desperately. It has to be pretty and desirable, not a car looking that dull. Time is running out for the Italian giant.
The above report was last updated on 25 May 2005. All Rights Reserved.
2008 facelift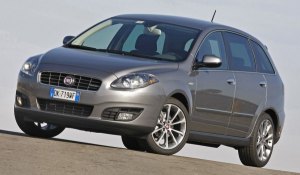 In late 2007 FIAT Croma received a facelift. New front grille and headlights look nicer than the old car. There are also some trims and equipment upgrade, but mechanically the car remained largely as before. The old GM 2.2 petrol engine phased out without replacement. Other engines continued without changes.

The above report was last updated on 15 Aug 2009. All Rights Reserved.