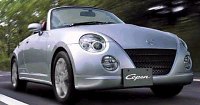 Since Suzuki Cappucino, the Japanese had forgotten how to build a sporty and fun K-car. Overcrowded in the streets of Tokyo are all refrigerator-like boxes. You can hardly name the differences between a Mitsubishi eK-wagon and a Honda Life. Now Daihatsu finally injected a new lease of life into the K-car segment with the Copen.

What makes the headline is that Copen is the world's cheapest car with retractable metal roof. This technology was pioneered by Mercedes SLK (Honda CRX Del Sol was Targa rather than fully retractable) and has been copied by 206CC, Lexus SC430 and Mercedes' own SL. It is increasingly more popular, especially when production cost is falling. Last year, Peugeot sold 72,000 units of 206CC. This year will approach somewhere around 100,000 units.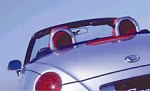 Like 206CC, Daihatsu Copen was first appeared as a concept car (in 1999 Tokyo motor show). After receiving good reception it got green light and spent 3 years for development. The folding aluminium roof called for a new metal fitting technology to reduce cost (otherwise impossible for a car so cheap). Press a button, after 20 second the roof will be completely stored in the trunk. With the roof eliminated, it seeks rollover protection from a pair of rollover bars located right behind the headrests - very Audi TT Roadster-like.

In fact, many criticize the styling of Copen copies that of the TT - you can easily see that from its body profile and its six-spoke wheel design. Besides, it also copies many details from Volkswagen New Beetle - such as the headlamps and taillights.

Anyway, copy cat saves a lot of money on design thus might benefit pricing - just joking. In fact, it could be cheaper than 206CC because it is a K-car, derived from Daihatsu Mira / Move / Max and shared 40% of components, mostly the engine, transmissions and suspensions. The 830kg Copen is therefore powered by the company's 660c.c. turbocharged 16-valve four-pot engine, driving either 5-speed manual or a Tiptronic-style 4-speed auto to the front wheels. Ridiculously, the manual version employs a LSD to handle the "mighty" 64 horsepower and 81 lbft of torque.

To up chassis rigidity, wheelbase has been shortened by more than 100mm while the introduction of rollover bars adds rigidity. Floorpan, sills and windscreen pillars have been strengthened.


However, though being cheaper, it won't appeal to the majority like the 206CC. The Copen is not as practical as the Peugeot. First of all, the cabin is cramped, because its roof is 130mm lower than 206CC. 6-feet people will find limited headroom. Secondly, the tiny engine needs rev to overcome turbo lag and extract sufficient horsepower for brisk acceleration, unlike the 206CC (even in 1.6 version) which has strong reserve of torque. If not bounded by the regulations, I am sure Daihatsu would have seek power from a bigger normally aspirated engine, such as the 110hp 1.3-litre from Sirion. K-car regulations create many opportunities, but also ruin some good attempts.

Surprisingly, the relaxed-looking Copen has very stiff suspension setup. This make it a good driver's car by K-car standard, but the side effect is uncomfortable and noisy ride on bumpy roads. It is therefore not as competent as Cappucino. 10 years gone, Cappucino remains to be the most lovely K-car.