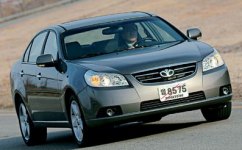 Daewoo's mid-size sedan is called Tosca in Korea or rebadged to Chevrolet Epica for overseas market. It replaces the outgoing Magnus (Evanda) and competes in the same segment as Volkswagen Passat, Ford Mondeo, Toyota Camry, Hyundai Sonata, Kia Magentis and Samsung SM5 (Nissan Teana). Unsurprisingly, its biggest weapon is value for money – while it offers plenty of space for five people and a lot of standard equipment, it is priced to undercut even the cheapest rivals, including Hyundai Sonata. This is necessary because Daewoo still lacks the image to match Hyundai. In fact, GM is happy to keep its Korean subsidiary producing no-frills bargain and supplying the equally grass-root Chevrolet and Holden brand. This is not going to be changed in the foreseeable future.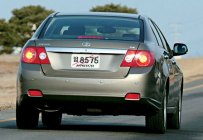 Being a no-frills bargain, Tosca doesn't need a Chris Bangle-like design to divide opinion. What it needs is an inoffensive design to satisfy all kinds of people, from the conservative Korean and Chinese to the open-minded American and Australian. Besides, styling it in-house would be cheaper than hiring Italian design houses like its predecessor, so it was designed in Korea under the guidance of David Lyon, the design chief of GM Asia Pacific. The traditional sedan profile has long overhangs at either ends of the 2700mm wheelbase. You can describe it as conservative or characterless. Boring might be a word too harsh.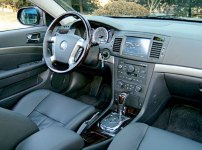 The cabin is actually quite well finished, thanks to a neat design and decent material quality. The upper half of the dashboard is made of soft-touch textured plastics, leaving only the less-noticeable lower half of the dashboard and the door panels to be made of lower grade plastics. You can choose between an aluminum effect trim and a wood effect trim, both look high quality enough. The driver can easily find a comfortable driving position in the electrically adjustable seat. Rear passengers will find generous leg room while the width of the rear bench is enough for 3 adults. The only problem is a little short of head room for tall passengers. The boot can swallow 480 liters, easily above class average.

The chassis is developed based on Magnus, as shown by their similar dimensions and mechanical specifications. To provide modern crash protection, more than 40 percent of the chassis is made of high-strength steel, no wonder the car weighs as much as 1385-1485kg. To offset the increased weight, some car makers would apply weight saving measures such as steel sheets of varying thickness, steel parts made by hydroformed process or parts made of lightweight materials like aluminum or magnesium. To the cost-conscious Daewoo, however, none of these measures are adopted. This put a lot of burden to the engine...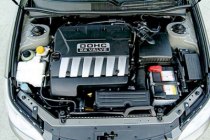 Apart from Volvo, Daewoo is the only car maker in the world adopting transversely mounted inline-6 engines. Codenamed XK, it has no relationship with Jaguar, of course, but it probably stands for "Xtremely Kompact" (just my guess). The 2.5-liter unit is carried over from the outgoing Magnus. It features DOHC 24 valves but without variable valve timing or direct injection - predictable for a cost-conscious car. It produces only 156 horsepower, too bad for its capacity and even worse when compare with its 3-liter-plus V6 rivals. Fortunately, the long-stroke design produces decent torque, while smoothness and quietness are remarkable. I always prefer the straight-6 configuration, not only because it is a classical design but it has the benefits of smoothness, efficiency and simplicity. If you don't ask for big capacity, a small straight-6 will fit into most cars yet return good fuel consumption and emission.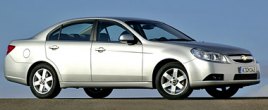 Nevertheless, in the overweight Tosca, the 2.5 straight-six feels weak, especially it is compulsorily mated to a 5-speed Tiptronic-style automatic transmission with unresponsive gearshifts and a tendency to upshift at rather low rpm. Change to manual mode could quicken its response, but 130 mph and 0-60 mph in 9.3 seconds are still hardly impressive.

The 2.0-liter version of the straight-6 is actually a better choice. It is cheaper to buy, cheaper to run (combined consumption is 34.4mpg versus 30.3mpg) while performance is actually identical, thanks to the availability of 5-speed manual gearbox. The lighter nose also benefits handling a little. However, you need to work hard to squeeze the maximum 144 horsepower out of it.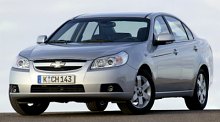 On the other extreme, the 4-cylinder 2.0-liter common-rail turbo diesel feels far more gusty. This engine is supplied by Italian diesel expert VM Motori. It has 16-valve head and a variable geometry turbocharger to produce a remarkable 150 horsepower at 4000 rpm and 236 lbft of torque at 2000 rpm. As long as you can keep the tachometer at above 2000 rpm, it provides stream of torque to ease your driving effort. On the down side, the diesel engine cannot match the best class rivals for quietness and refinement.

On the road, the suspension comprises of front MacPherson struts and rear multi-link setup is biased towards comfort. It allows quite a lot of body movement, both lateral and longitudinal. The speed sensitive steering is well weighted but feels numb. The Tosca does not inspire driving confidence like most European cars, nor its rival Hyundai Sonata. Refinement also loses marks, as the cabin is not very well insulated from tire noise and wind noise. At speed, wind noise could become annoying.

An unimpressive car should rely on low price to sell. This is the case for Tosca / Epica. However, even with price considered, it is still not a car worth recommending. Cheap cars can be fun to drive. Unfortunately, Tosca / Epica is short of fun.