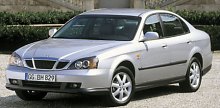 Few cars have so many names. In Korea, it is called Magnus. In Europe, it is Evanda. Both have the Daewoo badge. In the USA market, it is rebadged as Suzuki Verona. In Canada, it is renamed to Chevrolet Epica. The reason behind this is very simple: Daewoo is a weak brand, especially in the North America. Living under GM's umbrella ensures its factories in Korea keep operating while the showrooms of Suzuki and Chevrolet are also benefited. Nevertheless, whether this theory work still depends on the product itself.

Magnus replaces Leganza as the largest car in Daewoo's lineup. Measuring 4770mm in length, 1815mm in width, 1440mm in height and 2700mm in wheelbase, it is considerably bigger than its predecessor (to save your time, it is 100mm longer, 40mm wider, 40mm longer than have 30mm longer wheelbase), this places it in the same league as Ford Mondeo and Toyota Camry. Like many Daewoos, such as Leganza, Matiz and Kalos, it is designed in Italy by Giugiaro's Italdesign. Nevertheless, its exterior design is by no means memorable.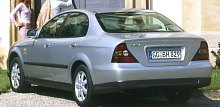 In mechanical aspects, we don't have too much expectation. Magnus rides on strut suspensions up front and multi-link at the rear like many rivals. It has 2 engines for selection. The cheaper one is its predecessor's 2.0-litre 16-valve D-Tec four-pot engine. If you remember, it was an old Holden design thus I don't expect good power and refinement. Yes, 131hp at a low 5400rpm is nothing to be excited about, so is 133lbft at 4000rpm.
Next engine is a new 2.5-litre 24-valve straight-6 - yes, like BMW's, it is a straight-6. However, it produces a laughable 155 horsepower, although 177 lbft of torque is not bad, thanks to variable intake. A compulsory 4-speed automatic transmission further hampers its performance. The 1500kg kerb weight doesn't help too.
Inside, the design of dashboard is quite boring. Fake wood at the center console reflects the bad taste of the product planner. However, build quality seems consistent and solid, just like the new Nubira. It seems that GM's quality control procedure has finally lifted the quality standard of Daewoo. In terms of space, the car is competitive in its class. It provides much the same space as the American Honda Accord and Toyota Camry.
On the road, the 6-cylinder Magnus feels quite refined. The engine is smooth, the chassis is rigid, the ride is soft, the steering is muted. The 4-cylinder model is not so good, blame to the excessive noise and vibration at high rev. It lacks the mechanical refinement of most modern 4-cylinder engines.
As the suspensions and steering are tuned towards the comfort side, the car doesn't handle brilliantly and never inspires its driver. If you push the car harder on B-roads, you will be disappointed by its excessive roll and understeer and the lack of grip and steering feel. Admittedly, Daewoo did not design the car to please keen drivers, but because there are so many cars in the class offering a better compromise between handling and comfort, we don't have any strong reasons to recommend this Daweoo. Some people may be impressed by its low price, however.