Dodge Caliber

Debut: 2006
Maker: Chrysler
Predecessor: Neon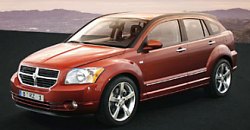 The emergence of Dodge Caliber signals the end of the Neon, once a beloved American small car. In the view of changing market condition - sales decline of conventional sedans and tougher competition from more and more Japanese / Korean rivals - Chrysler gave up conventional sedan form and designed the Caliber as a hatchback-SUV crossover. I think this is a farsighted decision. It prevents direct competition with the better-built Japanese cars while enabling sales in the European market, where practical hatchback is a must for success.

Price-wise, the Caliber will occupy the same space as Neon. Starting from US$14,000, it even undercuts its predecessor by US$410. This represents excellent value for money considering the extra practicality and utilities it brings. However, as it offers a lot of interesting optional features, expect most Calibers will leave showrooms at a sticker closer to US$20,000.

Style-wise, Caliber looks like a real SUV, thanks to a prominent grille, strong wheelarches, 17/18-inch wheels and an off-roader-like ride height of 185mm. Such a bold and tough design is not my cup of tea, but American buyers may prefer it. They may also like its "commanding" driving position which is 100 mm higher than the Neon. The Caliber is not a real SUV, of course, because it is built in monocoque construction and is front-wheel drive. Even though the top model offers 4WD, it is a part-time system, i.e., the rear wheels are engaged by electromagnetic clutch only when the front wheels are slipping.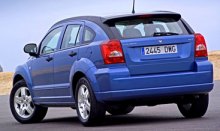 The Caliber is built on the platform shared with Jeep Compass and Patriot as well as the next generation Mitsubishi Lancer. (It was jointly developed by DaimlerChrysler and Mitsubishi before their relationship ended in 2005) Unsurprisingly, they share the same "World Engines", a joint venture between them and Hyundai. There are three petrol four-cylinder engines, all employ aluminum block, DOHC 16V, dual VVT and variable intake manifolds. They differ in capacity - 1.8 liters, 2.0 liters and 2.4 liters, producing 148hp, 158hp and 172hp respectively, which is undoubtedly remarkable. For comparison, Honda's proud new 1.8 i-VTEC engine develops 140hp only. The 2.0 and 2.4 units get twin-balancer shafts to cancel the second order vibration normally appears on inline-four engines. The 1.8 engine, thanks to its shorter stroke, does not need twin-balancer shafts.

For European market, a diesel engine is inevitable. Volkswagen group supplies a 2-litre turbo diesel engine. The dohc 16V unit employs 2000 bar pump injection system and a variable geometry turbocharger to produce 140hp and 229lbft of torque. The diesel comes with a 6-speed manual gearbox while the petrol engines get standard 5-speed manual or a Jatco CVT with Autostick function simulating a 6-speed manual gearchange.



On the Road



Theoretically, these engines should return very good performance. However, the SUV-like Caliber is no lightweight. It is longer and much taller than most European family hatches, so it carries about 100 kilograms more than rivals. Car & Driver timed a Caliber 1.8 taking 9.7 seconds to accelerate from 0-60 mph, which is already very lucky. I suppose most other magazines will be difficult to get it done within 10 seconds. Top speed of the car is a poor 106 mph due to its wind-blocking shape and large frontal area. Caliber pays the price for its SUV look. Naturally, the 2.0 and 2.4 engines offer more useful torque, but they still offer performance someway below class standard.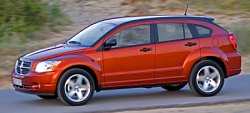 Poor performance is one thing, poor refinement is another. In this installation, the "World Engine" is not exactly world-class. Although they are reasonably smooth, they sound coarse at high rev, possibly due to their thermoplastic intake manifolds or lack of attention to acoustic engineering. As the driver needs to squeeze rev to achieve necessary performance, the noise issue is worsened in the Caliber.

Transmission is another major failure of the car: the standard 5-speed manual has a very clonky gearchange to discourage shifting. Embarrassingly, this gearbox mates with the smaller 1.8 and 2.0 petrol engines, thus is most needed to be shifted. The Jatco CVT optional on the 2.0 and 2.4-litre model is a low-cost design to enable the bargain price. It displays old-fashion "rubber band effect" – at full throttle acceleration, the engine screams and revs to near redline but the acceleration takes a while to follow. Such delay is unpleasant to keen drivers, although it delivers 6-8 percent better fuel consumption than a conventional automatic.

The Caliber has very high centre of gravity. In addition, the suspensions setting is comfort-biased. No wonder its dynamics is seriously compromised. It feels bulky in corners, displaying a lot of body roll and understeer early on. Moreover, the steering is both inaccurate and numb. The front wheels struggle for grip, while torque steer is badly controlled – not only for the torquey diesel engine, but even the smallest petrol engine has signs of torque steer when accelerating in tight corner. Obviously, the Caliber's chassis is seriously underdeveloped. It shows the worst dynamics in the C-segment.



In the Cabin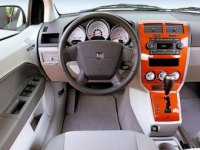 Awful, the plastic quality here is really awful. Frankly speaking, considering the price of the car and the reputation of American build quality, we won't expect soft-touch plastic here, but the Caliber's interior is even worse than imagined. Its low-rent hard plastic panels have a number of sharp edges not even found in the cheapest Korean cars, while various parts feel brittle and easy to get scratched. How long could they survive? This put a big question mark over the reliability prospect of the car.

The Caliber is a big car by European standard. However, the cabin space it offered matches rather than exceeds its rivals. In contrast, it offers a class-leading luggage space at 520 litres.

Function-wise, Caliber is very impressive. Firstly, the 60/40-split rear seat can recline by up to 12 degrees, or fold down to form a flat cargo area which measures 1360 litres. Secondly, the front passenger seatback can fold down to place long items like surf boards. Thirdly, there is an air-cooled beverage storage bin under the front passenger glovebox. Fourthly, the front armrest incorporates an iPod holder to please the new generation, while an optional speaker located at the tailgate can flip out to broadcast music to the camp / picnic site (Chrysler calls it "MusicGate"). Lastly, the cup holders got illuminated base surround to make them easier to locate in darkness. Obviously, Caliber targets at the youth.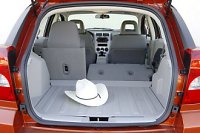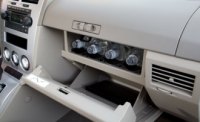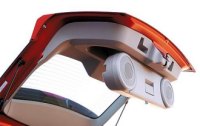 Nevertheless, the serious compromise in dynamics and quality is not the impressive functionality can compensate. This raise our long-time argument again: is it worthwhile to pursue SUV feel in the price of performance, handling and cost, not to mention fuel economy ? Dodge Caliber is another testament to our anti-SUV standpoint.
The above report was last updated on 2 May 2006. All Rights Reserved.
Caliber SRT4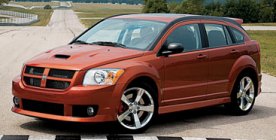 SRT stands for "Street and Racing Technology". It represents the high-performance versions of Chrysler's cars. 5 years ago, the SRT label debuted on the Neon SRT-4, a 215-horsepower lightweight pocket rocket. Although its chassis had difficulties to withstand the power, it was loved by tens of thousands of fans for lightning performance, which was evident from its 0-60 mph time of 5.6 seconds.

Fast forward to 2007, the Neon line has been replaced with Caliber, and the new Caliber SRT4 appears to be very different from the car it replaced. Like any Calibers, it looks tall, wind-blocking and even agricultural. Despite of some aggressive wheelarches, spoilers and bonnet scoop, it has little implication of
"Street and Racing Technology", ridiculously.

However, under the bonnet lies a very powerful engine. Based on the aluminum 2.4-liter 4-cylinder "World Engine" with twin-cam, dual-VVT and balancer shafts, Chrysler added a Mitsubishi TD04 turbocharger running at 0.8 bar and an air-to-air intercooler to boost its output to 285 hp and 265 lbft. To cope with the increased power, the engine is beefed up with forged connecting rods, stronger pistons, stainless steel exhaust and increased coolant flow. Behind the engine is a new Getrag 6-speed manual gearbox, which sends the tremendous power to the front wheels shod with 225/45R19 Goodyear Eagle F1 rubbers.

Now here's the problem: with so much torque going through the front wheels and without employing limited slip differential, the SRT4 has bags of torque steer to fight against the will of the driver. I thought torque steer should have been a thing of the past, but it seems that the Chrysler's front-wheel drive platform lags behind the industrial norm by a generation. It does have electronic brake differential (which applies braking on individual wheel to shift power to another), traction control and stability control, but these electronic devices only acts as a safety net rather than improving its real-time control. The SRT4 also has too much understeer when you push it hard into corners. This mean it feels more reluctant to turn than most other hot hatches. The numb steering doesn't inspire driving confidence either.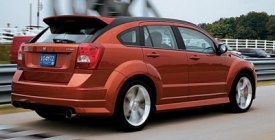 The suspension of SRT4 is beefed up with stiffer springs and dampers, lowered ride height (down 28mm front and 22mm rear) and thicker rear anti-roll bars. The result is evident on rough surfaces, where ride quality is as harsh as the car looks. Unfortunately, in corners it still rolls more than conventional hot hatches, blame to that SUV-like proportion. If you want good handling and ride, this is by no means a good choice.

However, if your concern is only "bang for the buck" – no matter how silly it sounds – then this car will make a lot of sense to you. No other cars in its class produces 285 horses. Very few can match its claimed performance of 155 mph and 0-60 in 6.0 seconds. What disappoints is that it is actually slower than the old Neon SRT-4, blame to the extra 100 kilograms it carries. If you want raw fun, simply buy a used Neon SRT-4. However, if you want a rounded package with good performance, handling, ride, quality etc., Chrysler's showroom is perhaps the last place you should consider. We love SRT-8. We respect SRT-6. But we just can't recommend the cheapest SRT model.
The above report was last updated on 2 Oct 2007. All Rights Reserved.