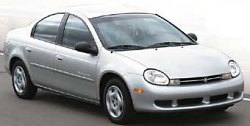 When the first Neon was launched in 1994, it was praised as a breakthrough for the anti-Japanese car campaign. Myself was totally convinced with its lovely exterior look, its roominess and strong performance. But as time went by, people aware there were many design flaws. For example, the 2-litre 16 valves engine was rather noisy and harsh, the frameless side windows failed to insulate wind noise. The cheap looking plastic parts in the cabin were not tightly fit. At last, reliability problem always troubled its owners. No wonder American still favour the boring-looking but trouble-free Corolla and Civic.

Predictably, Chrysler spent extra effort in the new generation Neon to cure these problems. We call it the new generation because it has a completely new chassis. 25mm extension in wheelbase makes a total of 2667mm, easily exceeds Ford Focus's 2615mm (the longest in Europe) and even makes Corolla's 2465mm seems laughable. Compare with the already spacious predecessor, the new car provides the rear passengers with 38mm more shoulder room and 58mm more hip room. What's the purpose ? American always love large cars. Obviously, Chrysler knows the sizes of its Japanese and European Ford's opponents (Focus will go to the States) are tightly bounded by the requirements of their domestic markets. Therefore, the larger new Neon will have a decisive advantage against its competitors.

The new exterior design is still noticeable as a Neon, especially looking from the front. However, the base of the A-pillars are moved forward for some 80mm to make it more "Cab forward", thus decrease the slope of windscreen further and enhance the sense of aggressiveness. Starting from the C-pillar, you can see family resemblance with the Dodge Intrepid. The new Neon is still the best looking small car for sale in US.

Although being enlarged, the chassis gains 26% in torsional rigidity. In addition to the recalibrated all strut suspensions, the car rides smoother and generates far less squeaks and rattles, a big improvement for refinement. On the other hand, handling is still agile and enjoyable. This is one of the good genes carried over from the first generation Neon.

The single cam 2-litres 16 valves inline four is carried over with a little modifications such as new manifolds. It improves a little bit bottom end torque as well as raises the peak torque by 2 lbft. As the new body is no heavier, expect performance to be at least as good as its predecessor. On the down side, it still spins harshly and loudly above 4,500rpm.

Apart from less wind noise, the cabin gets plastic of better quality which fits more securely. You may still criticise it as too basic, or improves too little compares with the European and Japanese. However, look at the price tag ! How could you ask more ? If it has reliability to match the otherwise goodness, new Neon will definitely be a great success.