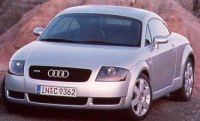 When talking about exciting Audi, car magazines always recall the original Quattro (appeared in 1981). Oddly, for nearly two decades Audi failed to create a worthy successor to the original Quattro - the S2 was intended to do so but its lifeless steering, like other 4-wheel-drive Audis, drove keen drivers away to its rival in Munich. Later, the awesome RS2, with Porsche's hand in tuning, failed in the same way, although power and grip were always abundant. The most recent S4, though improved, is once again hardly match the Ur Quattro. Audi's fans felt frustrated enough, until the TT Coupe comes.

The TT Coupe project started not very promising, mainly because it was said to share VW Golf IV's platform, which has been notorious in handling. Partly because it was said to use Volkwagen's part-time Syncro 4WD system. Luckily, Audi did not receive all the things without alteration. It realised that the Golf's half-independent torsion beam rear suspension is the choice for cheap and space-efficient hatchback. No matter how hard they work, it would never achieve the high level of camber control that a sports car ask for. Therefore they developed a new multi-link suspension, mounted it on a subframe before attaching to the chassis in order to reduce NVH further.

Then, it turned down the adoption of Syncro system for the benefit of handling. Since the Quattro system is deemed to be too large and heavy, and probably because it requires a longitudinally-positioned engine and drivetrain, it is also turned down. Surprisingly, Audi adopted a new system developed by a Swedish component maker called Haldex. The system uses a multi-plate clutch as the center differential for splitting torque between the front and rear axle, similar to the PSK system that Porsche 959 pioneered in 1986 (read AutoZine Technical School for more details). ABS sensors are employed to detect wheel spin, providing information for the computer to determine how much torque needed to be distributed to which axle, then implement the torque split by actuating the multi-plate clutch. Theoretically, nearly all the torque can be sent to either axle.

Then comes the engine. The hottest TT Coupe Quattro is powered by the familiar 1.8-litre 5-valve turbocharged in-line 4, but power is dramatically raised to 225 hp by applying a maximum of 2 bar boost pressure from the new KKK K04 big turbo (still single turbo) and a pair of intercoolers. Surprisingly, Audi's engineers managed to achieve a broad torque curve from such a high boost engine - peak torque 206 lbft appears between 2200 and 5500 rpm ! To handle the additional torque, 6-speed manual transmission is used, and of course the 4-wheel drive.
The TT Quattro is not a light car, thanks to the 4WD, it tips the scale at 1395kg, some 145kg heavier than its arch-rival Porsche Boxster. Yet its dimensions suggest it is a nimble car - 4041mm length is well below Boxster's 4315mm, 1764mm width is 16mm narrower. Because it need not to have a roomy rear seats space as the Golf, the wheelbase is shortened for 89mm, although still 77mm longer than the Boxster.
Having finished the technical details, you must be hungary to know how it drives in reality. Here comes :
Autocar's Peter Robinson (who is also Ward's European correspondent) test drove the TT Coupe twice, and he was very impressed. He described the engine as refined and tractable in low speed, pulls strongly since 3,000rpm and leads to a Boxster-beating performance. Its tremendous torque at a wide rpm band aids in-gear acceleration thus effortless driving. In addition, the gearshift is accurate and precise, with a heavy feel.
Handling could be said as more satisfying than even the Ur Quattro (to be verified by other road testers). Unlike all other failed Audis, TT's steering is direct and quite heavy, with sufficient feedback. Its new 4wd system accompany with the new rear suspensions enable controlled power slide under hard cornering. Considering the degree of adjustability in cornering, this is a rare achievement for Audi. Grip is never in doubt. (By the way, you can feel the torque is shifting from the front to rear and vice versa during cornering) Body stays flat under provocation. Powerful brakes do excellent job. In terms of ride, TT is remarkably supple for such a performance car.
However, to evaluate the real ability of TT, you should compare it with Porsche Boxster, a car which Audi intended to compete with.