Transmission
---
Clutchless Manual

Clutchless manual transmission is simply a manual gearbox mated to an electronic-controlled clutch. The car has two pedals only, without clutch pedal. When changing gears, the driver just need to push the shifter. Sensors monitor the pressure of shifter and accelerator, in case the shifter is pushed and the accelerator is loosened, computer will signal the clutch to disengage the linkage between engine and gearbox, and continuing monitor the progress of gearchange. When the gearchange is finished, the clutch engages again..

As I remember, the earliest clutchless manual was developed by small engineering firms rather than car makers. Ferrari Mondial T and Ruf 911 were among the earliest cars to feature it as option. It did not catch the attention of big car makers until Saab introduced its version called "Sensonic" in around 1995. Road test found Saab 900 Sensonic ran as fast as the manual version.

Clutchless manual costs just a fraction more than a conventional manual. It relieves driving effort, making gearshift easier while having no disadvantages of automatic transmission. It is a logical step to improve conventional manual transmission, although being a small step.


| | |
| --- | --- |
| Advantage: | Cheap, light, no much performance loss. |
| Disadvantage: | No full automatic mode. Not as quick or smooth as Selespeed etc. |
| Who use it ? | Saab Sensonic system, Renault Zoom system, Alpina B10, Mercedes A-class, MCC Smart. |

---
Ferrari F355 F1 - Experience how Schumacher shifts his battle car

0-60 mph : 4.7 sec
0-100 mph : 10.8 sec
0-1/4 mile : 13.1 sec / 111 mph
Kerb weight : 1425 kg

Having read the above data, you might think this must be an ordinary F355. No, it is actually the latest semi-automatic version, F355 F1. This shows the most important advantage of the manual-based gearbox over Porsche Tiptronic etc.: there is virtually no performance loss.

As indicating by its name, F355 F1's gearbox was developed from Ferrari's Formula One semi-automatic gearbox which made its debut in 1989, powering Nigel Mansell's 640 racer to win the opening race - Brazil GP - from Prost and Senna. (I can still remember how stunning when I watched it live from TV). Although the Ferrari didn't win championship that year, it demonstrated the superiority and feasibility of semi-automatic, eventually became standard for every F1 team.

Ferrari's system used in F355 F1 was based on the 6-speed manual gearbox of the standard F355, but with the traditional mechanical-link shifting mechanism replaced by an electronic clutch and a high-pressure hydraulic shift actuator. It had 3 different operating modes. In normal city driving, most drivers may choose the fully automatic mode, in which the computer made gearshift automatically by analysing engine rev, load and throttle. However, it wasn't as smooth as a true automatic gearbox because of the lack of hydraulic torque converter.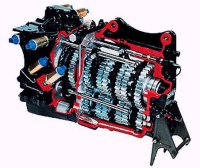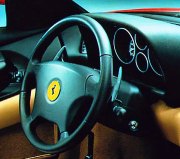 For quick drive, push the switch on transmission tunnel to sport position, the gearbox will be under the driver's control. Gearshift is implemented by flicking the large paddles mounted at the steering column and behind the steering wheel. One paddle for upshift and another for downshift.

The most superior of the gearbox is how well it integrate clutch action and gearshift together. Within milliseconds since the driver press the gearshift paddle, the computer starts simulating how Michael Schumacher's feet work - ease the electronic throttle, then disengage the electronic clutch, and then signal the hydraulic actuator to shift to another gear - all these actions are taken progressively and smoothly.

During hard acceleration, upshift will be made at over 8,000 rpm and the whole process takes as little as 0.15 sec ! This is why the F1 gearbox introduced virtually no performance loss compare with the standard 6-speed manual. In reality, it might be even quicker than a manual car during cornering, because the driver no longer need to take care of clutch and throttle, nor wasting time to travel his hand from steering wheel to gear lever mounted on central tunnel. He can concentrate on steering and gearshift only.

The last operating mode is a medium semi-automatic mode. In this mode, gearchange will be made at only 6,000 rpm. This provide a less urgent acceleration but smoother shift quality. It might not be faster than the fully automatic mode, but it involves the driver so to give more driving pleasure. This philosophy is exactly the same as Porsche's Tiptronic.

Internally the F1 system is called Selespeed. It was developed in conjunction by Ferrari and Magneti-Marelli. It weighs and cost half way between manual and automatic transmission, but provides the advantages of both. Therefore, Ferrari expects 90% of the customers will choose it instead of the manual one.

In 360 Modena, Ferrari kept the hardware unchanged but improved the downshift quality via new software. Flick the downshift paddle, the electronic throttle will speed up the engine automatically, increasing the engine rev to match the new ratio thus guarantee a smoother transition.

Alfa Romeo's Selespeed

Parent company FIAT used to sponsor Ferrari's F1 program. During the past 20 years, the prancing horse did not won FIAT any title, no matter driver's or team championship. The first fruit is perhaps the Selespeed semi-automatic transmission, which was invented by the F1 team and converted for F355 F1 used. Now Ferrari rewarded its parent company with this technology, transferring Selespeed to Fiat's rising arm Alfa Romeo.

This created the 156 Selespeed. Like the F355 F1's system, the Selespeed is a hydraulic actuator added to the normal manual gearbox and incorporates clever electronics. Instead of six-speed, the Alfa unit has 5 ratios like its conventional
sisters. The operation is 90% the same as the Ferrari's, only shift smoother and slower. Gearshift is actuated by the two buttons located on the steering wheel (Ferrari use 2 paddles at the steering column). After pressing the button, the
Magneti Marelli fuel injection and electronic throttle control will reduce the engine output, then actuate the clutch and then change gears by fast-acting hydraulic actuators. After that, clutch engages again and the engine resume power. The whole process normally takes 1 to 1.5 seconds, but it could be reduced to 0.7 sec when it is running in "Sport" mode. However, shift quality in Sport mode is not as good as normal mode.

The computer select "Sport" mode automatically if the driver engage more than 60% of the throttle travel and shift at
above 5,000 rpm. Alternatively, the driver can select "City" mode which simulates a fully automatic gearbox.

BMW M-Sequential (SMG / SMG II)

At nearly the same time as the F355 F1, BMW introduced a similar manual-based semi-automatic into M3. Basically it uses high-pressure hydraulic actuator to shift gear just like Ferrari's system, but uses conventional shift lever. Manual shifting is the same as the sequential box uses in BTCC racers: just a push / pull action. A button located near the shifter panel is used to change to automatic mode.

M-Sequential (or SMG)-equipped M3 E36 had slight performance loss over its manual brother. More delay could be felt than Ferrari's system too. However, BMW claimed in real world like Nurburgring race track, it actually out-performed the manual car because it enables the driver to concentrate more on steering, throttle and brakes.

In E46 M3, the SMG was developed into SMG II, offering even quicker shift and 11 different modes - 5 automatic modes and 6 manual modes with different speed versus smoothness. At the hottest S6 mode, gearshift takes as little as 80ms.

| | |
| --- | --- |
| Advantage: | Cheap, compact, as quick as manual, engaging |
| Disadvantage: | Less refined than automatic |
| Who use it ? | Ferrari 360 Modena F1, BMW M3 E46, Alfa Romeo 156 Selespeed. |




---

Gearshift time comparison

Here lists the minimum shift time of the most popular automated manual gearbox:


| | |
| --- | --- |
| Gearbox (car) | Min. shift time |
| BMW SMG II (M3 E46) | 80 ms |
| Ferrari F1 (Maserati 4200GT) | 80 ms |
| Ferrari F1 (360 F1) | 150 ms |
| Ferrari F1 (Enzo) | 150 ms |
| Bugatti Veyron (proposed) | 200 ms |
| Ferrari F1 (575M) | 220 ms |
| BMW SMG (M3 E36) | 220 ms |
| Aston Martin Vanquish | 250 ms |
| BMW SSG (3-series) | 250ms (150ms for 1st to 2nd) |
| Alfa Selespeed (156 Selespeed) (old) | 700 ms |
---
Twin-Clutch Gearbox

Twin-clutch gearbox is undoubtedly a revolutionary technology for manual transmission. Its impact to the automotive world is even greater than automated manual gearbox such Ferrari F1 system. Twin-clutch gearbox was first put into production by BorgWarner, which calls it "DualTronic". It was first used in Audi TT 3.2 in the name "DSG" (Direct-Shift Gearbox).

Like automated manual gearbox, BorgWarner's DualTronic can operate as a semi-automatic, where the driver changes gears via buttons, paddles or conventional shifter. There is no clutch pedal, because the clutch is automatic while the gearshift is implemented by electro-hydraulic actuators. For relax driving, there is also a full automatic mode, where computer determines which gear to be selected.

So, what's the difference between it and other automated manual gearbox?

Unlike conventional gearboxes, DualTronic uses 2 clutches - one clutch connects to the odd gears (1st, 3rd and 5th) while another clutch connects to even gears (2nd, 4th and 6th). This enable it to shift far smoother and faster than conventional gearbox.

Why? let us see how a conventional gearbox work first: when a driver wants to change from one gear to another, he presses down the clutch pedal, thus the engine is disconnected from the gearbox. During this period, no power is transmitted to the gearbox, thus the driver can shift gears. When it is done, he engage the clutch again, then power is again transmitted to the gearbox. As you can see, the power delivery change from ON to OFF to ON during gearshift. How smooth the change depends on how skillful the driver cooperate the clutch and throttle. Automated gearbox like Ferrari F1 is similar. The only difference is that the clutch and gearshift are operated by computer via hydraulic actuators. The ON-OFF-ON power delivery still exist. In contrast, an automatic transmission with torque converter does not has this problem.

Twin-clutch gearbox can overcome the ON-OFF-ON problem too, thanks to the twin-clutch design which enable it to "pre-select" the next gear. Take this example: assuming the car is accelerating at 2nd. The clutch controlling the even gears is now engaged while another clutch is disengaged. From the data taken at throttle position and rev counter, the computer knows that the driver will select 3rd soon, thus it will connect the 3rd gear. Because at this moment the clutch for odd gears is disengaged, the pre-selection of 3rd will not affect the 2nd gear currently running. When the driver touches the gear-shift paddle, computer signals the even-gear clutch to disengage and simultaneously the odd-gear clutch to engage. In this way, gear is changed from 2nd to 3rd instantaneously, without any OFF period, without any delay - the only delay is caused by the smooth disengagement and engagement of the two clutches. Therefore power delivery is smooth and uninterrupted.

Pre-selection of gears quicken the shift a lot. Upshift takes just 8ms, 10 times quicker than BMW SMG II which is the fastest automated manual gearbox currently available. Downshift is less impressive, because the gearbox need to wait for the throttle blip to match gearbox speed with engine speed. Change down a gear therefore takes 600ms. Changing down a few gears could be more complicated. The most complicated is from 6th to 2nd (both are controlled by the same clutch while the distance between the two gears is the longest). It needs to change to 5th (controlled by another clutch) temporarily before 2nd is selected. This takes 900ms.

To package 2 clutches in limited space, BorgWarner decided to use multi-plate clutches which are far smaller in diameter than conventional clutches. Multi-plate clutches also allow finer control of engagement speed versus smoothness. Depending on driving style, computer can easily change the gearshift speed / smoothness setting.


Advantage:
Gearshift ultra-smooth, pretty fast.
Disadvantage:
More complex construction, can it handle a lot of torque?
Who use it ?
Update in Jun 2008:



Volkswagen group DSG / Audi S-Tronic (gearbox built by VW using twin-clutch modules from BorgWarner)
Bugatti Veyron (built by Ricardo using BorgnWarner clutch)
Ford Focus & Volvo S40 (by Getrag) (note: Getrag uses BorgWarner clutch)

Mitsubishi Lancer Evo X (by Getrag)

Nissan GT-R (by Getrag)
BMW M-DCT (by Getrag)

Porsche 911 (by ZF)
Ferrari California (by Getrag)

---
Copyright© 1998-2008 by Mark Wan
AutoZine Technical School
Return to AutoZine home page