Audi A6

Debut: 2004
Maker: Audi
Predecessor: A6 (1997)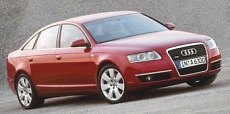 After 2 generations of hardworking, Audi has finally established a strong reputation as the leader in style and quality, beating its two arch-rivals Mercedes and BMW in these two fields. Until now, Audi A6 is the weakest link. During its whole lifecycle it failed to match the great BMW 5-serie and Mercedes E-class. This reflected in sales chart as well as the comments by car magazines. Most criticisms surrounded the dynamics of the car - it felt nose heavy, failed to control its body movement tidily and never inspired its driver. In the making of the new generation A6, Audi determined to attack on these weaknesses.

But first of all, it has to retain its leadership in style and quality. A few years ago, Alfa Romeo design boss Walter de Silva was headhunted to Seat and then promoted to head the Audi group (which consists of Audi, Seat and Lamborghini). The A6 is the first Audi having his full influence - look at that shield-style grille ! it is controversial in the automotive styling world and led to divided opinions. Some thought it's a good idea to establish a strong brand character, some thought it simply eye sore. Its inspiration was said as came from the pre-war Auto Union GP race car. Having experimented in last year's Nuvolari concept car and the recent A8 W12, it finally integrates into a clean-sheet production design. Comparatively, the rest of the body is far more conservative. Like the last generation car, the body is smooth and the lines are simple, what a contrast to the dramatic nose. There is no much emotion in the design, just like other Audis, but again the details are great and the build quality that realizes the details is impeccable. Perfect paint finish, ultra-tight panel fittings and narrow assembly gaps work together to deliver the best visual quality in executive car segment.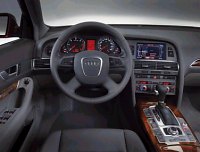 This body grows a lot from the previous A6 - 12cm longer, 5cm wider, 1cm taller and 8cm longer in wheelbase. Although its wheelbase is still shorter than Mercedes E-class and BMW 5-series, less space is spent to the engine compartment because the front-drive / 4-wheel-drive A6 mounts its engine in front of the front axle. As a result, the cabin shares more wheelbase than its rivals. Open the doors and you will see the benefit: the cabin is remarkably roomy, easily leading its main rivals (if not some American big cars). Front and rear passengers have abundance of head, leg and shoulder room. At the back, the A6 also provides a class-leading 546 litres of luggage space. Back to the cabin, this place looks cool and high-tech. The dashboard and console now orients towards the driver like BMWs used to be. The switch gears are arranged ergonomically. The whole architecture is impeccably built in the tradition of Audi, using first rate plastics and mixes tastefully with aluminum and wood decorations. If there is anything wrong, it must be the ice-cool ambience, but then again Audi is not Alfa Romeo.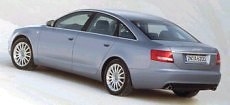 The new A6 is 34% stiffer in torsion than its predecessor. For cost reasons, it continues to use steel monocoque structure rather than switching to aluminum space-frame like A8 and A2. However, by employing aluminum bonnet, boot lid and firewall, weight increase is kept to a mere 50kg. As before, the standard A6 is front-wheel-drive while 4-wheel-drive is offered for Quattro, the latter is compulsory on V8 version. The need for Quattro dictates the chassis layout - all engines are mounted longitudinally ahead of the front axle to leave space for the front and center differential. This means the new A6 retains the inherent nose-heaviness of its predecessor. This will not allow it to challenge BMW 5-series (and Mercedes E-class in lesser extent) in terms of handling.

Audi did a lot of things to relieve the burden at the nose. First of all, it designed the V6 and V8 engines to be as light and as short as possible. For example, the 3.2-litre V6 is weighs just 169.5kg, even lighter than BMW's 3.0-litre inline-6 (171kg); the V8 in A6 is 5cm shorter than that of the A8, and it weighs just 195kg. Secondly, the aforementioned aluminum bonnet and various suspension components reduce weight at the front further. Lastly but not least, the front axle has been moved forward by 8cm, improving weight distribution.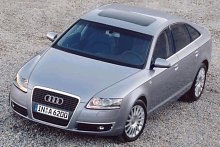 Suspension tuning also plays an important role. The A6 continues to employ 4-link front suspensions and trapezoidal-link rear suspensions like the previous Quattro models, but the spring and damper setup is firmer in order to reduce lift and dive. On the road, the A6 is really transformed. It no longer feels nose-heavy, at least in the V6 model. Now it changes direction eagerly and corners tidily. Stability and agility approaches the level of Mercedes E-class and BMW 5-series, but still not there yet. You can feel the difference between an inherently balanced chassis and an artificially converted chassis. Especially in the steering department. To eliminate torque steer, to filter the road harshness resulted from the very firm front suspensions, Audi has to tune the Servotronic electro-hydraulic steering such that there is no much feel. Therefore, while the steering is quick and accurate, it does not interact with the driver. Ditto the overall handling. While it handles sporty enough, it is not as much fun to drive as BMW and Mercedes.

If the handling is close to its rivals, the ride is certainly not. The more you drive in town, the more you are likely to hate the A6, because the firm suspension setup leads to restless ride on irregularities. Audi is going to sort that out in 2005 by introducing an optional adaptive air suspensions similar to that being used by A8, but then again Mercedes is offering AIRmatic NOW. The point is, no matter with or without these expensive damping systems, E-class rides leagues smoother than A6. The same goes for 5-series, just in lesser extent.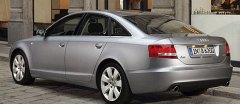 In contrast, the powertrain is by all means impressive. The A6 not only has three superb gearboxes - the 6-speed manual, the ZF 6-speed automatic and the famous Multitronic CVT (now added with 7-speed manual override with paddles control), but also three very good engines. Top of the range is A8's 4.2-litre V8, good for 335 horsepower. Then there is a new generation 3.2-litre FSI V6, which is derived from the 90-degree V8 (not unlike the old V6) but switched back to 4 valves per cylinder and added with FSI direct fuel injection. With help of 12.5:1 compression, infinitely variable intake and exhaust valve timing and 2-stage variable length manifolds, it can rev to as high as 7200rpm and produces a remarkable 255 hp at 6500rpm. This engine is strong, willing, smooth and frugal. It is extremely tractable too, with a peak torque of 243 lbft at 3250rpm and 90% of which from 2400 to 5500rpm. Still want a BMW inline-6 ?

Equally fast selling is the new 3.0 TDI V6 turbo diesel. The 24-valver pumps out 225hp and 332 lbft, thanks to Bosch's 3rd generation common-rail injection which employs smaller and faster-injecting piezoelectric injectors. Nevertheless, it will have a hard time facing BMW's super-powerful 535d.

These engines enable the A6 to fly on Autobahn at amazing speed. On the smooth multi-lane highway it feels completely at home. Fast, smooth, refined and secured. Many buyers in Europe continent won't notice the differences in dynamics between A6 and its German rivals. What distinguish them are style, quality and space, all favoring the Ingolstadt machine. However, evaluate it in a more perspective way, it still lags behind BMW 5-series and Mercedes E-class, although the gap is damn close.


The above report was last updated on 6 Aug 2004. All Rights Reserved.
A6 facelift 2008 and 3.0 TFSI engine





After 4 years of production, Audi A6 has received a mid-life facelift recently to sustain its sales. Outside, the most obvious change is the more stylish, A4-style taillights. However, many other areas also get subtle restyle, such as the front grille (which got rid of the black license plate bar), the front intakes and the headlamps (which gets LED daytime running lights). Inside, the cabin gets equally subtle revisions, upgraded equipments and improved MMI control system. Nothing revolutionary.

Bigger changes are found under the skin. The Quattro system now distributes 60 percent power to the rear wheels in order to stop people criticising its understeer. The suspensions and steering are also tweaked, although it still rides and steers worse than BMW 5-Series. The engine range now consists of 4 petrol units (170hp 2.0 TFSI, 190hp and 220hp 2.8 FSI Valvelift V6, 290hp 3.0T supercharged V6 and 350hp 4.2 FSI V8) and 3 diesel engines (136hp and 170hp 2.0TDI, 190hp 2.7TDI V6 and 240hp 3.0TDI V6). Most engines succeeded to reduce fuel consumption while enhancing performance.




| | |
| --- | --- |
| | 3.0 TFSI engine employs supercharger instead of turbochargers... |

The headline is the new 3.0 supercharged V6, which replaces the outgoing 3.2 FSI V6. It is a response to BMW's 3.0 twin-turbo straight-six. Audi conducted a lot of researches and concluded that a supercharger is better overall than a twin-turbo system (something I have reservation), so it installed an Eaton supercharger into the V-valley and added two water-to-air intercoolers to produce the 3.0 TFSI engine. Oddly, the "T" in its name should have stood for Turbocharging, but for marketing reasons Audi does not want to brand it as "SFSI". Like the recent Chevrolet Corvette ZR1, the Eaton supercharger used here employs 4-lobes rotors to achieve higher efficiency. The uninspiring supercharger noise is dealt with extensive noise insulation. The engine produces 290 horsepower at a low 5000 rpm and 310 lb-ft of torque from 2500 to 4850 rpm, so its performance is on a par with BMW 535i. In fact, Audi quotes the same top speed and 0-60 mph time as the range-topping 4.2 V8 !

However, road testers found the 3.0 TFSI engine not as smooth as BMW's twin-turbo straight-6. Its suppressed supercharger noise is also less inspiring. Moreover, it can only pair with the Quattro system and 6-speed automatic transmission, both added unnecessary weight and fuel consumption.


The above report was last updated on 30 Sep 2008. All Rights Reserved.
Audi
S6
Recently we concluded that Audi S8 is too large and too luxurious to be a real M5 fighter. How about putting the same Lamborghini-derived V10 into the smaller S6 ? it is sized and priced to match the mighty BMW benchmark. It has a similar V10 engine and even a slight, 200 cc, advantage. It has Quattro 4-wheel-drive system to put every horsepower effectively onto the ground. Can it excite hardcore drivers as well as the M5 ?

To answer this question, we have to see its engine first. Like that of the S8, this 5.2-litre dohc V10 is derived from Lamborghini Gallardo's. In the Audi version, it has added a balance shaft to smoothen its rotation and FSI direct injection to raise compression ratio to 12.5:1. It has full variable valve timing and a magnesium 2-stage variable length intake system to broaden the torque curve, which means the maximum 398 pound-feet is available between 3000 and 4000 rpm, while 90 percent of which is available from 2300 to 5000 rpm. Nevertheless, the use of regular pistons and con-rods for costs reasons reduces engine speed as well as top end power. From the Lamborghini's 520 hp @ 8000 rpm, it drops to 450 hp @ 7000 rpm in the S8. For the S6, owing to the smaller engine compartment hence more restricted intake system, the figure drops further to 435 horsepower @ 6800 rpm.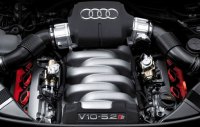 While this figure is no match with BMW's 507 hp @ 7750 rpm, the S6 is also hampered by the lack of diet – it carries as much as 1910 kg, 155 kg more than M5, or just 30 kg less than the S8 – and the compulsory 6-speed Tiptronic automatic gearbox. It takes 5 seconds flat to do 0-60 mph acceleration, versus the BMW's 4.6 seconds. Basically, you can leave the M5 in P400 mode (which limits the engine to 400 hp) when confronting the S6.

So, Audi S6 is not a full-blooded sports sedan like the M5. It is not as inspiring as Maserati Quattroporte either. Like its bigger brother S8, it is rather difficult to define. Its target audiences are likely to be those wanting the comfort and elegance of luxurious sedans plus high-speed performance on motorway. They will never drive their cars on really difficult roads, neither will they push their cars to the very limit just to enjoy the driving thrill. They appreciate safe handling and low-key appearance. That's why the S6 comes with little styling enhancements – some vertical chromed bars on the grille, slightly flared wheelarches, 19-inch wheels, quad tailpipes and a tiny rear spoiler.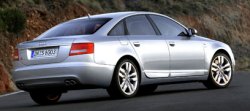 In the chassis side, the Quattro system has been updated to 40:60 torque split like RS4 to reduce understeer. Massive 265/35 rubbers produce tremendous traction and grip. Huge brakes (385mm front and 335mm rear) provide strong stopping power. Thanks to a firm suspension setting, there is little pitch and roll, but the negative side is a harsh ride over uneven surfaces. Following the tradition of Audi, the car offers excellent high-speed damping but suffers on low-speed irregularities. This is quite understandable because it needs very stiff springs and dampers to stabilize the nose-mounted V10. In most circumstances, the S6 hides its nose-heaviness very well. Of course, it will never display the same agility and keenest as BMW M5.

Apparently, Audi will leave the mission of beating M5 to the forthcoming RS6. For the S6, life will be more difficult due to its mushy image and market positioning. Those pursuing high-speed comfort can choose the regular A6 4.2 V8, while those wanting first class performance and driving excitement will choose the M5 or wait for the RS6. Sandwiching between the two camps won't have a lot of breathing space. Moreover, there are already a couple of excellent choices for this area: Mercedes CLS and Maserati Quattroporte.
The above report was last updated on 27 Apr 2006. All Rights Reserved.
Audi
RS6

Avant

| | |
| --- | --- |
| | How to better the V10-powered S6 ? The answer is by adding twin-turbo to it ! |

Any performance saloons or estates powered by a Lamborghini V10 must have deserved our highest admiration. Unfortunately, this is not the case for Audi S6. Ingolstadt didn't understand why. It asked its performance division Quattro GmbH and got the answer that it needs an even more powerful engine. So here comes the new RS6 and RS6 Avant, a super-performance saloon and estate powered by a twin-turbo version of the Lamborghini V10 !! It has more power and performance than BMW M5 and Mercedes E63 AMG, accompany with a higher price tag as well. Is it really the right answer to our question ? or just another answer to a question nobody asked ?

As a tradition of Audi's performance machines, the RS6 Avant has an understated design. Its sporting pretension is barely exposed by the slightly pronounced wheelarches which house the 275/35ZR20 tires. If you overlook these features, you will probably think it is just another regular A6 Avant on the streets. Even when you enter the cabin you will see much the same interior as A6, with the exception of the Recaro bucket seats. For a car asking for £78,000 (that's £10,000 more than M5), that is quite disappointing. For sure, no one can question the high-quality plastics and fitment of Audi, but in this league we expect something more special and bespoke, as we see in Maserati or Aston Martin. No matter how good the plastics are, they are no substitution to leather, wood and alloy.

However, the RS6 Avant is undeniably spacious. It has room for 5 adults and 565 liters of luggage space. Fold the rear seat and it can swallow a family's luggage for long journey. So let it be the fastest airport express in the world. The RS6 has dual personality - on the one hand it is a user-friendly and comfortable executive car, on the other hand it is a fire-breathing performance machine.


| | |
| --- | --- |
| | RS6 Avant is potentially the first ever 200 mph production estate car |

The latter personality is normally concealed under the bonnet. The dry-sump, all-aluminum, 40-valve, 90-degree V10 is derived from the 5204 cc unit of S6. Shorter stroke results in 4991cc. FSI direct injection and full variable valve timing ensure high efficiency. In addition to these are twin-IHI turbochargers, each has its own intercooler. A maximum boost pressure of 0.7 bar realizes an astonishing 580 horsepower at 6250 rpm. That is around 70 horses more than BMW M5 and Mercedes E63 AMG ! Among all performance saloons, only Mercedes S65 AMG with its 612hp twin-turbo V12 is more powerful.

You might not be too impressed by its maximum torque figure of 479 lb-ft, which is good but not outstanding for a 5-liter turbocharged engine. In fact, the torque is deliberately limited by engine management system to avoid damaging the ZF 6-speed Tiptronic transmission, whose torque capacity is 479 lb-ft (650 Nm). That's why even the 6-liter twin-turbo W12 of Bentley is limited to the same maximum torque figure. You can easily see the artificial limitation from its torque curve - well, perhaps "torque line" is a better description - it goes up quickly from idle to 1500 rpm, then flat out until 6250 rpm, i.e., like a mountain with a large part of its peak cut.

With so much power and so flat torque curve, the twin-turbo V10 can easily overcome the absurdly heavy kerb weight of 2025 kg (remark: RS6 sedan weighs 1965 kg) and achieve 0-60 mph in 4.4 seconds. There is no official figure for 0-100 mph, but it should be noticeably faster than M5 and E63. Expect in the region of 9 seconds. What about top speed ? Depends on the ECU. The standard car is regulated at 155 mph. Apply sport package and Audi will raise it to 174 mph (280km/h). Should you find ways to de-restrict it, you might see 205 mph on Autobahn like Audi did.

On the road, the V10 impresses for its instantaneous power. There is virtually no turbo lag. From around 1000 rpm it is already working hard. By 1500 rpm it feels sensationally punchy, pushing the heavyweight machine like a featherweight supercar. During this process, you will be surprised by the lack of drama - Reason 1, the roar of the Lamborghini V10 is muted by the turbochargers and thick sound insulation, so it doesn't sound as exciting as it should be. Reason 2, its rev limiter is hit at just 6800 rpm, preventing the driver from feeling its enthusiasm. Reason 3, the Tiptronic gearbox is seamless smooth, making the progress undramatic. Some may see these as merits for an executive performance car, but we insist a performance car should thrill its driver emotionally.


| | |
| --- | --- |
| | The RS6 answers a question nobody asked. Do we really need a performance executive car to be more powerful than Lamborghini ? |

A similar story is found in its handling. By objective standards, nothing else in the class can match the RS6. Its Quattro system provides massive traction that BMW and AMG can only dream of, while its new rear-biased (40:60) torque split introduces neutrality unfound in the previous RS6. It lapped Nurburgring in 8 minutes and 9 seconds, some 4 seconds quicker than M5 - and the BMW was recorded in sedan form. Attack an unknown mountain road, a partially wet or slippery road, the difference will be even bigger. The suspension is also up to expectation - DRC dynamic ride control links the wheels diagonally by hydraulic to contain pitch and dive resulted from the nose-heavy layout; Adaptive damping with 3 modes allows the driver to find the right firmness. The brakes, no matter standard steel discs or optional ceramic discs, provide reassuring stops. The handling of RS6 can be called unflappable. You can carry very high speed into and out of corners without worrying of losing control, especially with the presence of ESP.

Nevertheless, it does not gel with the driver as well as M5. Although the Audi hides its weight quite well, you can still feel its mass should you thread it into a narrow twisty. Attack a tight corner or a hairpin, it understeers and refuses to obey its driver like what it did in fast bends. You start wondering whether a twin-turbo V10 should be mounted in the north of the front axle. Besides, the Servotronic steering with 2.2 turns lock-to-lock might be quick and precise, but it is short of feedback like most other Audis.

Back to our question raised in the beginning of this report: is the new RS6 the right answer ? or an answer to a question nobody asked ? I guess you don't need to be told anymore. Despite of amazing performance, RS6 does not thrill us as much as BMW M5, nor Audi's own R8 and the outgoing RS4. That is something Quattro GmbH needs to think again.


The above report was last updated on 25 Feb 2008. All Rights Reserved.
Audi
RS6

Sedan

| | |
| --- | --- |
| | 40 kg reduction improves RS6's handling and ride... |

Audi launched the current generation RS6 in Avant (wagon) form first. Now after 3 quarters of a year, the sedan version is finally released. The sedan version differs from Avant in various aspects. Firstly and most obviously, its tail. Its taillights design resemble those of A4, A5 and the recent A6 facelift. A boot spoiler and mild diffusers are incorporated at the tail as well. Secondly, customers may specify blackened front grille surround to deliver a meaner look. Thirdly, the sedan is 40 kilograms lighter than Avant. This cut a further 0.1 seconds from its 0-60 mph, now takes only 4.3 seconds. Finally, the reduced weight calls for a retuned suspensions, and the engineers of Audi took this chance to sort out some of the handling problems of Avant.


| | |
| --- | --- |
| | But it still lacks involvement to beat M5 and CTS-V... |

On the road, the RS6 sedan feels a little bit more forgiving in its ride quality, displays less understeer at the limit and feels slightly more agile. These improvements are not enough to put it ahead of Cadillac CTS-V and BMW M5, but they point to the right direction. As we expected, RS6 sedan is a better drive than RS6 Avant.


The above report was last updated on 22 Oct 2008. All Rights Reserved.