A6 V8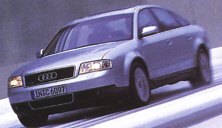 An A6 mated with a 300hp, 4.2-litre V8 would have become a S6, however, because Audi has another 340hp V8 in the pipeline, the 300hp A6 takes the responsibility for rivalling the mainstream BMW 540i.

The heart and soul of the car is the all alloy V8 carried over from A8, which has been upgraded with 5-valves head, 3-stage variable induction and variable valve timing. For unknown reason, it delivers slightly less punch than the A8, although 300hp and 295lbft are still respectable. Without surprise, the high power A6 comes with compulsory Quattro drivetrain plus the 5-speed Tiptronic with steering-wheel control.

Obviously, changes go deeper than the engine bay, otherwise it would be impossible to reverse the unfavourable reputation about handling. As in the facelifted A8, suspension links are now made of aluminium in order to reduce unsprung weight, thus benefit ride comfort. Another predictable change is the stiffening of springs and dampers, because : 1) the increase of kerb weight requires it; 2) the reduction of upsprung weight allows it. 3) car lovers want it.

Other changes are rather minor, such as adopting 16in 235 tyres, widened front track and fenders, aluminium bonnet, restyled grille... The A6 4.2 really looks more muscular. Now we're going to see if it performs as well on road...

On highway, A6 4.2 goes fast and smooth with very high directional stability. However, carrying a kerb weight of 1730kg against 540i's 1660kg, it takes an extra 0.5 sec to 60mph. Contrary to this is the weighting of steering, which is in Audi-tradition's lightness. The Quattro also places practicality over driving excitement by understeer all the way in corner. You can't access throttle oversteer like the rear-wheel-drive 5 Series. In return, it generates superior grip in snow or wet surface that any stability control can never keep up with.

It seems that once again the Audi is designed with Autobahn cruising in first priority. Once ride on rough road, its body control deteriorates. It feels quite bulky compare with 540i, thanks to the kerb weight, the quattro and, perhaps more important, the inferior suspension tuning. Considering its four links / double wishbones setup, Ingolstadt has no excuse to be inferior. The same is for the ride, even in the standard tyres, it can't match the effectiveness of bump absorption of the 540i in sports suspension package.

If there were any excuse, it must be the fact that its chassis was developed from A4 and Passat, and will be shared with the forthcoming Passat Plus. Nevertheless, A6 4.2 is no cheaper than the similarly equipped 540i, what a pity.

Before ending this report, a question must be raised : buy an A6 4.2 or an A8 4.2 ? Some magazines said the A6 is more bargain, but I'd rather choose the latter. Ridiculously, the A8 is actually lighter than its little sister, thanks to ASF, so performance is at least as good. Previous comment about the A8 with sports suspension is favourable (See A8 section). Of course it cost considerably more, but in return you'll get a really luxurious yet more exciting big car.