| | |
| --- | --- |
| Published on 8 Nov 2007 | All rights reserved. |
| | |
| --- | --- |
| | With more aggression than the A5 coupe, the new A4 actually looks more sporting and attractive. |

Since it superseded Audi 80 and 90 in 1995, Audi A4 has been steadily rising in the rank of compact premium sedans. Last year, some 343,000 A4s found buyers worldwide, ahead of Mercedes C-class (329,000 units) and just behind BMW 3-Series (508,000 units). The winning formula of Audi is elegant styling and superb build quality. In the new, third generation car, we found these merits continue to develop. This is a very desirable premium car. It looks tastefully designed and impeccably built. Parking beside the 3-Series and C-class, it makes its rivals looking odd. Well, you might say these rivals are not especially good examples for styling, but when you see how much more elegant it looks compare with Alfa Romeo 159 or Lexus IS, you simply can't help admitting Audi has the very best styling department in the industry. The Italian always shines in inspiration, but only Audi has the necessary attention to details and quality control to finish the design up to the highest standard.

The cabin is another trump card of Audi. Nothing else in this class achieves the same level of material quality, solidity and tasteful style. All switches have a tactile feel to operate. For higher spec models there is a classy B&O sound system and MMI multimedia control system, which is more initiative to use than most other systems around (especially BMW's i-Drive). Cabin space is also remarkable for the class. Previously, A4 used to be short of shoulder room and rear legroom. Now the car grows significantly larger – some 117 mm longer, 54 mm wider and the wheelbase is stretched by 160 mm to a class-leading 2808 mm (note that here the "class" does not include the super-roomy Ford Mondeo, as it is not deemed to be a "premium" car). This actually make the new A4 closer to the territory of A6. Rear passengers are now benefited by 36 mm of extra legroom. Access to the cabin is also made easier by lengthening the rear doors. Besides, all passengers enjoy more headroom and shoulder room, while luggage space is increased to a remarkable 480 liters. Audi pushes BMW and M-B to the boxing corner.


| | |
| --- | --- |
| | New drivetrain layout improves its handling a lot, though still not as good as those rear-wheel-drive rivals... |

However, when comes to driving dynamics, the new A4 still trails its rivals from Munich and Stuttgart. Audi claims that its new ML (Modular Longitudinal) platform from A5 has cleverly solved the long-existing problem of nose-heaviness. This is done by relocating the clutch to behind the front transaxle, thus allowing the longitudinal engine to move backward by a precious 15 cm. The new platform also puts the battery to the boot to improve balance. Moreover, in the case of Quattro models, the new Quattro system has its Torsen limited slip differential sending 60 percent power to the rear wheels under normal driving so to give a rear-bias attitude and feel. Let me say in this way, Audi's engineers have spent a lot of effort to correct the fundamental flaws of its traditional longitudinal-engined front-drive / four-wheel-drive layout. But no matter how hard they worked, they still can't hide the fact that the whole engine rests in front of the front axle line. In contrast, its rear-wheel-drive rivals have most of the engine located behind the front axle, plus, they don't have the front differential to burden the front wheels.

Instead of admitting defeat, the engineers at Audi stiffened the suspensions to mask the nose heaviness and deliver a taut body control. It is mostly successful, as the car displays little dive and squat under braking and acceleration. Compare with the outgoing car, it steers with much higher precision, corners more stable and resists understeer a lot better. The front tires generate excellent grip. The steering weighs up beautifully at speed, if the feel is still rubbery. Ultimately, it is not as agile as its rear-drive arch-rivals, but the gap has become so narrow that most drivers won't notice in regular driving.

However, the stiff suspension setup is also evident on less-than-smooth roads. The A4 does not soak up bumps and suppress road noise as well as its rivals. This is especially obvious on the S-line package which comes with sportier suspension tuning, larger wheels and low profile tires. The engineers tried everything to sort out the ride, such as using sophisticated 5-link front and multi-link rear suspensions, lightweight aluminum control arms and even an optional electronic adaptive damping (as a response to Mercedes C-class). Somehow, the fundamental weight distribution problem means it cannot have both handling and ride sorted. In the end, Audi chose to favour driver appeal over ride comfort.

Most customers are likely to purchase the basic A4 with front-wheel drive and conventional suspensions. However, if you have money, you can spec it up to very classy state: Quattro 4WD, S-line package, electronic adaptive damping, Dynamic Steering and ADS (Audi Drive Select). The Dynamic Steering varies steering gear ratio automatically to correct understeer and oversteer, something like BMW's Active Steer but, thankfully, works in a more subtle way. The ADS is an integrated control system allowing the driver to alter damping stiffness, throttle response, steering weighting and the shift pattern of automatic transmission by pressing a button. Frankly, I am not a fan of fancy electronics, as they won't add to the character of this car. So my advice is put all your hard-earned money on no more than Quattro and S-line package. These are real enhancement to handling, safety and looks.


| | |
| --- | --- |
| | Is there any other volume production cabin so desirable ? yes, those in A5, A6 or TT. |

Like its German rivals but not its smaller Japanese rivals, the Audi offers a wide range of engines to meet the needs of everybody. At the bottom of the tree is 143hp 2.0TDI turbo diesel and 160hp 1.8 TFSI petrol. Middle of the range consists of 170hp 2.0 TDI, 190hp 2.7 V6 TDI and 210hp 2.0 TFSI. At the top (excluding S4 and RS4) lies the 240 hp 3.0 TDI V6 and 265 hp 3.2-liter Valvelift V6. It goes without saying that all gasoline engines employ FSI direct injection and continuous variable valve timing, while all diesel engines adopt common-rail direct injection (VW group is phasing out the less refined pump injection) and variable geometry turbocharger. Generally speaking, A4 has stronger advantage in four-cylinder gasoline engines (i.e. 1.8TFSI and 2.0TFSI) because these light-pressure turbocharged units are remarkably refined and torquey. In contrast, both BMW and Mercedes have yet to offer a light-pressure turbocharged four-banger. We expect A4 will continue to lead the four-cylinder field for the next two years.

Comparatively, the 3.2-liter petrol V6 is less remarkable. Although it has one of the few variable valve lift mechanisms in the world, its output and fuel economy are no match with BMW's 3.0 straight-six. Nor it is as smooth or as musical. The odd 90-degree V-angle is a compromise with the company's V8 engine, as they are built on the same production line to save cost. This mean it needs an additional balance shaft to cancel the first order vibration. It is by no means unrefined. It just added some unnecessary weight and fuel-consuming internal friction. Audi claims the A4 Quattro equipped with this engine is capable of accelerating from 0-60 in 6 seconds flat. No matter whether this figure is realistic, in real world it is undoubtedly slower than 330i, let alone the very fast 335i. More embarrassingly, its EU combined cycle fuel consumption is slightly higher than the 335i.

In the diesel side, Audi does not have any advantage either. The 2.0TDI is a decent engine, but it is neither the most powerful nor the most refined four-cylinder diesel in the class. The 3.0 TDI V6 does produce massive torque (369 lb-ft) to enable very strong performance – actually quicker than the 3.2 V6 petrol, but it is also a heavy engine. As we have found in A5, hanging this engine at the nose has discernible negative effect to handling. Moreover, there is always a better engine under the bonnet of BMW 335d.




| | |
| --- | --- |
| | New A4 is strongest with the smallest engines, namely the 1.8 TFSI and 2.0 TSFI. Valvelift 3.2 V6 is not bad, just fails to match BMW sixes. |

To be fair, we must point out that none of these Audi engines perform below the class standard. Some of them may trail BMW engines, but so do most other rivals in the class, Mercedes-Benz included. In fact, we are glad that Audi always provide a full range of high quality engines, unlike Lexus or Infiniti which offer one or two choices only. The same goes for transmissions. Audi offers a 6-speed manual gearbox, a 6-speed Tiptronic automatic and a Multitronic CVT (with 8-speed manual override) to suit different taste. Moreover, a 7-speed S-Tronic (DSG) twin-clutch automated manual box will join the range later on to please keen drivers. This would not have been possible without the substantial engineering and purchasing power of the Volkswagen group.

After seeing all aspects of the new A4, it is time to make a conclusion. In the dynamic aspect, although it is not as sporty as Audi wants us to believe, we have to admit that it is a vast improvement from the old car. It should satisfy most customers except the most demanding driving enthusiasts. What most people will find wanting is a smoother ride and better noise suppression. This seems a little odd, because the A4 feels so high-quality from its interior and desirable from its exterior. It might just redefine the term "premium" should it have the refinement issue sorted out. Does it better the 3-Series and C-class ? The answer depends on your taste and priority. But unquestionably, the new A4 will be a stronger ever threat to the class-leading 3-Series. If it continue to progress like this, some day it might just overtake the BMW.
Verdict:




| | |
| --- | --- |
| Published on 5 Nov 2008 | All rights reserved. |
Audi

S4
| | |
| --- | --- |
| | More than just a new heart |

From Biturbo 2.7-liter V6 to 4.2-liter naturally aspirated V8, and now supercharged 3.0-liter V6. Three generations of Audi S4. Three different engine configurations. In search of the best configuration for power, weight and economy, the engineers of Audi even built experimental engines for comparison. In the end, they chose supercharged V6 in favour of turbocharged one. So here comes a 2995 cc unit - again built on the modular 90-degree V6 / V8 architecture – completed with FSI direct fuel injection, variable intake valve timing and a supercharger located in the Vee valley. Strangely, Audi dubbed the engine as 3.0 TFSI, whose "T" should have been stood for "turbo". The Eaton Roots type supercharger has 4 instead of 3 vanes in its rotors to enhance supercharging efficiency (same as new Corvette ZR-1). A maximum boost of 0.8 bar of compressed gas is cooled by twin intercoolers before entering combustion chambers. The outcome is 333 horsepower from 5500-7000 rpm and 324 lb-ft of torque from 2900-5300 rpm.

Yes, I know the old V8 generated another 11 horsepower at the top end, but you can't deny the supercharged V6's superior torque curve, whose peak is 22 lb-ft higher yet whose band is much wider. It is also smaller and lighter (at 189 kilograms instead of 195). Most important in these eco-conscious days, it is far more frugal. EU combined fuel consumption is improved from 21 mpg to 29.1 mpg. Even compare with BMW 335i's state-of-the-art biturbo 3.0 inline-6, the Audi engine still has an edge – being 1 kg lighter, much shorter, 27hp more powerful and 29 lb-ft more torquey. The 335i does have a better fuel economy at 31 mpg, but that is purely due to its simpler rear-wheel drive. An all-wheel drive 335i xDrive returns exactly the same fuel consumption figure as Audi S4. Maybe Audi is right - supercharged V6 is currently the best configuration for power, weight and economy…

If not for sound. Compare with the previous V8, the supercharged V6 is too quiet, too civilized. It lacks both the volume and the acoustic quality of a V8. However, the combination of stronger torque and a slight decrease of kerb weight (though by 10 kg only) helps the new S4 to accelerate faster off the line. 0-60 mph now takes 4.9 seconds, slightly faster than the old car as well as BMW 335i. It's no match to M3 though, but that task will be left to the forthcoming RS4.


| | |
| --- | --- |
| | Maybe Audi is right - supercharged V6 is currently the best configuration for power, weight and economy… |

The old S4 had some weaknesses that keen drivers disliked, namely, nose heaviness, understeer and stiff ride. The new car had these problems addressed one by one. Firstly, the ML platform of new A4 has the clutch relocated to behind the front differential, so the engine could be mounted 154mm further back compare with the old platform. Secondly, the V6 engine's shorter length and lighter weight improve weight distribution further. These two changes help reducing nose heaviness and understeer. Thirdly, like all other four-wheel drive Audi since the previous RS4, it employs the new generation Quattro system with 40:60 torque split front to rear. This helps reducing understeer. Fourthly and very important, the new S4 introduces an optional "Sport Differential". This Magna-built unit is an active rear differential like what Haldex is supplying Saab (as XWD) and BMW (as xDrive). If you follow us closely, I guess you know what it means – it utilizes a pair of multiplate clutches to control the amount of power splitting between the left and right rear wheels. In case the car is understeering in corner, it directs more power to the outside rear wheel to neutralize understeer. Besides, unlike rival systems, it works also under trailing throttle.

Fifthly, to cure the hard ride of the old car, the new S4 offers the excellent Delphi magnetorheological adaptive dampers as option. Finally, to enhance the overall driving experience, Audi offers another cost option called ADS (Audi Drive Select), which provides 3 selectable driving modes (Comfort, Normal and Sport) which alter the electronic damping, steering assistance, throttle response, ESP intervention level and gearshift speed (in case of S Tronic transmission).


| | |
| --- | --- |
| | In absolute terms, it is a better car than 335i... |

Adding all these options up will push the price of S4 halfway between BMW 335i and M3, but they are strictly necessary in order to cure the fundamental problems of the car. Once you do, you will find the S4 fabulous to drive. As always, it has bags of grip and traction regardless of weather and road conditions. It is definitely the car you will choose over the BMW to attack an unfamiliar back road. However, what really amaze this time is how agile it feels simultaneously. The combination of 40:60 quattro and Sport Differential injects a great deal more sharpness into its dynamic balance. This let the S4 corners faster yet more fluently. Yes, at the limit it still understeers more than a rear-drive BMW, but it is so benign that most people will be glad to sacrifice that for its superior cornering prowess and sense of security. The Audi's 2.2-turn steering is also a big improvement from the last generation, being more direct, well weighted and delivers better feel. It is the best steering yet appeared in an Audi saloon.

With adaptive damping, the S4's ride is more compliant while body control is nothing other than excellent. Compare with the regular A4, its springs and dampers are stiffer while ride height is 20 mm lower. Larger wheels, tires and huge brakes complete the modifications. Still, the S4 is a fine balance between refinement and handling. The same goes for its powertrain. The new engine is responsive yet smooth and willing to rev. The optional S Tronic transmission – Audi's first 7-speed and first twin-clutch transmission for longitudinal application – shifts wonderfully seamless, although the extra ratio means it take one more gearshift to do 0-60 mph, hence an extra 0.2 seconds for this acceleration indicator compare with the standard 6-speed manual. Anyway, it is still a worthy investment.

The S4 works in the same philosophy as BMW 335i. While it offers strong performance and handling, it retains an understated looks and much of the refinement and comfort that most people need on daily basis. It just goes even faster and corners even harder than the BMW, albeit by a narrow margin. In absolute terms, it is the better car of the two. Unfortunately, it is too expensive, actually out of reach of most middle class. On the other hand, it is not strong enough to challenge the likes of M3 and C63 AMG. As Audi found out, there is no inherent weaknesses cannot be addressed by technologies. However, there is no cheap technologies.

Verdict:





| | |
| --- | --- |
| Published on 16 Jun 2012 | All rights reserved. |
Audi

RS4
Avant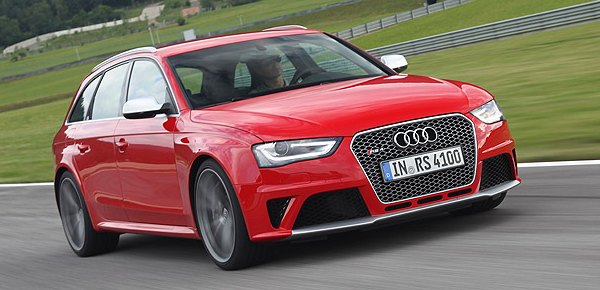 After an absence of more than 4 years, Audi RS4 has returned. Many questions surround this car. First of all, why does it take so long to return? No one at Quattro GmbH can give a credible answer. You know, the current generation A4 is nearly 5 years old. It is abnormal to launch its hot version so late in its life, unless the RS was not included in the original development plan (like the case of last Ford Focus RS). Rivals BMW and Mercedes won't live a day without M3 and C63 AMG because strong demands motivate them to build these cars as quickly as possible. Audi? It does not have a fan base as strong as its neighbors, and the RS cars are always locked in an embarrassing position that they have to provide more contents than their German rivals yet they cannot ask for higher prices. The result is a slim profit margin which does not help to persuade the top management to put the RS cars at first priority. Consequently, the RS cars became some kind of "halo" cars, i.e. build to boost brand image rather than to really earn money.

The second question is: why is the new RS4 available exclusively in Avant (estate) body, abandoning the better-looking saloon body? The answer is again about demand. Although we love the last generation RS4 saloon very much, Audi found few buyers actually chose it. Most opt for the more practical Avant because neither M3 nor C63 were available in estate form. Therefore this time around Quattro GmbH returns to the Avant-only path of the original RS2. Unfortunately, they forget that these days AMG is also producing C63 in estate form, whereas the next generation M3 will give birth to a wagon version. Good luck!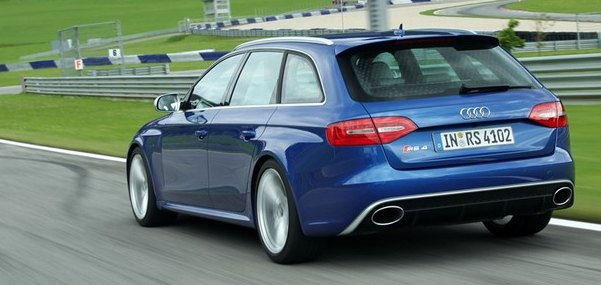 One negative effect brought by the Avant body is weight. At 1795 kg (DIN), it is 145 kg heavier than the old RS4 saloon (partly because the new generation A4 is much bigger). It is also 140 kg and 190 kg heavier than the saloon versions of C63 AMG and M3 respectively. That should not be a problem if the new RS4 switched to a twin-turbo V8 like S6, but unfortunately serving under its hood is again the high-revving, naturally-aspirated 4.2-liter V8. Well, it is not the same unit as the last one, but the newer version already used in RS5. It has green tech like on-demand oil/water pumps and regenerative braking. It has new low-friction internals to raise redline to an incredible 8500 rpm (higher than M3 !). Maximum output is lifted by 30 hp to 450 hp at 8250 rpm. Nevertheless, max torque stays at the same 317 lbft, even though it is available across a wider band (4000-6000 rpm instead of 5500 rpm). This sounds tamed beside the 443 lbft offered by its Mercedes rival. A new 7-speed S-tronic gearbox should compensate a little, but we don't expect the new RS4 to be quicker than the old car in any meaningful sense.

On the road, the new motor shows a dual-personality. Below 4000 rpm it feels rather civilized, being smooth, linear and quiet, with no hints about its true potential. Thereafter, especially from 5500 rpm upward, it sings increasingly like an F1 motor. The high-pitch noise is addictive. The twin-clutch gearbox shifts crisply in manual mode, allowing the car to build up speed quickly – if still without the explosive feel of AMG. Problem is, you need to push the car really hard to enjoy these moments. This sounds ridiculous to a heavyweight performance estate. I suppose its engine and body is a mismatch.



The underpinnings of RS4 are basically carried over from RS5. Apart from engine and transmission, they share the same Quattro system with crown-gear center differential and 40:60 torque split, the same torque-vectoring Sport rear differential, the same DRC Dynamic Ride Control (an adaptive damping system linking diagonal wheels with hydraulic circuits), the same variable ratio steering, the same Audi Select Drive control system (with Dynamic, Comfort and Auto mode to choose from), the same monstrous-size brakes (365 mm dual-cast discs and 6-piston calipers up front, or ceramic brakes optional), same 20 mm reduction of ride height and even the same 265/35ZR19 rubbers. Style-wise, they also share a lot of genes. You may call it the wagon version of RS5.

So you think it must deliver the same wooden steering and hard ride as its sibling? No, given more time and experience to fine tune the chassis, the RS4 actually drives better than the RS5 in memory. Its ride is slightly more absorbent if you keep it in Comfort mode. Its electrohydraulic steering is more direct, if still short of feel. The Avant body might actually improve front-to-rear weight distribution and rear-end aerodynamic lift at speed, so it displays virtually no understeer at full attack, a notable improvement over the old RS4 as well as RS5. If you push hard enough, you may even induce some oversteer. It is a small wonder for fast Audis this side of R8.

However, just like the way to access its performance, you need to push the RS4 hard in order to get the best response from its chassis. At moderate effort, it returns to the default mode of safe understeer as the torque vectoring stops working. Strangely indeed, this Audi goes better the harder you drive. It just needs more low-speed sparkles to match the all-round ability of C63 and M3.

Verdict: