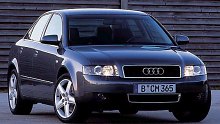 Undoubtedly, the outgoing A4 changed the face of Audi. Impeccable build, pretty appearance and a refined 1.8T engine made it a commercial hit, washed out all the unhappy memory of 80. However, no keen drivers ever praised its dynamic ability - not only when facing BMW 3-seies but it was also badly beaten by cheaper cars like Ford Mondeo and Peugeot 406. Under such background, Audi went back to drawing board and built an all-new A4 although the current car is only 5 years old.

Ingolstadt sorted out problems one by one scientifically. A 45% more rigid chassis is now equipped with all aluminium suspensions: the front is still the 4-link design but with revised geometry to kill squat and lift under acceleration and braking. Lower arms changed to alloy saved 8.5 kg of unsprung weight. At the rear, bye-bye the old half-independent torsion-beam which shared with Passat, now enter the aluminium trapezoidal multi-link suspension. Without doubt, the new suspensions' lower unsprung weight allow a sportier spring and damping setup at no expense of ride quality. Moreover, they provide far better wheel control.

Next problem to be solved is the notorious steering feel of the old car. By mounting the steering rack higher accompany with change of suspension geometry, the virtual steering axis becomes closer to the wheel center. The result is much more natural feel (also thanks to new pump valving in power steering) and eliminate torque steer, which could have been a problem for the more powerful V6.

Yes, the new 3.0-litre V6 is another big improvement over the old 2.8 V6. The latter was not shame but compare with Mercedes' 3.2 V6 and BMW's 2.8 and 3.0 in-line six it was apparently unresponsive, less flexible and less smooth. Now the new V6 gains not only extra stroke but also an aluminium block (hence saving 17kg), lighter pistons (raise revability), infinite intake VVT, 2-stage exhaust VVT, 2-stage variable length intake manifolds and electronic throttle. Enough ? Besides, a balance shaft is employed to reduce first order vibration generated by the 90° V-angle which enable the V6 to be built in the same assembly line as V8s. The new engine is responsive and free-spinning from 2,000 upward to 6,800 rpm cut-out. Ultimately, at 220 horsepower it is not as powerful as BMW 330i but it is no less attractive to ears - a thing rarely found in an Audi engine. From 4,400 rpm, the resonance box produces a purposeful snarl matching the Munich rival. Speaking of real talent, Audi claims it can propel the front-wheel-drive and manual transmission car to 60 mph in 6.6 sec, that is the same league of the fire-breathing 330i and a second quicker than the automatic-only C320.

The entry-level 2.0-litre 20-valve four employs similar technology - all-alloy, continuous VVT at intake (but no VVT at exhaust side), 2-stage intake manifold and twin balance shaft. That sounds impressive. More impressive is that it is claimed to be the lightest one in its class, at 129kg. Nevertheless, that's just a waste of good material because it is unwilling to spin at high rev thus generates quite a lot of NVH. It seems that the very long stroke design of combustion chamber (82.5 mm bore versus 92.8 mm stroke) account for the unrefined manner despite of the help of balance shafts. In terms of output, I am disappointed with its 130 hp which is by far lower than class standard but the peak torque of 144 lbft at 3500 rpm is impressive. However, I would have preferred more power and refinement in the price of a little bit torque. Ford Mondeo seems cleverer.

The engine range also consists of the existing 150 hp 1.8 turbo, a 130 hp pump injection turbo diesel 1.9 and a 2.5 TDI V6 turbo diesel outputting a strong 180 hp. The 1.8T still withstand the test of time well but now it has to pull an extra 30-50 kg thus you can't expect the same performance as before.

Last bug to be fixed was gearbox. Multitronic CVT is world famous, but the old 5-speed manual used to receive a lot of criticism about its rubbery shift quality. Now a new shift mechanism provides slick gear shift accompany with a smoother clutch actuation.

On The Road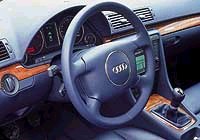 The new styling is not as radical as I thought. To certain extent it is even conservative by Audi's standard - a standard set by the TT Coupe, A6 and A2. However, it is undeniable that it feels elegant and expensive. Shut lines are narrow, paint work done perfectly, best fit and finish of cabin you can find in the mass production industry. The interior is not as large as C-class but rear passenger room beats the 3-series. Compare with old A4 the wheelbase has been stretched by 33 mm. No wonder rear passenger gets 41 mm extra knee room and 29 mm more elbow room. Of course, none of these cars can match the cheaper new Mondeo. Build quality wise, none of them are comparable with the A4.
Performance and eagerness of the V6 is awesome, but what road testers really want to find out is whether the chassis can beat its arch rivals. Turn the steering wheel and you'll immediately realise this is a revelation - meaty weighting, just the right amount of self-centering, sharp, precise, uncorrupted feedback ... this is probably the best front-drive steering, no, it is so much more lovely than the rear-drive 3-series and matches the high achievement of C-class.
Ride is quite firm, so body control is fluent and composed. It feels like a new Mondeo with 10% more in every aspect - grip, understeering resistance, stability and agility. Admittedly, the same description can also be applied to C-class and to lesser extent the BMW. Now we can forget the B because it is quite obviously out of competitiveness against the C and A. The real question is: C or A better ? While both display the same competent dynamic, the C-class is specially honored for providing supple ride simultaneously. In contrast, the new A4 achieve good handling partially in the price of ride quality, which is firm although far from uncomfortable. It is just that the C-class rides too well, unreasonably well. We heard BMW is now retuning the steering and suspension of the 3-series - and the result is likely to change the whole picture - but this is not considered here.
Let us praise Jos Van As for tuning such a fabulous chassis. Having tuned the current 3-series, the Dutchman left BMW in 1997 and joined Audi as manager of vehicle dynamics, reponsible for tuning A2 and then A4, no wonder the A4 improves so much. I am now eagerly awaiting a new S4 to come ...