| | |
| --- | --- |
| Published on 5 Jul 2003 | All rights reserved. |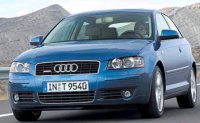 Few car makers know platform sharing better than Volkswagen group. It created the world's largest volume platform, shared by Golf IV, Bora / Jetta, Beetle, Audi A3, TT, Seat Toledo / Leon and Skoda Octavia, with a production volume exceeding 1.5 million cars a year. Among these cars, Audi A3 was the first to be launched. It differed from its sister cars by price (highest), quality (also highest) and driving manner (sportiest). These qualities earned it 875,000 sales from 1996 to 2003. Impressive for a niche model.

Unsurprisingly, the second generation A3 from 2003 is derived from the group's new generation A5 platform, or more commonly known as "Golf V platform". Like last time, it beat Golf to make its debut, but it is not the first product of the new platform - that is Volkswagen Touran mini-MPV. The Golf V platform is much more sophisticated than the Golf IV. The most significant improvement is the adoption of a fully independent 4-link rear suspension in place of the long-serving semi-independent torsion-beam axle. It is mounted on a sub-frame to isolate noise, vibration and harshness from the road. Obviously, the change is triggered by Ford Focus, whose revolutionary control-blade suspension enjoyed overwhelming appreciation from the world. The new Golf V platform also sees the use of 6-speed manual gearbox as standard and the excellent DSG double-clutch automated manual gearbox (from Audi TT 3.2) in top models. Besides, a new electro-hydraulic speed-sensitive power steering is adopted.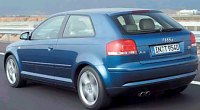 While the chassis is undoubtedly better, the same cannot be said to the exterior styling. The new A3 has a more conventional, angular-looking body, more like a Volkswagen than an Audi. It lacks the smooth-flowing design theme of A4, A6 and A8, confusing us whether it comes from the same bloodline. Drag coefficient is increased to 0.32 as a result. The nose is heavy on details. You must praise the elegant finishing of the jewel-effect lights, the chromed double grilles and the carefully-shaped brake-cooling intakes. You must appreciate how narrow assembly gaps are and how accurately the bonnet fit onto the top of the grille and headlamps. But you might not like the way the lower and upper grille reassembling a single square grille. You had better to, because this will be the new corporate grille for all future Audis.

In contrast to the nose, the hatchback is totally featureless. If I cover the 4-ring logo, you won't be able to tell whether it is an Audi, a Volkswagen or a Skoda.

The new A3 is a little larger than its predecessor - 65mm longer in wheelbase, for example. But I suspect the new Golf will be even bigger and more spacious to please mainstream buyers. To Audi, selling point is quality and sporty character. And I can tell you one of them is accomplished while another is not so successful.


Audi's cabin is really in a class of its own. Even in this relatively cheap model, the dashboard, seats and trimming still deliver visual appeal unrivalled by others, BMW 3-series Compact included. Not only it employs top quality plastics and switches, not only it provides first class fit and finish, but its style looks elegant, thanks to the four circular air vents coming from A4 Cabriolet. Alfa Romeo 147 still beats it in design, but Audi wins in quality.

With a 2578mm wheelbase, A3 offers sufficient room for 4 people. Rear passengers enjoy noticeably more room than Alfa 147 and BMW 3 Compact, but not necessarily a typical mainstream hatchback. There are many new family hatches having 2600mm-plus wheelbase and 1500mm height (A3 is just 1421mm tall), so you won't buy A3 for its sheer ability to swallow people and luggage.

With the high-quality content, A3 is about 50-100kg heavier than a regular family hatch. Therefore, the base model's 102hp 1.6-litre 8V engine feels weak. The old 105hp 8-valve 1.9TDI engine is also unattractive. Most buyers will choose either the 150hp 2.0 FSI direct-injection petrol engine (from A4) or the new 140hp 2.0 TDI 16V with VTG (variable geometry turbine) turbocharger. Performance seekers with deep pocket will definitely choose the 241hp 3.2 V6 (from Golf R32 etc.) mated with DSG 6-speed double-clutch gearbox and Haldex 4-wheel-drive. This model will top 152mph and finish 0-60mph in 6.4 second, but it is not the flagship model yet - Audi is yet to release details of the forthcoming S3.

But let us concentrate on the best selling 2.0 FSI and 2.0 TDI. Although the petrol engine offers 10 more horsepower, real world performance is by all means inferior to the diesel engine. As in the A4, the 2.0 FSI has a heavy flywheel effect and it produces a coarse and noisy engine note at the upper rev range. Pushing the 1275kg body, it is also not brisk enough to match the sporty image of Audi. On paper, the 2.0 TDI takes 0.4 more second to reach 60mph, but its 236 lbft of torque gives it so much advantage at regular driving and overtaking. Its 51.4mpg consumption is also better than the FSI's 40.9mpg - itself is already remarkable. However, Volkswagen's pump-injection technology still can't match the latest common-rail injection technology in terms of refinement, as measured by noise level and the vibration at start up. In short, both the most popular petrol and diesel engines lack mechanical refinement to match the high quality packaging.

Now, you drive a A3 2.0 FSI or 2.0 TDI on motorway. Facing a beautiful dashboard and a high quality environment, you discover that the cabin is well insulated from noise despite of that annoying engine note. The electric power steering firms up at speed flawlessly to raise your confidence. Damping is very good on motorway, filtering out bumps effectively. Gearshift is positive. Brake is strong. You think, 'this is a truly premium car ! it is worth the extra money.'

The end of the motorway is the entrance of a mountain road, then the scene is changed dramatically. You discover the well-weighted steering actually lacks feel, or ridiculously, not lack of artificial feel. Strangely, Audi has already cured this old problem in the A4 and A8, why not the new A3? because it uses pure electric power steering instead of the bigger cars' electro-hydraulic steering. The former is cheaper, of course.

Push harder in corners, the A3 gives up its neutrality to mild understeer. This sounds good, but unfortunately it comes earlier than you would expect from a driver's car. It neither corners as fast nor inspires its driver as much as BMW 3 Compact or Mercedes C-class Sports Coupe. Sadly, its handling characteristic is more like a European Toyota Corolla. We would like it to have harder suspension setup, but then Audi fears that would have driven customers away. In the same situation, Alfa Romeo would have given up those "warm hatch buyers" and concentrated on building up a sporty image only real enthusiasts will appreciate.

But that is NOT an excuse. I don't understand why the expensive A3 cannot match the completeness of a bread-and-butter Ford Focus. The latter has real steering feel, inspiring handling characteristic yet ride smoother than the A3, especially when dealing with low-speed bumps. If A3 foresee how the Golf V will drive like, then I should express my great disappointment. It should have better dynamics.
Verdict:



| | |
| --- | --- |
| Published on 16 Sep 2003 | All rights reserved. |
A3 3.2 Quattro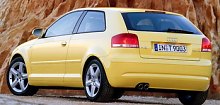 When Audi equipped its new 3.2-litre narrow angle V6 and DSG double-clutch 6-speed gearbox into the TT, we predicted one day the same combo would be used in the new S3. Unfortunately, we were wrong. Wrong because this car is not the S3, but the A3 ! yes, Audi surprised us by introducing the 250hp V6 into the top-of-the-range A3 3.2 instead of the S3, leaving us wondering how powerful the new S3 will be. If you remember, the outgoing S3 had only 225hp on tap.

If you have read my TT 3.2 report, I suppose you don't need much introduction to the V6 and DSG gearbox. Anyway, a brief look won't waste you too much time...

A3 3.2 is powered by the company's famous 3.2-litre 15deg V6 with continuous variable valve timing and 2-stage variable intake. This engine also appears in Volkswagen Phaeton and Golf R32 in different state of tune, but the closest one is Audi TT's, which pumps out the same 250 horsepower and 236lbft of torque. This is a superb engine - willing, torquey and smooth. Even better is its companion, the ground-breaking BorgWarner double-clutch gearbox which shifts gears as smooth as automatic. Everybody agrees it is the gearbox of the future. A conventional 6-speed manual is also available, but it's certainly not the highlight.

Of course, the top A3 employs Quattro system (the Haldex one) to distribute the extra power to all 4 wheels. The whole car weighs 250kg more than the front-drive A3 2.0, but overwhelming power means 0-60mph can be done in 6.1 seconds, claimed Audi. I have some reservation about that, because recently the TT 3.2 has been found slower than claimed. Also because Alfa Romeo 147 GTA (similarly powerful while being 165kg lighter) takes the same time to 60mph. However, let's say 6.5 or 6.6 seconds, that's already quick enough for a non-S-badge Audi.

Unfortunately, A3 3.2 only shines in straight line. Like the rest of the range, its steering is uninvolving. It understeers heavily in corners, frustrating drivers who want to exploit the extra power and grip. Even the fine ride quality is ruined by the stiffer suspension setup. Sadly, the top A3 is neither a driver's car nor a comfortable car. Audi needs to do much better in the next S3.

Verdict:



| | |
| --- | --- |
| Published on 14 Aug 2004 | All rights reserved. |
A3 Sportback and TFSI engine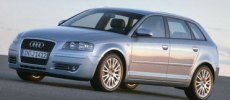 Audi prefers to call its 5-door A3 as "Sportback". With a rear overhang extension of 68mm, the A3 Sportback not only carries more luggage (370 litres in total), but its exterior design also looks halfway between a hatch and an estate. Moreover, compare with the3-door A3 it looks more substantial and upmarket, more like an A4 Avant. Sportback is definitely a more convincing package than the 3-door.

But when AutoZine open a topic for this car, it is definitely not only a door-work. In fact, we are more interested in the new TFSI engine introduced by this car, partly because it will be used in the forthcoming Golf GTI. The "T" in its name stands for Turbo, while FSI is Volkswagen's direct fuel injection. Having forgotten Mitsubuishi's 1.8 GDI turbo used in Pajero iO - deliberately or not, Audi incorrectly claimed this as the world's first turbocharged gasoline direct injection engine. Anyway, it is undoubtedly more advanced than the Mitsubishi engine. Based on the normally aspirated 2.0 FSI, it lowers compression ratio to 10.5:1, strengthened the crankshaft and pistons and add a turbocharger. Unusually, the sophisticated top end including 2-stage intake manifolds and variable valve timing is retained, in contrast to most other car makers that see these technologies unnecessary for turbocharged engines. The fuel injection is tuned to be less stratified, biasing more towards performance than economy. In contrast, the turbo runs at relatively light pressure to ensure remarkable tractability, no wonder maximum torque of 207 lbft is available across a very wide band, from as low as 1800 rpm continuously to 5000 rpm. As for power, the maximum is 200 horsepower, from 5100 to 6000rpm. It is not very remarkable compare with Renault Megane Sport (225hp) or even Audi's old 1.8 turbo (225hp), but the way it delivers the power is remarkably smooth and linear. It can rev to 6500 rpm redline without the slightest protest. What a superb engine!

Mating with DSG gearbox, the Sportback TFSI can sprint from rest to 60mph in 6.6 seconds and eventually reach a terminal velocity of 147mph. That's not far off from the V6 Quattro. But the TFSI is not cheap. You can get similar performance in many cheaper hot hatches, or much higher performance in similarly priced Japanese rally cars. Audi will teach you to see it as a premium car instead of comparing with cheaper alternatives, but then again a premium car should deliver a more refined ride (too harsh here) and better steering (no feel here), just like BMW 1-series. It has a superb engine and drivetrain, but the chassis is no where near perfect.

Verdict:




| | |
| --- | --- |
| Published on 10 Oct 2006 | All rights reserved. |
Audi

S3



Before buying the new S3, you had better to think twice. For £27,000, you have plenty of choices. BMW 130i and Mercedes C350 Sports Coupe provide similar combination of power and premium quality. Mitsubishi Lancer Evo MR and Subaru Impreza STi trades quality for superior performance. Opel Astra OPC offers bags of brutal fun and, may I say, a more attractive look at only £19,000. Lastly but not least, the duo from sister brand Volkswagen, Golf GTI and R32, smells at least as desirable as the Audi but ask for only £20,000 and £24,000 respectively. In particular, Golf R32 has been our favourite premium hot hatch since last year.

Before choosing the S3 over others, you have to ask yourself two questions: 1) do you like its styling? 2) does its 4-cylinder engine justify the price? to me, both answers seem to be negative. In terms of styling, S3 is far from the best effort from Audi's famous design studio. Part of the problem is caused by the inherently unattractive shape of A3, but even the aggressive new grille / additional air intakes / pronounced air dams / 18-inch wheels / dual exhausts fail to turn around the styling. For comparison, Golf R32 looks more stylish and elegant.



R32 also has a delicious V6 engine - like the premium rivals from BMW and Mercedes. In terms of image, this is unquestionably a strong advantage over the 2.0 TFSI engine of S3, which is a development from Golf GTI's unit. V6 or turbo four, this must be a headache to Audi. On the one hand, a naturally aspirated V6 should be smoother, more linear and more responsive in its running, not to mention the more delicious sound it produces. On the other hand, turbo four guarantees lighter weight at the nose hence better chassis balance. It weighs 152kg, lighter than a comparable V6 by 20kg. Most important, at the moment Audi does not have a V6 powerful enough for use in S3. The regular A3 3.2 Quattro already has the R32's 250hp 3.2 VR6. The 280hp 3.6 VR6 of Passat is considered to be too heavy for the job (especially because it has cast iron block). Were Ferdinand Piech still in charge of Audi, he might have ordered the development of a turbocharged inline-5 engine base on the 2.0 TFSI as a solution. However, today Audi decided to do the job in the easiest way - increase turbo boost.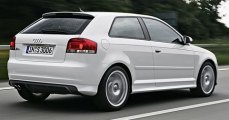 By using bigger turbo and intercooler, the turbocharging system can boost 1.2 bar of pressure into combustion chambers. By using stronger block, pistons and con-rods, the engine can withstand 258 lbft of torque generated between 2500 and 5000 rpm. By casting the cylinder head with a better alloy, the engine can resist the heat generated by 265 horsepower at 6000 rpm, some 25 horses more than the figure already achieved by Seat Leon Cupra R. In other words, this is (for the time being) the ultimate version of Volkswagen group's 2.0 TFSI engine.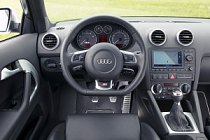 Although it is only 15hp more powerful than Golf R32 / A3 3.2 Quattro, on the road the S3 feels far more brutal. Its big turbo engine loses the superbly smooth and linear manner of Golf GTI. There is some turbo lag at low rev, if not as severe as old-school turbocharged engines. Once the needle went pass 2500 rpm, the engine starts pulling vigorously and the S3 turns into a wild beast. Here, dominating the acceleration is not the horsepower, but the tremendous mid-range torque which is not present in R32. The torque is so rich that you don't need to work much on the short-throw, slick-shifting 6-speed manual gearbox. The S3 is also 55 kilograms lighter than R32, no wonder it dares to claim 0-60 mph in 5.4 seconds, a decisive 0.6 seconds quicker than the Volkswagen. It is also one of the few hot hatches capable of reaching the voluntarily regulated 155 mph.

But is it more satisfying than a V6 ? the answer is still no. The rawness in its power delivery and engine noise is greatly at odds with the traditional character of Audi's S-cars as well as the premium image of the Audi brand. It would be fine for Evo or WRX, but not Audi. Golf R32 and BMW 130i might be slower, but subjectively their 6-cylinder engines feel sweeter and more refined. In the premium hot hatch field, you cannot ignore these subjective qualities.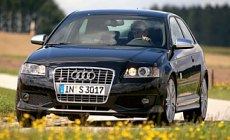 In contrast to the engine, the chassis of S3 is every bit you would expect for a quality hot hatch. Despite of the explosive power, the 4-wheel-drive system copes with ease. The grip, roll resistance and braking are all first rate. The suspensions run 25mm less ride height than the regular A3, but the combination of fine damping and more use of aluminum components in the front suspensions (such as wishbones and pivot bearings) help maintaining a livable ride.

However, you could not help feeling a little cold from the way it drives, because this car lacks real communication with the driver. Turn into a corner, you will find its steering feels somewhat vague, its turn-in not as keen as the Golf duo and its brake pedal not as feelsome. Disregarding the performance factor, the Golf duo is actually more fun to drive.

And then you have to consider the £27,000 asking price. Before buying the new S3, you had better to think twice. It's not bad, but neither is it worth the price.

Verdict:



| | |
| --- | --- |
| Published on 16 Feb 2008 | All rights reserved. |
A3 Cabriolet

| | |
| --- | --- |
| | A3 Cabriolet has the style and quality you would expect for Audi |

The Cabriolet version of A3 comes as a surprise to me. Although it wasn't in the plan when the current generation A3 was launched in 2003, it is surprisingly well made. Its single-frame grille, new headlights, bumpers and taillights deliver an upmarket image. They will be adopted by the forthcoming A3 facelift as well, but launching these styling upgrade in the Cabriolet first help promoting its image. Audi's attention to styling details, high-quality materials, tight assembly gaps and perfect paint finish also help making it feeling more premium than the regular C-segment cabriolets like Opel Astra and Ford Focus CC. Not even Volkswagen Eos could match it. If not the short tail, you could easily confuse it with the next generation A4 Cabriolet.


| | |
| --- | --- |
| | High chassis rigidity results in good ride and handling |

The A3 Cabriolet is well engineered, too. Chassis reinforcement around the windscreen pillars, body sides, rear bulkhead and diagaonal braces under the floorpan result in the highest rigidity in its class, so no matter how hard you push it on B-roads you won't find the squeak and scuttle shake that associate with many cabriolets. Well done. The electric soft top is also well engineered. It takes only 9 seconds to open, while the wind management and noise insulation are remarkable. I always prefer conventional fabric roof instead of the fashionable retractable metal roof because it is lighter and doesn't require a big boot to store. Therefore in my opinion Audi is sensible to choose soft top for the A3 Cabriolet. It adds only 100 kg to the kerb weight. If it were a folding metal roof, it would have been closer to 200 kg. Equipped with the 160 hp 1.8 TFSI engine that most people will opt for, the A3 Cabriolet is quite brisk. 0-60 mph can be finished in 7.8 seconds, only 0.4 sec longer than the hard top version. Other engines include 200 hp 2.0 TFSI and 105 hp 1.9 TDI.


| | |
| --- | --- |
| | Soft top is a sensible choice for weight, space and performance |

Predictably, the rear seats are more cramped due to the strengthened bulkhead. The seatback is nearly vertical and the legroom is tight for adults. However, the cabin has the usual classy feel of Audi. A luggage capacity of 260 liters is also good for a hatchback-based cabriolet. Overall, the A3 Cabriolet is a remarkable C-segment cabriolet, if an expensive one.

Verdict:




| | |
| --- | --- |
| Published on 22 Feb 2011 | All rights reserved. |
Audi

RS3

Sportback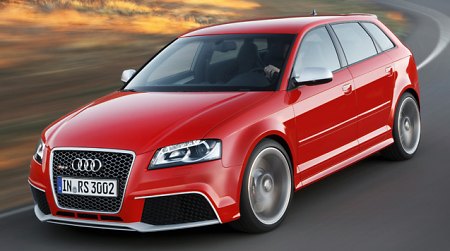 Sometimes I doubt if Audi can make money from its RS line. Extremely powerful and quick may be, they often come late to the party and at prices even higher than BMW M-cars. This leads to my conclusion that Audi does not care about their earnings at all. All it wants to do with the RS models is to establish a superior image, very much in the style of Dr. Piech.

The latest RS3 is another example. No one else would invest so much money into a car to be replaced in a year's time – in this case the 8-years old A3. Anyway, Ingostadt has the money and its Quattro GmbH engineers seem to have spare time recently, so the RS3 is built to satisfy their own desire. As expected, its specifications are high. Power comes from the same 340hp 2.5-liter five-cylinder turbo engine as TT RS. Gearbox is a 7-speed dual-clutch, not the one being used by RS5, but a new transverse unit suitable to the PQ35 platform. Power goes to all four wheels through the so-called Quattro system, which is basically the same as the 4motion system on Volkswagen Golf R. 4th gen Haldex multi-plate clutch distributes drive to the rear wheels much more quickly than ever. Performance is astonishing – 0-60 mph is claimed to take 4.4 seconds only, the same time as R8 !! though top speed is limited to 155 mph.

The chassis gets similar beef-up. Front track is widened by 22 mm, which necessitates those flared carbon-fiber front fenders. Ride height is set a further 5 mm lower than the already sporty S3. The suspensions employ stiffer springs, dampers and anti-roll bars. Larger brakes come straight from TT RS. Surrounding them are 19-inch alloys shod with 235/35ZR19 and 225/35ZR19 tires – unusually, those front rubbers are made wider than the rears in order to improve front end bite and cure understeer.

Oddly, the RS3 is available exclusively in the form of 5-door Sportback. This explains why it weighs some 120 kg more than the 3-door S3, or 100 kg heavier than the equivalent TT RS.

On the road, the RS3 is fast and unflappable in everywhere. Given its 4-wheel traction, grippy footwear and strong brakes, you will need to do foolish things to spoil its handling. The wide front rubbers make it more eager to turn in than the S3. Body control and precision are also taken to a higher level. Free of torque steer and wheel spin put it well above front-drive hot hatches like Ford Focus RS for dynamic fineness. On the downside, its biggest flaw is again the steering, which delivers little information from the front wheels. Its handling also lacks the mid-corner adjustability of Mitsubishi Lancer Evo. These two factors make it less fun to drive at the limit. Besides, ride quality is likely to be very hard due to those low-profile tires, though no one can verify that yet because Audi cleverly chose the snowy ground of Canada to make its debut.

The high-boost 5-cylinder engine is punchy yet surprisingly flexible. Its sound combines characterful 5-pot rhythm and old-school turbo whoosh on over rev. In sport mode the exhaust note becomes even more thunderous, so hardcore drivers will love it. In contrast, the 7-speed S-Tronic gearbox is almost civilized, making gearshift slickly and responsively.

The RS3 is very fast, of course. It is easily faster than Focus RS, Golf R and, on straight line at least, Evo and STi. However, it is definitely not as quick as what you would think for a car capable of 0-60 in 4.4 seconds. Don't try to challenge a Porsche 911 Carrera S on the road, because by the time you reach 100 mph you will be at least 2 seconds behind the Porsche. Also bear in mind that Audi's performance claims are usually optimistic. The RS3 is best seen as a Focus RS+ rather than a 911 fighter.

My biggest concern is price. At £40,000, the RS3 is clearly overpriced for a hot hatch, especially one that fails to deliver class-leading driver entertainment. Sometimes more does not equal better.

Verdict: