The hot S3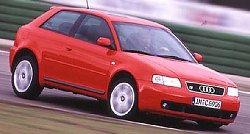 Pricing at around £26,000, roughly equals to the 180hp Audi TT Coupe Quattro, it's your decision which one to choose. The TT Coupe is million times more exciting to look at, offering a sense of occasion this side of a Lamborghini Diablo. On the other hand, the 210hp S3 is actually faster, offering 2 decent rear seats and a useful hatchback. Moreover, its waiting list is likely to be very much shorter. Decision is really difficult to make !

No matter which one, their road manner is the same, because the chassis, engine, 4-wheel-drive etc. are more or less the same. As you have already known, the TT is derived from Golf 4motion, employing the same multi-link rear suspensions, Haldex multi-plate clutch center LSD and 6-speed manual box. Its wheelbase is shortened from Golf by 89mm. Turbocharged 1.8 litres 20V engine replaces Golf 4motion's 2.3 V5, boosting 180hp in normal form and 225hp in hi-boost, twin-intercooler version.

The S3 is even closer to its TT brother. The engine is virtually identical to the 225hp TT's, just minus 15hp in order to relieve the pressure on the £30,000 TT. Strangely, S3 with its longer wheelbase still weighs 20kg less than the TT. Perhaps the latter is over-decorated. Anyway, the purposefully reduced power result in 145mph top speed, 0-60mph completed in 6.4sec, 0-100mph in 16.4sec. Both acceleration is marginally slower than the 225hp TT Coupe.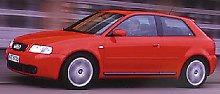 For a hatchback GTi, such performance is nothing other than world-beating. However, S3 is not a GTi as it looks to be. Its price, also its 4wd, suggest it should compete with at least Subaru Impreza turbo or the normal WRX. The most demanding drivers may even compare it with the WRX STi Version V or Mitsubishi Lancer GSR Evo VI. As we know, the latter is being sold in UK for £28,500, that means roughly equals to the Audi when competing outside Europe.
Autocar magazine is quite kind to the Audi, it took a £21,450 Impreza turbo against the £26,000 S3. If you think S3 must win easily, you're wrong. Although S3 is fast, it is no match with the Impreza's 5.3sec for 0-60 and 14.9sec for 0-100. Throw them into corners and bumpy roads, the S3 feels relatively reluctant to power oversteer. The steering is less sensitive and not very involving, although it is already improved a lot from the S4. (The same could be said to TT Coupe, luckily it is not supposed to compete with the Japanese rally aces)
Obviously, the German-designed S3 feels at home on the best A-roads. Once it leaves the demanding B-roads, it shows its strength in grip and high speed stability. Like most performance Audi, it suits those require effortless fast drive. Again, like most turbocharged Audi, its engine is smooth and surprisingly tractable, but makes uninspiring noise.
At least it has an excuse to be so expensive compare with the Impreza turbo - the first rate build quality and material use inside and outside.