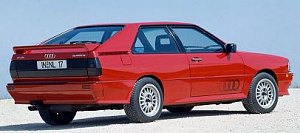 In 1980, Audi introduced a significant car to the world, Quattro. It was the father of all 4-wheel-drive cars today as well as the label now sticking on all 4WD Audis. However, its success was not limited to the innovative 4-wheel-drive system. Quattro was also a rare combination of style, performance, handling and 4-seat practicality. It was therefore one of my favourite cars in my childhood.

In the late 70s, Audi was still a brand lacking recognition, similar to today's Opel. To boost its brand image, Audi decided to find success in rallying. Engineer Jorg Bensinger came up with the idea of developing a 4-wheel-drive system. In fact, 4WD was not a new idea. Many military off-roaders used it for decades, while Jensen FF introduced it to road cars in 1967. However, the off-roader systems were too big and heavy to be used in road cars, while Jensen's system was not suitable for mass production. The request was approved by the head of engineering department, Ferdinand Piech. The project started in 1977, but Piech's team spent a lot of time to experiment and evaluate different systems. In the end, they designed a system comprising 3 differentials - front, rear and a center differential which distributed power between the two axles. The torque split was normally 50:50, but the driver could lock up the axle manually in case of wheel slip. Well, that's not much different from traditional 4WD systems. What innovative was the transfer case, or the lack of it - Audi integrated the center differential with the gearbox to become a compact and lightweight unit. This was made possible by using a hollow gearbox secondary shaft which housed a prop shaft inside. The gearbox shaft drove the center differential. The center differential had one of its output shafts connected to the rear differential and another output shaft directed back to the front differential through the hollow gearbox shaft. In this way, it saved a lot of space, weight and, needless to say, production cost.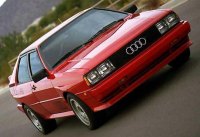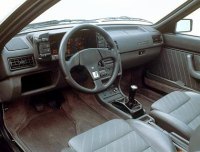 As for the car, it was derived from the Audi 80 platform, but fitted with the MacPherson strut suspensions and engine from Audi 200. If you remember, the contemporary 80 was not a specially beautiful sedan, but Audi did a good job to the Quattro coupe. It sharpened its edges and reshaped it to a 3-door hatchback. The slightly pronounced wheelarches not only housed wider wheels but also added to the sporty appeal. The triangular C-pillar with pseudo ventilation grilles at its base was particularly stylish, as was the 4-ring graphics appeared below the belt line - they reminded people this car had 4-wheel-drive.

Inside, the cabin was 80-like, placing function over style. The good news was that it was a genuine 4-seater, or even an occasional 5-seater ! Audi not only did not shorten its wheelbase, but stretched it by 0.5 inches. Moreover, the slope of the rear screen hit the right balance between style and rear headroom. In addition to excellent ergonomics and comfortable seats, the Quattro was a good long-distance coupe.




The engine was derived from the forthcoming 200 Turbo. Audi's unique inline-5-cylinder engine displaced 2144 cc and boosted by a KKK turbocharger. The result was 200 horsepower at 5500 rpm and 210 lbft of torque at 3500 rpm. This allowed Autocar magazine to record 7.3 seconds from 0 to 60 mph and 135 mph in 1981, which was remarkable then. By the standard of the 1980s turbocharged engines, Audi's turbocharged five-pot was particularly impressive for its characterful sound, smoothness and relatively less turbo lag.

But turbo lag still existed. It needed around 3000 rpm to get into sweet zone. That's not much of a problem then, but as time went by, newly emerging rivals like Porsche 944 raised the game with torquey and responsive naturally aspirated engines. In 1987, Audi bored out the five-pot to 2226 cc along with higher compression and water-cooled turbocharger. Maximum output remained unchanged, but there was more torque available at low rpm. In 1989, the last evolution added a twin-cam 20-valve head to boost power to 220 hp. Peak torque now raised to 228 lbft and it took just 1950 rpm to realize. By then the turbo lag became

negligible.






The 1987 revision also made an important change to the 4-wheel-drive system: the center differential was replaced by a new Torsen limited slip differential. Now the driver no longer needed to lock up the differential manually, because the mechanical LSD could do that automatically by limiting the torque to either axle to no more than 75%. Today, Torsen LSD is still the core technology serving most Audi quattro cars.

Naturally, the advantage of Quattro, pre-Torsen or post-Torsen, was traction. Its advantage over other cars was especially obvious in wet and gravel, needless to mention snow. Therefore driving the Quattro was confidence inspiring. It was not particularly grippy in corner though, mostly because it wore 205/60VR15 tires. The quattro system had a drawback too - to accommodate the driving mechanism for front wheels, the 5-cylinder engine was put longitudinally in front of the front axle. That made the car quite nose heavy (front-rear weight distribution was 61:39). However, the Quattro controlled its body roll very well while its steering was accurate, responsive and talkative. It connected its driver to the road via the steering, throttle and seat of the pants. Such an involving driving character was never repeated in subsequent Audis, including its successor S2. Whenever we criticize today's fast Audis for lack of feel, we would recall the original Quattro - or "Ur Quattro" as German called, which is always the greatest Quattro of all.

Rally success

In 1981, Audi Quattro stunned the rally world by winning its debut race in Austria rally. Rival car makers wondered the power of 4-wheel-drive and started developing their own systems. However, before they did that, Audi Quattro had already snapped up the constructor title in 1982 and the driver title in 1983. In 1984, Audi took advantage of the new Group B regulation and developed a purposeful racing car based on the Quattro. It was Sport Quattro. The car won both driver's and constructor's title that year, but that was another story…