4-Wheel Drive
| | |
| --- | --- |
| | Audi Quattro pioneered 4WD technology in 1980 .... not only dominated rally series, its designer also claimed, "One day, 4WD will become as popular as 4-wheel disc brake in today.".... |
| | Today, Audi builds 4WD versions for every of models. This S4 is the high-performance version of A4 sedan .... |
| | But 4WD still links strongly to rally. Rally brings us some superb machines like this Subaru Impreza WRX Ver IV STi. |
---
4-Wheel Drive is a very important and complicated topic in our automotive study. Before discussing its theory and mechanism, we must know its advantages and disadvantages first.

Advantages and Disadvantages

Traction and Grip :


Apparently, 4-wheel drive brings traction and grip to higher level because the tractive effort is shared by 4 wheels instead of two. This enable higher cornering limit, especially in rough roads and wet condition. Since it was introduced in 1980 to rally cars, 4WD proved its superiority in this aspect.


Weight penality and power loss :


Because the driving mechanism of the additional wheels has frictional loss, 4WD consumes a little bit more power than 2WD cars. Anyway, this is still a fraction compare with the increased weight. Most 4WD systems weigh 50kg-100kg more than a 2WD system, thus deteriorate acceleration as well as fuel consumption.


Steering tendency :


As mentioned in our study of Handling, in theory, permanent 4WD cars generate neutral steering tendency, thanks to the tractive force sharing by all 4 wheels. However, in reality this become much more complicated. Steering tendency can also be corrected by weight distribution, the adjustment of camber and castor, the choice of different size tyres in front and rear etc. Moreover, it is widely agreed that a slight oversteering, if could be accurately controlled by throttle and steering, is even more satisfying than neutral steering. In contrast, most 50:50 permanent 4WD cars can hardly enable oversteering, unless in really slippery surface.


Steering feel :


Depends on tuning, some 4WD cars deliver less steeing feel, since the presence of torque in the front wheels may generate slightly torque steer. However, most modern 4WD cars overcame this problem.


Basic layout of 4WD
A modern 4-wheel drive system must has 3 differentials - one in the front axle to distribute torque between the left and right front wheels, one in the rear axle again responsible for torque distribution, the third one, calls Centre Differential, distributes torque between front and rear axles.

We all know the objective of differential. During cornering, the outside wheels have to travel faster than the inside wheels, therefore we need a differential to distribute different torque to the wheels. For a 4WD car, we in addition need the Centre Differential because the front wheels have to travel faster than the rear wheels. The following diagram illustrates this :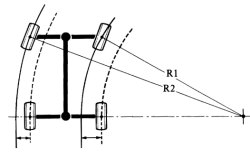 If without the centre differential, the non-conformance of front and rear wheel speed will lead to tyre slip as well as energy losses, tyre roar, wear of tyres etc. Therefore centre differential is a must for modern cars.

LSD - the core of 4WD technology

This is the LSD used by Subaru Impreza WRX Ver IV STi

However, just the 3-differential layout alone cannot cope with the basic requirement for 4WD - provides superior grip in the worst roads. In real world driving, for instance, when pushing the car over its limit in corner, or running on slippery surface, tyre slip is inevitable. When a wheel loses traction, a normal differential will transfer nearly all the driving torque to that wheel. As a result, the spinning wheel will spin even wilder, but the wheel that having traction will never share driving torque, therefore the car will be difficult to get out of the trouble. This problem occurs in all kinds of car, no matter 2-wheel drive or 4WD, but it is relatively more important to 4WD because 4WD cars are designed to run in worse roads or cornering harder.

Therefore 4WD cars (or even many latest 2WD sports cars) need Limited Slip Differential (LSD). A LSD lock up both drive shafts whenever tyre slip occurs, thus helps the car get out of trouble quickly. The result is enhanced stability and even higher cornering limit.

In fact, LSD is the core of 4WD technology. There are several types of LSD: Torsen LSD, Viscious Coupling LSD, VC differential lock and Active LSD. They have different effectiveness, characteristic and cost so that car makers choose them according to their needs. Now we are ready to look deeper inside these 4 types of LSD.
---
Copyright© 1998-2000 by Mark Wan
AutoZine Technical School
Return to AutoZine home page