Handling
---
Non-neutral steer due to front / rear weight distribution

Here we are going to discuss the theory behind front-heavy cars tend to understeer and rear-heavy cars tend to oversteer.

When a car is cornering, its CG is subjected to centrifugal force. The tyres generate slip angle thus frictional force to counter the centrifugal force, so the car keeps cornering without slide. (See figure in below)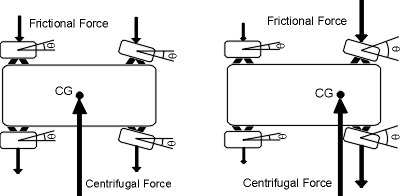 If the car is heavier at the front, that is, the CG is near the front, obviously the front tyres shares most of the centrifugal force thus they have to generate larger slip angle thus larger frictional force to counter the centrifugal force. As a result, the front slip angles exceed the rear's, and understeer occurs.

On the contrary, rear-heavy car has larger slip angle at the rear, thus introduce oversteer. Similarly, we can find a 50/50 balanced car having neutral steer. This is our choice for optimum handling. We don't really need oversteer in this case, because such oversteer is not controllable, unlike power oversteer which we have found in RWD cars.

The result favours front-engined, RWD cars (FR), which is easiest to achieve 50/50 F/R weight distribution.

Mid-engined, RWD cars (MR), with its slight rearward weight bias at about 40/60, is slightly inferior in here. But remember, its superior steering response, steering feel and dynamic balance are probably more than enough to compensate.

Front-engined, FWD cars (FF) is the worst in here, and far worst. As all the heavy mechanical parts - engine, transmission, differential - hang over the front end, the front axle normally takes up to two-third of the weight. This tends to create heavy understeer. In addition to the understeer generated by the FWD configuration, the result is even worse. This require a lot of work to do in the suspension geometry and steering mechanism for compensation. And there must be some trade-off. Take an Alfa GTV as an example. It has to install an ultra-quick 2.2 turns steering to counter understeer, thus requires quite a lot steering effort. If power steering were increased, steering feel must be deteriorated. The multi-link rear suspension was also probably chosen for compensating the understeer because the geometry is more tunable than the original MacPherson strut.

There is another problem troubling the Alfa - the 3.0 V6 version, which is intended to be the range-topper, found its even heavier front end leads to inferior handling than the cheaper and slower 2.0 version. This is a headache to the marketing personnel.

However, once again I have to point out that everything must have exception, especially when all mass production cars are also limited by other factors such as packaging, requirements for refinement and cost etc. When both under these limitations, a well-sorted Alfa 156 could outhandle an ill-fated BMW 3-series. Although recently RWD luxurious / sports sedan / compact elegant sedan seems to be reviving, FF is still the main trend for the majority budget cars due to its lower cost and space-saving advantage.


Non-neutral steer due to Suspension Geometry

We've said a lot suspension geometry can alter the steering, and it is usually used to compensate the undesirable steering tendency due to uneven weight distribution and FWD / RWD. Now I'll briefly go through this.

Camber - Decisive to understeer and oversteer

As shown in below, if a wheel is not perpendicular to the road, then it is cambered. If it leans towards to the center of the car, then it is negative cambered. If it leans outwards to the car, it is positive cambered (as shown in the following picture).

When a wheel has positive cambered, due to the elasticity of tyres, the wheel will be reshaped to something like the base of a cone. It will have a tendency to rotate about the peak of the cone, as shown in the picture. Now, you will see the wheel tries to steer away from the center of the car.

If both the right and left wheels are positive cambered (that means they leans to opposite direction), the steering tendency will be cancelled so that the car remains running in straight line. If the car is turning into a corner, weight transfer put more load on the outside wheels than the inside wheels, that means the outside wheel's steering tendency will have more influence to the car. As the positive-cambered outside wheel tries to steer the car to the outside of the corner, the car will be understeered.

On the contrary, if both wheels are negative cambered, the car will oversteer.


* * *


For FF cars, we could introduce some negative camber to the front wheels to reduce the understeer. Similarly, more positive camber could be employed to the rear-heavy 911.

We may deliberately need positive / negative camber, but we don't want the camber to be changed when the wheel meets bump or when the car body rolls into a corner, otherwise the handling will be very unpredictable or even uncontrollable. Therefore we prefer a suspension geometry whose camber varies little under all conditions. As said many times in before, double wishbones, especially is non-equal length, non-parallel double wishbones, is generally regarded to do the job best. Therefore from sports car to Formula One, all the high performance cars use it. For other kinds of suspensions, you can read the previous chapter about Suspension.

---

Steering Feedback and Torque Steer
The steering must offer enough "feel" to the driver so that he can sense what's happening as he approaches the cornering limit of the tyres. It must also have some self-returning action, but it cannot be so heavy as to cause fatigue or loss of sensitivity. This feel, feedback and self-returning action is a function of kingpin inclination, steering offset and castor angle :

The more the steering offset D, the more self-returning effort generated. Similarly, the larger the castor angle, the more self returning action.

If the car is FWD, the steering offset D will introduce torque steer. This is because the tractive force will try to pull the center of contact patch of the front wheels forward, thus the wheel will rotate about the point the kingpin axle projected to the ground. The torque steer moment is the product of D and the tractive force. Therefore the amount of torque steer is proportional to D. The solution is to build more inclination to the kingpin so to reduce D. This is easy to be implemented in double wishbones suspension which is shown in the picture, but not MacPherson strut, whose kingpin also serves as spring and shock absorber. If we incline the kingpin too much, there will be too much lateral force transmit via the spring / shock absorber to the car body, thus causing shake and instability.

Therefore we say MacPherson strut is not very suitable for FWD cars having a powerful engine. Alfa Romeo 164 is one of the examples, whose torque steer ruined the otherwise brilliant handling. No wonder its successor, 166, has switched to double wishbones front suspensions.

---
The last method to improve handling is to strengthen the chassis. Since the late 80s, we saw chassis rigidity of new cars have increased a lot. Whenever a new car is launched, the manufacturer must claim its torsional rigidity has been increased by at least 20%. This is partly due to the requirements for crash protection, partly in order to improve handling.

Consider a car with a very weak chassis which is easy to flex and twist under force. If it employ stiff springs and dampers to the suspension, the shock cause by road irregularity will be transferred to the chassis directly. The weak chassis will be twisted and bent, thus the suspension geometry will be reshaped, creating non-neutral steer and other side effects that is not the original suspension design intended to cope with. Therefore a weak chassis must ride on softer spring and dampers.

For the benefit of handling, we always want stiff spring and damper as long as ride comfort is acceptable. So we need a rigid chassis which could cope with the stiff suspensions without flex or twist.
---
Copyright© 1998-2000 by Mark Wan
AutoZine Technical School
Return to AutoZine home page