Handling
---
Most obviously, the selection of tyres is decisive to cornering grip. Car engineers have nothing to do with the friction of the tyres, which is determined by the compound and texture. However, they can choose the most suitable tyres for their cars.

In the past decade, increasing tire's diameter and width is a common trend shared by all car makers. Do you still remember the Lamborghini Countach employed 15-inch tyres ? Today's most exotic Ferrari, Porsche and Viper have 18 to 19-inch rubbers ! Larger diameter accompany with larger width increase the contact patch area (that is, the area of the tyre contacts with the ground), thus result in more grip. However, this also result in poorer wet road grip because the pressure acting upon the contact patch (that is, the car's weight divided by contact patch area) is reduced thus the tire becomes easier to "float" on the water. Therefore the texture also need to be improved for better water clearance.

Low profile tyres are also fashionable in these days. Since the thickness becomes thinner, it is more resistant to side wall deflection under substantial cornering force. However, this is not much related to grip.

It must be mentioned that wide tyres are not always good. Especially are front tyres, the wider they are, the more resistance generates when they are steered. This create a heavy and insensitive steering feel, also more tyre roar and wear. If you want to modify your car by using wider tyres, always consider the drawback first. In my opinion, most well-sorted European cars have already equipped with the most suitable tyres.

2. Suspension Design

To maximize cornering grip, the suspension must keep the tyres perpendicular to ground under all conditions such as bump and body roll so that the contact patch area remains maximum.

Generally speaking, double wishbones suspension does the best job to keep the tyre perpendicular to ground. The below figure shows how the conventional double wishbones suspension deals with bump and body roll. You can see there's no camber change at all under bump.

But the scene changes very much under body roll - camber changes for the same degree as the body roll. Track width also increases. Camber change reduces the contact patch area thus grip, and also introduces non-neutral steering (we'll discuss this later). Track width variation forces the tyres to slip thus also reduce grip.
---

Therefore engineers invented unequal length double wishbones. As shown in the below figure, the variation in camber and track width are largely reduced under body roll, although there is a small trade-off in wheel control under bump.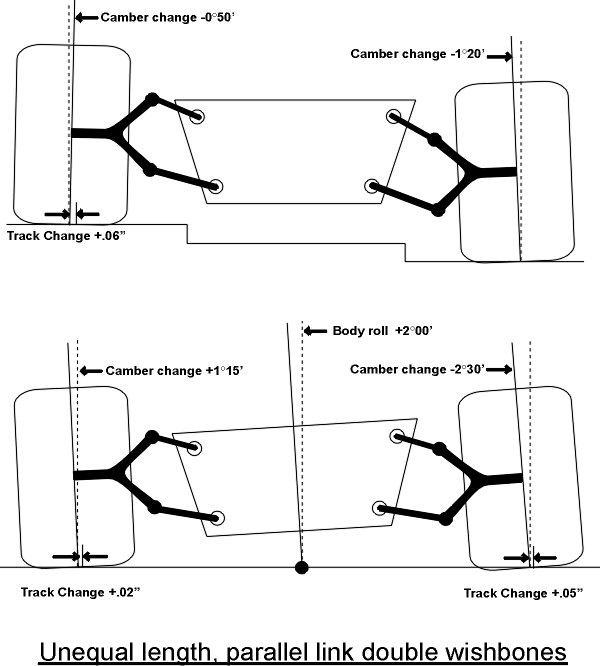 ---



Unequal length non-parallel double wishbones (below) is even more impressive, whose camber angle at the heavy-loaded outside wheel is nearly unchanged, although it is less good under bump.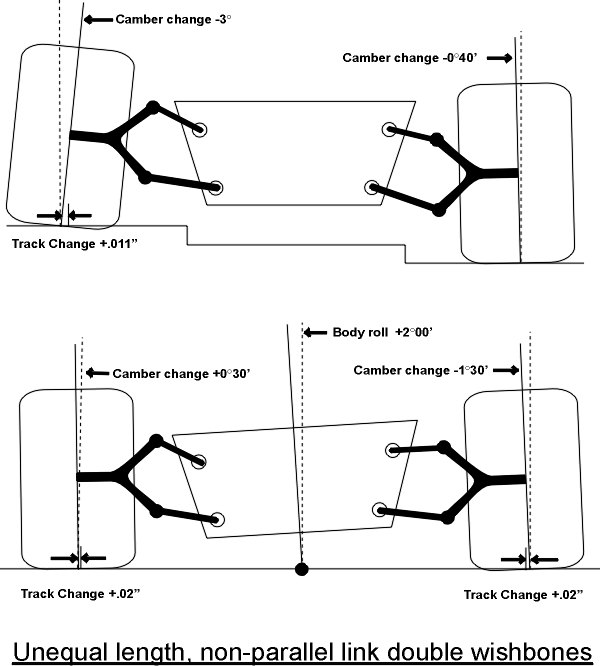 ---
Copyright© 1998-2000 by Mark Wan
AutoZine Technical School
Return to AutoZine home page