Power Boosting Technology
---
Normal engines have one spark plug per cylinder. However, since decades ago, Alfa Romeo insisted to put 2 spark plugs in each cylinder. As ignition takes place in two locations rather than one, this enable more efficient combustion and cleaner emission. However, besides Alfa, in the past 15 years only Mercedes and Porsche have ever applied Twin Spark design to their engines. This is mainly because of the complexity of cylinder head - it would be too difficult to put 4 valves and 2 plugs into the small cylinder head area. ( Mercedes' and Porsche's engines are 3 valves and 2 valves per cylinder respectively, so they have no such problem.) Only Alfa Romeo applied it to 4-valve engines.


| | |
| --- | --- |
| | Alfa's famous 2.0 TS engine |

| | |
| --- | --- |
| Advantage: | Improves combustion efficiency, hence more power and cleaner emission. |
| Disadvantage: | Benefits not convincing enough for most car makers |
| Who use it ? | Alfa 1.6 to 2.0-litre engines, Mercedes V6 and V8 |
---
Variable Compression Ratio - Saab SVC

Saab has stunned the world by showing its variable compression ratio engine in the 2000 Geneva motor show. I've heard such engine for some 2 years, but this is the first time Saab disclose the details to the press. In my opinion, this is perhaps the largest single breakthrough in engine technology since turbocharging and electronic engine management.

Why is variable compression ratio so fascinating? As everybody knows, fixed compression ratio is always a constraint for supercharging or turbocharging engines. To prevent excessive pressure in combustion chamber, hence pre-ignite ("knocking") and overheat to cylinder head, turbo/supercharger engines always employ a much lower compression ratio than normally aspirated engines so that the total pressure won't exceed the limit when the boost pressure is added. The problem is, when the charger (especially is turbocharger) is not yet getting into full boost, that is, at low and mid rev, the combustion runs at lower
compression ratio than normally aspirated engines. Therefore power efficiency at low speed is even lower than normally aspirated engines.

I remember when I was still 13 or 14 years old, I realized that problem and "designed" a variable compression ratio engine on paper. It involved variable length connecting rods to vary the position of piston's top dead center, hence compression ratio. When the turbo is not in full boost, compression ratio is as high as normally aspirated engine (10:1 by then). This lower to 7:1 for full boost. Of course, that concept is completely out of imagination and is no way to be feasible. Today - a dozen years later - Saab finally realized the variable compression ratio engine.

Named SVC (Saab Variable Compression), the engine implement VC by an innovative and interesting method - slidable cylinder head and cylinder. Let's look at the following pictures for illustration.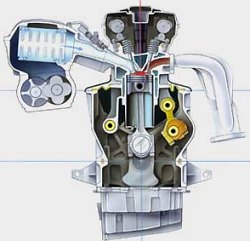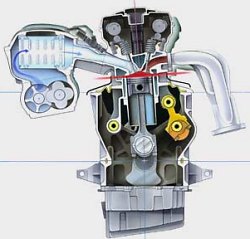 Left: high compression ratio; Right: low compression ratio
As seen, the SVC engine have a cylinder head with integrated cylinders - which is known as monohead. The monohead is pivoted at the crankcase and its slope can be adjusted slightly (up to 4 degrees) in relation to the engine block, pistons, crankcase etc. by means of a hydraulic actuator, therefore the volume of the combustion chamber (when piston is in compressed position) can be varied. In other words, compression ratio is also variable.

SVC is cleverer than any previous patents for variable compression ratio engines is that it involves no additional moving parts at the critical combustion chamber or any reciprocating components, so it is simple, durable and free of leakage.

The monohead is self-contained, that means it has its own cooling system. Cooling passages across the head and the cylinder wall. There is a rubber sealing between the monohead and engine block.

The VC allows the Saab engine to run on very high supercharging pressure - 2.8 bar, compare with the latest 911 turbo's 1.94 bar, or about twice the boost pressure using by 9-3 Viggen. So high that today's turbochargers cannot provide. Therefore it employs supercharger instead. At other speed, the VC is adjustable continuously according to needs - depends on rev, load, temperature, fuel used etc., all decided by engine management system. Therefore power and fuel consumption (hence emission) can be optimized at any conditions.

The SVC engine shown in Geneva is the third generation prototype, although production is still far away. It is an inline 5-cylinder with 4-valve head. The displacement is just 1598 c.c. to take advantage of the outstanding efficiency. Compression ratio can be varied between 8:1 and 14:1. With the supercharger, it output a maximum 225 hp and 224 lbft, something similar to a Honda 3.2-litre V6. However, its fuel consumption is very low. Saab claims it saves 30% compare with equally powerful conventional engines.

In terms of specific output, it achieve 150 hp per litre, which must be a world record for production car. At the same time, it is expected to fulfill all foreseeable emission regulations, including the tightest EU4. Another advantage is the suitability to different grade of fuel, especially in America where lower Octane gas is common. The engine management system detect the fuel grade and decide the most appropriate compression ratio to be used.

Saab started developing SVC in the late 80s and acquired the first patent in 1990. The first prototype was a 2-litre unit but was considered as more powerful than needed. The second prototype was a 1.4-litre inline-6 but it had problems about packaging, so the inline-5 configuration was eventually chosen.

More work has to be done to make a SVC into production. The production unit might not be the same as this one, but it is believed that General Motors has green lighted the full development, which requires big investment from parent company.


| | |
| --- | --- |
| Advantage: | Enhance efficiency a lot for turbo/supercharged engines across the whole rev range, thus enable the engine to be smaller and lighter; highly adaptable to different grade of fuel; cleaner emission possible. |
| Disadvantage: | Engine head and block more complicated |
| Who use it ? | Only Saab is developing. |



---
High compression engine - Mazda Skyactiv-G


Higher compression ratio brings higher combustion efficiency hence power. That's why automotive engineers want to raise compression as high as possible. However, a compression too high will lead to early explosion of fuel-air mixture, or what we call "knocking". Knocking is bad to engines, not only because it causes NVH but also it reduces output. When I started reading about cars, most engines in the world ran at lower than 10:1 compression. As engine management and valve-timing technology improves, nowadays the figure can be higher than 11:1. Direct injection engine may even lift that figure to 12:1 or so thanks to its cooling effect, but anything higher than that remains a dream. However, Mazda made a breakthrough with its Skyactiv-G engine in 2010. It works at an incredible 14:1 compression !

How can Mazda avoid knocking ? A crucial factor causing knocking is the high temperature of combustion chambers. Temperature in the chamber rises during compression stroke. It peaks when the piston reaches the top dead center (TDC, i.e. the highest position). At this point, knocking is most likely to occur. Obviously, if we want to reduce the risk of knocking, we had better to lower the combustion chamber temperature.

Then why is the combustion chamber so hot ? One of the reasons is the existence of residual exhaust gas, i.e. the exhaust gas that flows back into the combustion chamber during the intake stroke just before the exhaust valves close. No one can completely get rid of residual exhaust gas, because for high breathing efficiency engines always need to run with a certain level of valve overlapping (overlapping between the opening period of intake and exhaust valves). Suppose exhaust gas is 750degC and the fresh intake air is 25degC, and their mixture ratio is 1 to 10, you can see the residual exhaust gas can raise the combustion chamber temperature a lot. The more the amount of residual exhaust gas, the higher the combustion chamber temperature is. In other words, if we want to reduce temperature, we can reduce the amount of residual exhaust gas in the combustion chamber.



The graphs above show that a 14:1 compression engine always has higher comnbustion chamber temperature than a 10:1 engine on a given residual exhaust gas level. However, if the amount of residual exhaust gas is reduced to 4 percent, combustion chamber temperature will be about the same as a 10:1 engine running with 8 percent of residual exhaust gas. Now the question is: how to lower the percentage of residual exhaust gas ?

Surprisingly, Mazda uses a very conventional method to do that: a long, 4-to-2-to-1 exhaust manifold. On a typical inline-4 cylinder engine with short, 4-to-1 exhaust manifolds (the first picture below), once the exhaust valve of Cylinder 3 opens, its exhaust pressure waves (grey area) flows through the short manifolds to the exhaust valve of Cylinder 1, which is at the end of its exhaust phase. This pumps some exhaust gas back into Cylinder 1 and becomes residual exhaust gas. When the engine is running at low speed (2000 rpm in the picture below), the exhaust pressure wave arrives Cylinder 1 early enough to cause high percentage of residual exhaust gas. As engine rev rises, the opening and closing of valves speeds up as well, thus the exhaust pressure waves of Cylinder 3 reaches Cylinder 1 at later stage, causing lower percentage of residual exhaust gas. In short, from low to mid-range engine speed the level of residual exhaust gas is pretty high for this engine configuration.




In the case of Skyactiv-G's 4-2-1 exhaust manifolds (the second picture above), exhaust pressure waves from Cylinder 3 has to travel a long way to reach Cylinder 1, by the time Cylinder 1 has already, or nearly completed its exhaust phase. Therefore the level of residual exhaust gas is much lower than the previous case, especially for low to mid-range rpm. As a result, the Skyactiv-G engine attains lower temperature in its combustion chambers and allows a higher compression ratio to be used.

Well, if the principle is so simple, why not others discovered already ? It's not that simple, of course. One critical drawback of the long 4-2-1 exhaust manifold is that it takes relatively long time to heat up the NOx catalyst during cold start. In fact, this is exactly the reason why most modern production engines have abandoned this exhaust configuration - with the exception of high-performance engines which may use thin-wall fabricated stainless steel exhaust manifolds to compensate for its extra length. On cost-conscious mass production engines, cheap cast-iron exhaust manifolds are still the norm. Its extra mass and surface area absorb a great deal of heat and delay the proper functioning of catalyst. This causes difficulty to comply with emission regulations.



Mazda overcomes the cold-start problem by retarding ignition. This leads to a higher exhaust gas temperature to compensate for the long manifolds. The late ignition may result in unstable combustion. This is dealt with a specially shaped piston (pictured above) which concentrates the stratified air-fuel mixture around the spark plug. Other supporting features like high-pressure direct injection and six-hole injectors also contribute to the optimized combustion.

| | |
| --- | --- |
| Advantage: | 15% higher fuel efficiency, 15% better torque output at low to mid-range rpm. |
| Disadvantage: | - |
| Who use it ? | Mazda Skyactiv-G 2.0-liter |
---
Copyright© 1998-2011 by Mark Wan
AutoZine Technical School
Return to AutoZine home page