Power Boosting Technology
---
Variable intake manifold is increasingly more popular since the mid-90s. It is employed to boost low to medium speed torque without any drawback in fuel consumption or high speed power, thus improve flexibility of the engine. An ordinary fixed intake manifold has its geometry optimized for high speed power, or low speed torque, or a compromise between them. Variable intake manifolds introduce one or two more stages to deal with different engine speeds.

The result sounds like variable valve timing, but variable intake manifold benefits more low-speed torque than high-end power. Therefore it is very useful for sedans, which are heavier and heavier these days. For better drivability, there are also increasingly more sports cars feature variable intake manifold alongside VVT, these including Ferrari 360 M and 550M.

Compare with VVT, variable intake manifold is cheaper. What it needs are just some cast manifolds and a few electric-operated valves. In contrast, VVT need some elegant and precise hydraulic actuators, or even some special cam followers and camshafts.

There are two kinds of variable intake manifolds: variable length intake manifolds and resonance intake. Both of them make use of the geometry of intake manifolds to reach the same goal.

Variable length intake manifolds

Variable length intake manifolds is commonly used in sedans. Most designs employ 2 intake manifolds with different length to serve each cylinder. The longer one is for low-speed use. The shorter one is for high rev. It is easy to understand why high speed need a short manifold, because it enables freer and straightforward breathing. But why does it need longer pipe for low speed ? because longer pipe results in lower frequency of air mass reaching the cylinder, thus matches the lower rev of engine very much. This provide better cylinder filling, thus improves torque output. Besides, longer intake manifold leads to slower air flow, hence better mixing between air and fuel.


| | |
| --- | --- |
| | You can clearly see the manifolds of Ford's Duratec 2.5 litres V6 engine. Each cylinder has a long pipe and a short pipe. |

| | |
| --- | --- |
| | Toyota's 2 litres Variable Intake engine also has a manifold longer than another |


Some systems offer 3 stages of variable length, such as the one used by Audi's V8. How can Audi package all 3 manifolds for each cylinder, and a total of 24 manifolds in one engine? In fact, Audi doesn't use separate manifolds. Instead, it uses a rotary intake manifold with the inlet at the center of the rotor. The inlet rotate to different positions to form different length of manifold. The whole system recesses in the V-valley.

Resonance intake system

Boxer engines and V-type engines (but not inline engines) may employ resonance intake manifold to boost mid to high rev efficiency. Each bank of cylinders are fed by a common plenum chamber through separate pipes. The two plenum chambers are interconnected by two pipes of different diameters. One of the pipes can be closed by a valve controlled by engine management system. The firing order is arranged such that the cylinders breath alternately from each chamber, creating pressure wave between them. If the frequency of pressure wave matches the rev, it can help filling the cylinders, thus improved breathing efficiency. As the frequency depends on the cross-sectional area of the interconnecting pipes, by closing one of them at low rev, the area as well as frequency reduce, thus enhance mid-rev output. At high rpm, the valve is opened thus improves high-speed cylinder filling.


| | |
| --- | --- |
| | Porsche 996 GT3's resonance intake system. Note that 2 pipes connect between the 2 plenums. |


Resonance intake system has been used in various Porsche starting from 964 Carrera. Since 993, Porsche combined it with an additional variable length manifold to form a 3-stage intake system names Varioram. However, it is very space-engaging so that the 996 employs only the resonance intake system. Honda NSX is another rare applicant for resonance intake system.


Porsche's VarioRam

Below 5,000 rpm (left A and top right) : long pipes; resonance intake disabled.

5,000-5,800 rpm (left B and middle right) : long pipes plus short-pipe resonance intake, with one of the interconnected pipes of the resonance intake closed.

Above 5,800 rpm (left C and bottom right): long pipes plus short-pipe resonance intake, with both interconnected pipes of the resonance intake opened.


Summary of Variable Intake Manifolds


Advantage:
Improves torque delivery at low speed without hurting high speed power; Cheaper than variable valve timing.
Disadvantage:
A bit space engaging; no much benefit to high speed output.
Who use it ?
Audi 2.0 four, V6 and S-models V8 - 2-stage variable length manifolds
Audi A-models V8 - 3-stage variable length manifolds
BMW new V8's DIVA - variable length manifolds, 2-stage ?
Fiat / Alfa / Lancia Super Fire engines - 2-stage variable length manifolds
Ferrari 360 Modena and 550 Maranello - 2-stage variable length manifolds
Ford Duratec 2.5 and 3.0 V6 - 2-stage variable length manifolds
Honda Integra Si 2.0, 3.2 V6 Type S - 2-stage variable length manifolds
Honda Legend - 3-stage unknown system
Honda NSX - 2-stage resonance intake
Hyundai XG V6 - 2-stage variable length manifolds
Jaguar 3.0 V6 - 3-stage variable length manifolds
Mercedes V6 and V8 - variable length manifolds, probably 2-stage
Nissan 3.0 V6 (Maxima), 2.5 inline-6 and V8 - 2-stage variable length manifolds
Opel 3.2 V6 - 2-stage variable length manifolds
Peugeot 2.2 four and 3.0 V6 - 2-stage variable length manifolds
Porsche 996 Carrera / GT3 and all Boxsters - 2-stage resonance intake
Renault Clio 2.0RS - 2-stage variable length manifolds
Volkswagen group 1.6-litre four and VR6 - 2-stage variable length manifolds
Volkswagen W8 - 2-stage resonance intake
---
Variable Back-Pressure Exhaust

More supercars now employ variable back-pressure exhaust. It is somewhat like the variable intake manifold, just locate at the exhaust. Normal exhaust pipes for sports cars collect exhaust pulse from individual cylinders and combine them to a larger pulse, with a corresponding lower pressure behind the pulse. This low pressure actually helps drawing more air / fuel mixture into the cylinder from intake manifolds. This is so-called "reverse supercharging".

The reverse supercharging work best at a certain engine rev which is determined by the length of the exhaust pipe. The shorter the pipe, the lower rpm the reverse supercharging works. Of course, for any fixed exhaust pipes, the choose of working rpm is always a compromise.

Variable back-pressure exhaust usually provides 2 different lengths of exhaust pipes. The switching between them is via opening and closing of valves. Therefore it satisfy both the requirements of high speed and low speed output. Moreover, it helps complying EU's noise regulations, which set upper limits according to speed.


Advantage:
Optimize high and low speed output; reduce noise at low speed.
Disadvantage:
Nil
Who use it ?
Aston Martin Vanquish
Ferrari 550 Maranello, 360 Modena
Honda Integra Type R
Lamborghini Diablo 6.0
Mitsubishi Lancer Evo VII
Nissan Sentra SE-R Spec V, Maxima, Cima (Infiniti Q45)
---
History

Multi-valve engines started life in 1912, adopted by a Peugeot GP racing car. It was briefly used by the pre-war Bentley and Bugatti. However, it was not applied to production cars until the 60s - Honda S600 was probably the earliest production road-going 4-valve car. In the 70s, there were several more 4-valve cars introduced, such as the Lotus Esprit (1976), Chevrolet Cosworth Vega (1975, engine made by Cosworth), BMW M1 (1979) and Triumph Donomite Sprint. The latter introduced the first single-cam 4-valve engine, using rocker arms to drive valves.

In the early 80s, when Ferrari had just adopted Quattrovalvole V8, Honda was introducing 3-valve engines to its mainstream bread-and-butter models. In the mid-80s, both Honda and Toyota made 4-valve engines standard in virtually all mainstream models. The Western car makers did that some 10 years later !

Theory

Improving breathing is one of the keys for power enhancement. Unquestionably, in the 2-valve era valves used to be the bottleneck, hence the need for more valves.

The earliest mass production multi-valve engines were 3-valves because of its simple construction - it needs only a single camshaft to drive both intake valves and the exhaust valve of each cylinder. Today, there are still a few car cars using this cheap but inefficient design, such as Fiat Palio and all Mercedes V6 and V8 engines. Mercedes uses that because of emission rather than cost reason.

4-valve engines

A typical 2-valve engine has just 1/3 combustion chamber head area covered by the valves, but a 4-valve head increases that to more than 50%, hence smoother and quicker breathing. 4-valve design also benefit a clean and effective combustion, because the spark plug can be placed in the middle.

4 valves are better to be driven by twin-cam, one for intake valves and one for exhaust valves. Honda and Mitsubishi models prefer to use sohc, driving the valves via rocker arms like the aforementioned Triumph. This could be a bit cheaper, but introduce more friction and hurt high speed power. Therefore the sportiest Honda and Mitsubishi still use dohc.

5-valve engines

It is arguable that whether 5 valves per cylinder helps raising engine efficiency. Audi claimed it does, but fail to provide evidence to support. In fact, its 5V engines are no more powerful and torquey than its German rivals with 4 valves per cylinder.

Originally, 5-valve design doesn't guarantee covering more head area than 4-valver. Nevertheless, if the head of combustion chamber is in irregular shape like the picture shown, the valves may cover larger area. Ferrari F355 make use of this to enhance high-speed breathing. Is there any disadvantage? Yes, faster breathing also harm low-speed torque if no counter measure is taken. Therefore it is more suitable to sports cars.

All existing 5-valve engines have 3 intake valves and 2 exhaust valves per cylinder, still arranged as cross-flow. The exhaust valves are larger, but in terms of total area intake valves are larger. In F355, by arranging the outer intake valves open 10° earlier than the center valve, it got the swirl needed for better air / fuel mixture, hence more efficient burning and cleaner emission.

The advantage of 5-valve engine is still under questioned. Not only few car makers used it (VW group, Ferrari and the bankrupted Bugatti), but Formula One cars also no longer favour it. Even the Ferrari F1 cars which was once famous for 5V engine has switched back to 4-valve design a few years ago.

Drawback and Solution - e.g. Toyota T-VIS

Most early 4-valve engines were not good at low-to-middle speed torque, simply because the larger intake area resulted in slower air flow. Especially at low speed, the slow air flow in the intake manifold led to imperfect mixing of fuel and air, hence knocking and reduced power and torque. Therefore 4-valve engines were regarded as strong at top end but weak at the bottom end, until the technology of variable intake manifold became popular recently. The aforementioned Chevrolet Cosworth Vega performed particularly weak at low speed.

In response to this, Toyota introduced T-VIS (Toyota Variable Intake System) in the mid-80s. T-VIS accelerated low speed air flow to the manifold. The theory was quite simple: the intake manifold for each cylinder was split into two separate sub-manifold which joint together near the intake valves. A butterfly valve was added at one of the sub-manifold. At below 4,650 rpm the butterfly valve would be closed so that raising the velocity of air in the manifold. As a result, better mixing could be obtained at the manifold (excluding direct-injection engines, fuel injection always takes place in the manifold).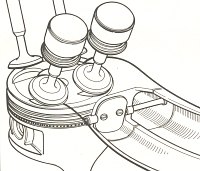 However, for later mainstream sedan engines, Toyota dropped this idea and adopted a small-diameter intake manifold / port design. Many other car makers also went the same way, sacrificing a bit top end power to improve low speed flexibility. Today, the introduction of variable intake manifold can solve this problem.
---
Copyright© 1998-2000 by Mark Wan
AutoZine Technical School
Return to AutoZine home page