Engine Smoothness
---
V8 engines

May I say all V8s are 90° ? apart from Ford Taurus SHO's 60-degree 3.4-litre V8 (which was derived from Ford's 2.5-litre 60-degree V6) and TVR's 75-degree AJP8, I haven't heard any non-90° V8. 90° is the only configuration achieving good balance for V8. However, there are two types of crankshaft arrangements, which delivers very different characters. They are cross-plane crankshaft and flat-plane crankshaft. Most of the world's V8s are cross-plane V8, including all American V8s and all sedans' V8s. However, the most exotic European sports cars, including Ferrari, Lotus and TVRs, employ flat-plane V8s.


| | |
| --- | --- |
| Flat-plane V8 (left) and Cross-plane V8 (right) | Share the same crank pin |


No matter which kind of V8s, they have 5 main bearings. A cylinder in bank A shares the same crank pin with the corresponding cylinder in bank B, therefore the crankshaft of V8 is actually simpler than V6. Both V8s generate no vibration in vertical, transverse directions or between bank and bank.

Cross-plane V8

However, for cross-plane V8s, there is vibration from end to end of the engine, this is because the first piston of bank A is not in the same position as the last piston of bank A (the same goes for bank B), unlike an inline-4 engine. No problem, the 90° V8 solves this problem by introducing an extra-heavy counter weight to every cylinder. The counter weight is heavy enough to balance the weight of crank throw, con-rod and piston of that cylinder, thus resulting in lack of vibration.

Now you must be wondering why such counter weight is not used in other kinds of engines. It is because this counter weight must be used in 90° V-type engines which have shared crank pins. It our previous study, you'll find only V8 fulfills all these requirements. Why are there such requirements? good question. As you know, all engines have counter weights just enough to balance the weight of crank throws and part of the connecting rods, leaving the remaining weight of connecting rods and the whole, all-important pistons unbalanced. This is because the rotating counter weight can only balance rotating mass. Unluckily, the whole piston moves vertically rather than rotates about the crankshaft, while the CG of con-rod is somewhat rotating but also somewhat going up and down. If we insist to use heavy counter weight, it will cause side shake.


Considering the illustration. Assume the counter weight in vertical position is heavy enough to balance the crank throw, con-rod and pistons. When the crankshaft rotate 90°, the counter weight is repositioned to the right, but the piston doesn't go to the left, and the con-rod just partially moves to the left. Only the crank pin moves completely to the left. Now you can see the system is not balanced. The counter weight will generate a net force towards the right.

However, for 90° V8, when such a heavy counter weight moves to the right, the piston from another bank will cancel it completely, because their movement are exactly opposed at this moment. (see illustrations below) The same result can be found for the counter weight moving to the left. Therefore 90° cross-plane V8 employs full-weight counter weights can achieve near perfect smoothness.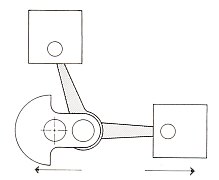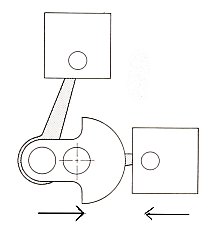 Flat-plane V8 for high performance cars

However, the disadvantage of cross-plane V8s is also about the counter weights - not only increase the weight of engine, they also contribute to rotational inertia, thus making the engine less responsive and less revvy, dropping upper rev limit and top-end power. Moreover, the larger counter weights usually requires a larger crankcase to house them, thus raising the height (and more important, center of gravity) of the enigne. Therefore Ferrari all V8 models, TVR Cerbera AJP V8 and Lotus Esprit V8 employ flat-plane V8s instead.

Flat-plane V8 is named according to the shape of the crankshaft, which is in a flat plane. It is very much like two inline-4 engines mated together. In particular, it achieves end-to-end balance because the first piston and last piston of a bank is exactly in the same position, so are the center two pistons. This is just the same as straight-four engines, therefore the sound of flat-plane V8 is usually somewhat like a pair of four-pot engines screaming simultaneously, unlike the rumble-bumble of cross-plane V8s.

As both banks run like an inline-4 engine, there is second-order vibration. For a 90° flat-plane V8, the sum of second-order force generated in the 2 banks is - by simple vector analysis - 1.41 times (root-2) of the force generated by each of the inline-4 it consists of. And the direction of vibration is left-right instead of top-down. In other words, while displacement increases 100% compare with the inline-4, the second-order vibration increases just 41%. That makes the flat-plane V8 more refined than an inline-4 although it is not as smooth and quiet as cross-plane V8.

To exotic sports cars, less refinement is not a big problem. Especially they usually employ short stroke and light weight pistons / con-rods, the second-order vibration is greatly reduced.
---
V10 engines

Theoretically, the best V-angle is 72°. Like two inline-5 mated together, there is no vibration in vertical and transverse directions, but there is vibration from end to end of the engine, thus require a balancer shaft install in the V-valley for best balance. However, there is no vibration between bank and bank because pistons in both banks are in the same positions.
---
V12 engines

Theoretically the best balanced configuration for practical use. It is simply a duplication of inline-6 (therefore achieve the same perfect balance), with corresponding cylinders in both banks joined at the same crank pins. V12 is better than inline-6 just because it has more cylinders, thus doubling the firing frequency and smoothen power delivery.

Of course, the disadvantages are cost, size and weight.

There's no structural differences in crankshaft for all V12s, no matter for luxurious cars or supercars. Most employ 60°, although Ferrari prefers 65°.
| | |
| --- | --- |
| Lamborghini's 60° V12 for Diablo GT | McLaren F1's BMW 60° V12 |
---
Copyright© 1998-2000 by Mark Wan
AutoZine Technical School
Return to AutoZine home page