Green Engine Technology - Petrol Engines
---
California's ULEV requirements

The US State of California is the leader in the field of emission legislation. Its "LEV" (Low Emission Vehicles) requirement, roughly equals to Euro 2000, will be effective in 2000. 3 years later, "ULEV" (Ultra Low Emission Vehicles) requirement will restrict the pollution level to 30% of today's standard, that is similar to the Euro 2005.

At the focus of attention is the so-called "non-methane organic gases" (NMOG) - organic hydrocarbon compounds such as aldehydes, alcohols, alkanes, aromatic compounds and esters found in car exhaust, and which experts consider to be responsible for the increase in the concentration of ozone in the atmosphere. All car makers are required to ensure that the passenger cars which they sell in California do not exceed a certain annual NMOG fleet average.

Honda's leading ULEV and ZLEV technology

Honda is currently leading LEV and ULEV technology. Back in 1995, it created the first ULEV engine in the world and installed to Accord. Today, while other car makers are working hard on their ULEV engines, Honda once again lead this field by introducing an even cleaner ZLEV ( "Zero" Low Emission Vehicles ) engine.

Basically, ZLEV based on ULEV but improves the catalytic converter arrangement. Since I only got the pictures of ZLEV, let me explain its theory first and by the way tell you ULEV.


ZLEV achieves extremely low emission by three stages :

During start up, its VTEC system lifts one of the intake valves higher than the other (refer to the diagram in Honda's 3 stages VTEC page). Because of unbalance pressure, swirl will be created in the air, thus leads to better mixing of fuel and air. As a result, leaner fuel / air ratio (16 : 1, compare with conventional's 14 : 1) can be achieved. This not only save fuel, but also allows more complete burning.
As usual, when the engine has started, the catalytic converter are still too cold to be effective. Therefore a close-coupled high efficiency converter, locating just at the exhaust port, is employed for the benefit of faster heat up. Anyway, many pollutant still escape from it. Therefore a newly developed hydrocabonate-asbsorbing catalyst is used to absorb the HC temporarily. At the same time, another converter is pre-heating for later use.
HC particles begin to loose out from the HC-absorbing catalyst, but then they will be converted by the pre-heated catalytic converter which has been brought up to operating temperature.
.
As a result, ZLEV engine deals comfortably with cold start emission. ULEV engine is similar but without the HC-absorbing catalyst, therefore its NMOG level is much higher, although NOx is not much different.
---
| | |
| --- | --- |
| | Mazda's 2.3 litres Miller Cycle engine is the only one of its kind. Although it achieved 10 - 15 % fuel consumption reduction over comparable coventional engines, high production cost prevent it from being popular. |

Miller Cycle is an interesting concept. Invented by American Ralph Miller rather than Mazda in 1940s, it changed the long-standing basic principle, Otto cycle. Conventional Otto cycle engines have 4 stages in each cycle - intake, compression, explosion (expansion) and exhaust. Each of them takes roughly equal time. Miller Cycle engine differs from it by delaying the inlet valves closing well into the compression stroke. What is the result of this ?

In Mazda's Miller Cycle V6 engine, inlet valves close at 47 degrees after BDC (bottom dead center, ie, the lowest position of piston during a cycle). This equals to 20% of the height of stroke. In other words, during the first 20% of the compression stroke, the intake valves remain opening, thus air flows out without compression. Real compression activated during the remaining 80% stroke. Therefore, the real effective capacity of the engine is only 80% of the volume of combustion chamber. Compression ratio is decreased from 10 : 1 to slightly under 8 : 1.

Valve timing of the Miller Cycle V6

Until now, you probably still don't understand its objective. Be patient, I am going to explain now.

Lower compression ratio means less energy loss in compressing air, i.e., the so-called "pumping loss". Moreover, lighter compression leads to lower temperature, thus reduces heat loss in cylinder wall and pistons. To compensate the reduction in real capacity, a supercharger is employed to increase the air density such that the engine actually resume 100% capacity. Of course, the supercharger must generates less pumping loss than those gain by reducing compression ratio. Otherwise Miller Cycle engine will be no more efficient than ordinary engines.

Note that the expansion stroke is the same as ordinary engines, it is not reduced like the compression stroke. As a result, power delivery and is as smooth as normally aspirated engines.

Disadvantage

Mazda's Miller Cycle engine burns 13% less fuel than its 3 litres conventional sister engine. It also generates more power and better torque curve. However, since its introduction in 1994 until now, no other car makers follow its trend. Even Mazda itself did not produce another Miller Cycle engine. Why ?

Think about it: although it is claimed to be a 2.3-litre engine, it is actually constructed as a 3-litre engine, no matter in dimensions and in material. Then, the supercharger and twin intercoolers (one per cylinder bank) will be extra cost compare with conventional 3-litre engine.

For a V6, this might be forgiveable, but those additional cost will be relatively expensive for a low cost four-cylinder engine. As a result, Miller Cycle concept can hardly be popular in the market.
---
BMW's Valvetronic engine is the world's first engine getting rid of throttle butterfly. What's the advantage ? BMW claimed it saves around 10% fuel compare with conventional engines.

To understand how throttleless engine save fuel, we must first know how our conventional engines work. When you floor down throttle pedal, you do not control the amount of fuel injection (which would have led to change of air-fuel mixture ratio hence misfire) but the amount of air running into the cylinders. Fuel injection system monitor the amount of air passing the throttle butterfly and then determine the corresponding amount of fuel needed. The more the throttle butterfly opens, the more air runs into the combustion chamber. This is how your throttle pedal control the engine. The below picture shows a conventional engine with throttle butterfly in the intake manifold.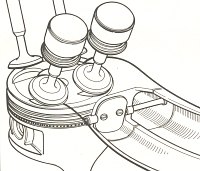 However, as you can see in the picture as well, at light throttle (when the car is running leisurely, down hill or at light load) the throttle butterfly partially or even nearly closes. Simultaneously, the pistons are still running, sucking air from the partially closed intake manifold. Needless to explain, the intake manifold between throttle and combustion chamber will become partial vacuum, resisting the sucking / pumping action of pistons. This waste energy. Engineers called this energy loss as "Pumping Loss". The slower the engine runs, the more the throttle butterfly closes, thus the more energy loss.

Valvetronic mechanism get rid of throttle butterfly thus saves fuel, especially at lower rev. According to the EU combined test cycle consist of high speed and low speed running, the 1.8-litre Valvetronic engine used by 316ti Compact saves 10% fuel (at 53.3 mpg or 5.3 litre / 100 km). For those who regularly drive in city, the saving could be bigger. Moreover, unlike direct-injection (the most popular fuel-saving technology right now), it need not to drink low-sulphur gasoline.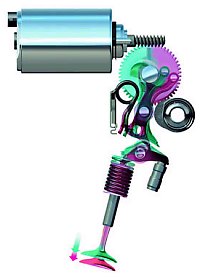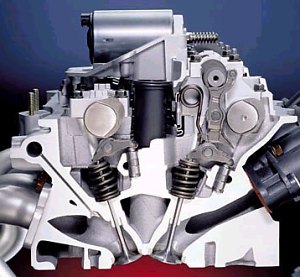 Without throttle butterfly, how does it control the amount of air entering cylinders ? by controlling the lift of valve. Valvetronic is essentially a variable valve lift system acting on intake valves. Compare with conventional twin-cam engines with finger followers, it employs an additional eccentric shaft, an electric motor and several (one per valve) intermediate rocker arms (see picture). The motor control the angle of eccentric shaft, which rotate the angle hence depth of the intermediate rocker arms acting on finger followers, which in turn activate opening and closing of valves. If the rocker arms push deeper towards finger followers, the intake valves will have higher lift, vice-versa.

Now you might think about Honda's VTEC. Can Valvetronic use its variable lift to increase power like VTEC ? Sadly, Valvetronic is actually less efficient at high rev than conventional engines, let alone VTEC. As you can see, the camshaft drives the long intermediate rocker arms, in turn drive finger followers, this generates quite a lot of friction. Therefore the efficiency and refinement of Valvetronic engines drop rapidly at over 6,000 rpm. No wonder in the foreseeing future BMW will not equip its M-power engines with Valvetronic.
---
Exhaust Gas Recirculation is a proven technique to reduce fuel consumption and emission. It does that by recirculating some of the exhaust gas back to the combustion chamber. Thus the effective engine displacement is reduced and drink less fuel. Inevitably, you may say this also reduce power output, so why not select higher gear and slow down the engine to obtain the same result ?

The answer is: not every one like this kind of cruising. If you drive in a hurry, you don't like to reduce the engine speed as you want to accelerate as soon as overtaking opportunity comes. If you drive in traffic, which calls for intermittent acceleration and deceleration, you are not likely to select the 4th and 5th gear too. A considerable large portion of our daily driving is spent on the "low gear, high rev" pattern which does not optimize fuel consumption. This makes EGR worthy.

EGR recirculate some of the exhaust gas (probably up to 10%) back to the inlet valve via a recirculation pipe. The amount is determined by engine ECU and controlled by a valve at the recirculation pipe. When the ECU believes the engine is running at light load, it directs the exhaust gas back to the combustion chamber. As the exhaust gas is largely non-ignitable and takes no part in the combustion process, the fuel injection can emit less fuel without worrying failure combustion. As a result, the engine still run at roughly the same speed but power output, fuel consumption and emission are all reduced.

Yet this is only half of the story. Another large portion of the fuel and emission saved is contributed by the reduction of pumping loss. Pumping loss is the power used to pump the fresh air into the cylinder and pump the exhaust gas out, of course the "pump" is the piston. To reduce the power wasted in pumping in fresh air, we can pressurised the input air, that is, using turbocharger, or alternatively add some high-pressure, speedy gas into the input stream. In our case of EGR such gas is the exhaust gas.

To our environment, apart from the emission reduced via consuming less fuel, EGR also reduces NOx emission. How ? as the amount of combustible gas is reduced, temperature in combustion chamber is also reduced. Because NOx generates at high temperature, NOx emission is also reduced.

Related topic : EGR by means of VVT
---
Copyright© 1998-2001 by Mark Wan
AutoZine Technical School
Return to AutoZine home page