Evolution
---
LP400 (1974-78)


Today, you may feel surprise that the earliest Countach was so pure in shape - without extended wheel arches, no front spoiler, with narrow tyres and flat engine lid. Undoubtedly, this is the most loyal to Gandini's spirit.

You might surprise how old-fashion the Michelin XWX tyres were - 14 inches diameter, 70% profile, 205 mm width for the front wheels and 215 mm for the rear ... obviously this was unsuitable to such a supercar.

However, also because of this, LP400 had better aerodynamic drag than its successors, therefore it was actually quicker in top speed than LP400S and LP500S.

There was another unique feature in LP400: instead of a normal rear-view mirror, it had a periscope mirror recess in a characteristic groove on the roof. You can see the groove in the picture beside.
---
LP400S (1978-82)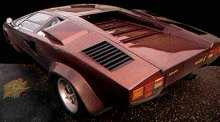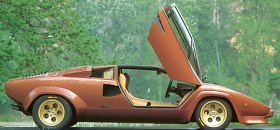 Thanks to Dallara, who worked as a consultant to Lamborghini at the time, a modified LP400 was launched in 1978. The most important change was the adoption of Pirelli's new P7 high performance tyres - 205/50VR15 up front and 345/35VR15 in the rear !! You know, no road car in history had ever used rear tyres as wide as this 345 mm P7, even until today! In addition to the latest low profile technology, grip was increased significantly without hurting ride quality. Now Countach had the right tyres to match with its tremendous power.

To accommodate wider tyres, extended wheel arches made of glass fiber were added, which also enhanced aggressive feeling. Air dam was added under the nose, while a V-shape huge rear wing was listed as a popular option for increasing high speed stability as well as visual aggression. Many people including me like the wing, but its extra drag cost at least 10 mph at top speed.

Even without the wing, LP400S had considerably higher aerodynamic drag than LP400, thanks to the widened wheel arches and tyres. This inevitably deteriorated top speed, especially when the V12 was carried over without the slightest alteration. Acceleration was also worsened because an extra 50 kilograms were added to the kerb weight.

However, judging by handling, the LP400S never let us down - cornering ability was not in doubt anymore. Obviously, Lamborghini knew that an all-time supercar must have handling matching speed.

As mentioned already, the V12 was not changed at all, but a more honest appraisal resulted in 353 hp instead of 375 hp.
---
LP500S (1982-85)

Let alone the originally proposed 200 mph target, Countach again and again let down motor journalists whenever testing against the clock. The LP400S was probably slower than 160 mph, that is, much inferior to its predecessor, the aerodynamic superior Miura. However, due to the financial uncertainty (Ferruccio Lamborghini sold his company just before Countach launched, then the company changed hands frequently), a new Countach was not born until 1982.

Also known as LP5000S in America, LP500S got an upgraded engine, now displaced at 4754 c.c. by increasing 3.5 mm bore and 7 mm stroke. As much as 302 lbft of torque was available at 4,500 rpm, though tougher emission control prevented the power from exceeding 375 hp. This V12 surely improved the disappointed performance - top speed rose to about 165 mph, while 0-60 mph was down to 5.6 sec.

There were no much changes in other aspect. The body was virtually the same as LP400S, although the roof was raised by 30 mm for more headroom.
---
5000QV (1985-88)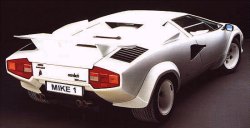 In 1985, Lamborghini made the biggest improvement to Countach. The V12 was stroked to 5,167 c.c.,
incorporated a 4-valve cylinder head (called "Quattro-valvole" in Italian, which gave its name "QV") thus a total of 48 valves. Power jumped to a world-beating 455 hp, torque rose to 369 lbft. Finally, the Countach produced more power than the originally proposed LP500 prototype, which would have been capable of 440 hp from 5 litres of displacement.

Forget the 200 mph dream, this would never be achieved with the same aerodynamic. As the body was virtually unchanged from LP500S, people were happy to see the QV could run up to slightly over 180 mph, which was among the fastest in the world. Ferrari 288GTO and Testarossa had more or less the same top speed while other competitors were quite far below than that.
Compare with LP500S's engine, the 48-valve QV unit was very powerful and revvy, it was certainly a gem. The extra power was mainly achieved by the larger valves and the repositioned Weber carburettors - now mounted vertically instead of horizontally to enable straight forward engine breathing. However, this resulted in a large mound on the engine lid thus deteriorated the precious rear visibility.

Other minor changes included:


Front and rear lid were made of Kevlar
New Pirelli P7R replaced P7


With little doubt, 5000QV was the best version during Countach's 16 years history.


US version 5000QV

The US version differed from the European version mainly by the engine's fuel system because of stricter emission requirement. With Bosch K-Jetronic instead of the six Webers, power dropped to 420 hp. Besides, the "power dome" on the engine lid was split into two to house the new fuel system.

Federalisation also changed the bumpers, rear lights etc.
| | | |
| --- | --- | --- |
| US version engine | US version | European version |
---
Anniversary (1988-90)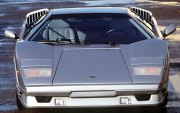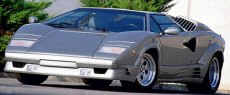 Launched in 1988, this car was named to celebrate the 25 anniversary of the company.

Mechanically, it was nearly identical to the 5000QV, except that several changes were made to shoot some long-existing problems. One of the old problems was the cooling for brakes and engine. As you can see in the pictures, more ventilation holes were opened in the air dam, side skirts and engine lid. The air box intakes were also enlarged. In styling, vertical grilles instead of horizontal were employed simply to refresh your eyes. However, the air dam and side skirts were particularly unmatched with the original styling. Personally I hate the new look very much.

If you know Lamborghini was already taken over by Chrysler, you won't be surprised to discover that electric seats and even power windows (yes, those tiny windows !) was made. Now the bumpers and side skirts were also made of carbon fiber, perhaps to offset the weight of "power everything". Countach was really changed ... it was no longer the pure performance machine that inspired by Ferruccio Lamborghini, engineered by Paolo Stanzani and styled by Marcello Gandini. After all, who really wanted those luxury items in such a cramped supercar ?
| | |
| --- | --- |
| Electric seats in Countach Anniversary | Improved cooling to engine |
---
Specifications
Model

LP400

LP400S

LP500S

5000QV

Year of production

1974-78

1979-82

1982-84

1985-88

Anniversary 88-90

Number made

157

237

321

5000QV: 676

Anniversary: 650

Layout

Mid-engined, Rwd

Gearbox

5-speed manual

Chassis

Steel tubular space frame chassis, aluminium body panels

Engine

V12, dohc, 2v/cyl.

V12, dohc, 2v/cyl.

V12, dohc, 2v/cyl.

V12, dohc, 4v/cyl.

Capacity

3929 c.c.

3929 c.c.

4754 c.c.

5167 c.c.

Power

375 hp

353 hp

375 hp

455 hp

Torque

268 lbft

267 lbft

302 lbft

369 lbft

Weight

1301 kg

1351 kg

N/A

1488 kg

Top speed

170 mph (est.)

158 mph (est.)

164 mph*

181.6 mph #

0-60 mph

5.6 sec**

5.9 sec***

5.6 sec*

4.9 sec*
* Tested by Autocar
** Tested by Motor
*** Tested by Road & Track
# Tested by Italian Ministry of Transportation
---