King of Supercar ?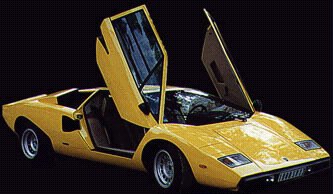 Countach had as many flaws as its strength - cramped cockpit, zero practicality, heavy everything (including controls and kerb weight), noisy, thirsty .... but weren't these the features of what we used to call "Supercars"?

Well, in fact, who set these definitions? Countach!

Between 1974 and 1987, Countach was widely regarded as the no. 1 supercar in the world, although it was once challenged by the limited produced Ferrari GTO and Aston Martin Zagato. In those 13 years, Countach set the golden rules for supercars: mid-engined, powerful V12, extremely wide and low dimensions, aluminium body with tubular space frame chassis, exotic styling .... and of course including the shortcomings that already mentioned.

No other supercars had ever dominated the supercar scene for so long. Porsche 959 appeared in 1987 and was soon eclipsed by Ferrari F40 in a year's time, the latter was overshadowed by Jaguar XJ220 and Bugatti EB110 in 1992. McLaren F1, obviously the greatest supercar today, clinched the title in the next year, but no one would even imagine it to hold the title until 2006.

The fact is, Lamborghini Countach was designed to be so advanced for its time that, its handling did not seemed ageing before the new breed of lightweight, Kelvar-body supercars appeared in the late 80s, Its V12 never seemed old until McLaren F1 emerged, its space-age styling was even not yet challenged by anybody. 13 years on the top of the world is going to be, perhaps, the ultimate record.

Yes, King of Supercar is always in no doubt.
---
Copyright© 1997-2000 by Mark Wan
Return to AutoZine home page