Volvo S40 / V50

Debut: 2004
Maker: Volvo
Predecessor: S40 / V40 (1995)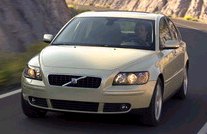 I like Volvo's car-making philosophy - safe, practical and comfortable. Unlike German executive cars, it doesn't pretend to be sophisticated, high-quality or luxurious. It just delivers reliability and dependability. Volvos are cars that you can trust. Therefore I like Volvo S40. Although it was derived from the next Ford Focus platform (also shared with Mazda 3), I am delighted that it preserves all the aforementioned qualities and looks / feels so different from its sisters. This is a true Volvo.

The last generation S40 shared its platform with Mitsubishi Carisma and was built at a joint-venture plant at Holland. As the company is now under the umbrella of Ford, production of the new car is shifted to Ford's factory at Ghent in Belgium. Volvo expects to sell 70,000 S40s a year.

In this report, I will avoid comparing the new S40 with the old one because we all know the latter was a bad car, never being competitive throughout its life. Saying the new S40 improved this or that from the old car is rather meaningless. It is better to compare it with direct competitors such as Audi A3 and BMW 1-series.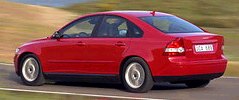 In terms of styling, the S40 is a success. Styled under the leadership of Peter Horbury (one of my favourite designers of current generation), Volvo managed to extend its big car feel to its smallest car. What you see is a compact body sculpted with Volvo's trademark grille, V-shape bonnet and pronounced shoulder lines running from the nose to the taillights. It looks nothing like a disguised Ford.

The body measures 4468mm in length and 1770mm in width, close to the league of Audi A4 and BMW 3-series, but its rivals are actually a class lower, whereas its 2640mm wheelbase shines. Compare with Audi A3, the baby Volvo offers noticeably more space, especially rear seat legroom. Headroom at the rear is not as remarkable, but enough for 6-footers. Being a sedan, its 404 litres boot is also a lot bigger than rivals. For the same money, you get more comfort and practicality in a Volvo than other prestige brands.

The interior design is clean and simple. As in other Volvos, the leather seats are comfy while ergonomics is generally good. Center console is an innovation: all the controls and its circuits are housed inside the thin console panel, leaving a useable storage bin behind it. This "floating console" looks like coming from B&O design and is especially stylish in aluminum trim.


Despite of platform sharing, Volvo designed its own chassis using its safety know-how. 4 different grades of steel are employed to construct multiple crumple zones such that the crash process is better controlled. The pronounced bonnet leaves 70mm space between it and the engine, ensuring the compliance of pedestrian safety law. The 5-cylinder engine is also modified to be slimmer and narrower, leaving a lot of space between the front crash structure and the engine. Safety is always a strong card of Volvo.

5 petrol engines and 2 diesel engines are offered: 100hp 1.6 16V (from Ford), 125hp 1.8 16V (also Ford), 140hp 2.4 five-cylinder 10V, 170hp 2.4 five-cylinder 20V, 220hp 2.5 five-cylinder 20V VVT turbo (using in T5), 110hp 1.6 turbo diesel (Ford-PSA) and 136hp 2.0 turbo diesel (Ford-PSA). If you want to see the true colors of Volvo, the 5-cylinder engines are definitely recommended - they were originally designed by Porsche and since then became the trademark of Volvo. Being smoother than ordinary 4 cylinder engines and producing musical sound, they are the best Volvo can slot into its transverse engine compartment.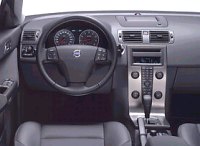 The T5 engine is the best of the bunch. Its low pressure turbocharger produces 220 horsepower and a linear torque curve which peak at 236 lbft. With almost no lag, power delivery is smooth. The 6-speed manual transmission has tall gear ratios to favour relaxed cruising and fuel consumption rather than acceleration - this makes sense to the character of Volvo. Despite that, S40 T5 can still accelerate to 60mph in less than 7 seconds, about the same as the top A4 and 3-series.

The C1 platform donates some vital and costly components to S40: the front MacPherson strut suspensions, the control-blade multi-link rear suspensions (which gives Ford Focus unrivalled handling and ride) and electro-hydraulic power steering. In the Volvo, the tuning biases towards comfort and security rather than driver appeal, but you can still see its good genes from the fluency of handling, plenty of grip, fine stability and fine steering feedback. It lacks the sharpness, superb body control and neutrality of BMW 1-series, but its capability matches that of the A3 and exceeds it in terms of fun. Supple ride ensures a relax driving character.

Car makers rarely produce bad cars these days, but what a pity their cars look and feel closer and closer to each other. We are glad that in this platform / component-sharing age Volvo remains unique in character. The S40 looks and feels like no other cars in the segment, nor relegated to the Ford Focus category. It preserves the fine qualities of Volvo - safe, comfort and practical. It deserves a success.
The above report was last updated on 10 Jul 2004. All Rights Reserved.
V50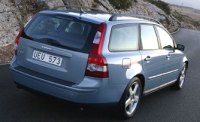 While V70 is a stand-alone car, V50 is simply an estate version of S40. Its rivals is likely to be Audi A4 Avant and BMW 3-series Touring, but the Volvo will undercut their prices by about 10%.

Disappointingly, the baby Volvo based on Ford's common platform is not optimized for luggage space. At 414 litres, it cannot match A4 Avant. Luckily, drop down the rear seats and this increases to 1307 litres, exceeding its rivals. Moreover, the front passenger seatback can fold down to place long things such as surf boards.

The estate car offers the same range of engines as S40, but to most the torquey (236lbft / 136hp) 2.0 turbo diesel is most suitable to its usage. Like S40, AWD is optional.
The above report was last updated on 10 Jul 2004. All Rights Reserved.