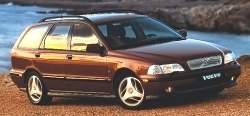 S40 is a joint venture with Mitsubishi Carisma to produce cars in Holland. It shares the similar floor pan with the Mitsubishi but different safety structure, suspension setting, external parts, cabin and engines make S40 to be a more mature car.

If you expect a distinctive car from Volvo, S40 will both please you and disappoint you. Having driven Volvo S70 (or previously called 850), you may think the new generation of Volvo is much more dynamical. Then S40 must disappoint you. Lifeless steering, hard ride, peaky and noisy engine ( share with Renault Laguna RTi ) make it not only inferior to those quality rivals like Audi A4, Mercedes C180 and BMW 318i but it could also be shamed by the cheaper grass-root rivals like Ford Mondeo and Peugeot 406. In terms of build quality, S40 once again let you down. Like its predecessor, 440/460/480 series, the Dutch-built Volvos always fail to catch up with Swedish quality. In fact, the project director was sacked because of this problem !

Nevertheless, S40 offers the high level of safety that you may expect from Volvo. A recent crash test found it out-crash all other competitors in its class and being the only car rated as the highest safety category. So, finally, we have a strong reason to choose S40 instead of other cars, since life is greater than anything else !