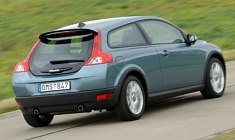 Assuming you are the product director of Volvo. You want to attract younger, first-time customers to your brand. What you have on hand is a S40 sedan, which was derived from Ford Focus and Mazda 3. So, the most logical move is to convert the S40 into a smaller and cheaper hatchback. But then you realize it will inevitably compete with the mainstream hatchbacks. In order to make it more upmarket, you can inject the Scandinavian styling to the car, you can carry over the outstanding safety designs from S40, you can name it as "C30" to pretend it to be a coupe.


Mechanically, C30 is very close to its sister. Volvo did not alter the 2640mm wheelbase, just chopped off the boot and saved 220mm of length. All powertrains are carried over, including 1.6-liter 100hp, 1.8-liter 125hp and 2.0-liter 146hp four-cylinder petrol engines, 2.4-liter 170hp and 2.5-liter Turbo (T5) 220hp five-cylinder petrol engines, 1.6-liter 110hp and 2.0-liter 136hp turbo diesel fours and 180hp 2.4-liter turbo diesel five (D5). The same goes for all transmissions. Engines by engines, C30 won't be much cheaper than S40. However, as the hatchback is around 70 kilograms lighter, buyers are more likely to purchase smaller engines than the S40. That's how it attracts younger customers.

The more stylish look is another reason why it can lure young buyers. Viewing from the front, C30 is unmistakably a twins sister of S40. Well, that's not a bad thing, as I always love the unique shape of S40. However, from B-pillar rearward it starts differing from the sedan. Most modern hatchbacks look bulky because they want to carry a lot of luggage and offer a lot of cabin space. C30, the coupe-pretender, is willing to sacrifice interior volume for a more dynamic look. You can see its passenger compartment narrows towards the tail – no problem, as it has only 2 individual rear seats. This reveals a pair of broad shoulders, hence a sporty appearance. The hexagonal glass tailgate is another stylish feature.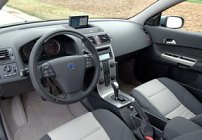 Inside, the front passengers can see the same minimalist dashboard and the famous "floating console" as in S40. Rear passengers can see them too, because the two rear seats are close together. Everywhere in the cabin is pleasing – the seats are comfy, the ergonomics is excellent and the visibility is superb. Volvo is the last breed of cars favouring low shoulder lines. This pay off in its all-round visibility. The hexagonal glass tailgate also provides excellent view rearward. Moreover, the tapered rear passenger compartment moves the C-pillars inward and eliminates the blindspots for rear quarter view. Sitting in C30 feels so different from regular hatchbacks. We have to praise Volvo's attention to details.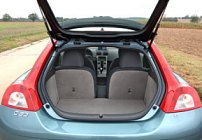 The same praise also goes to its safety design. Although C30 is the smallest and cheapest Volvo, it is equipped with the same safety features as S40, such as a vast crumple zone up front, SIPS side impact protection structure, curtain airbags, anti-whiplash front seats and ESP stability control are all standard. As for optional equipment, if offers a blindspot sensor.

On the road, C30 is also good to drive, if not as fabulous as its cousin Ford Focus. It feels more agile than S40, partly thanks to the shorter length, partly because the seats are mounted lower. The 3-door body feels rigid. Little wind and road noise can enter the cabin. The suspensions, firmer than Volvo's usual practice, damp bumps fluently. The steering is not as communicative as Focus but linear and weighs adequately. The handling is confidence inspiring, with good grip, good body control and safe understeer at the limit. That said, it is not in the same league as Focus or BMW 1-Series. However, it is unquestionably the best sorted Volvo chassis to date. More interesting to drive than Audi A3 too.


As before, the Ford-sourced 1.6 and 1.8 Zetec engines are reasonably refined, but decent performance needs at least the Mazda 2.0 MZR engine. Volvo's own inline-5 are most favourable, thanks to the musical 5-pot rhythm and extra smoothness. The 220hp T5 is expected to do 0-60 in 6.4 seconds. Just don't see it as a hot hatch, because Volvo hasn't tame torque steer completely.

However, the best buy is likely to be the smaller engines. They are much cheaper and still offer the same tasteful design, unique seating environment, fine handling and ride and excellent safety. In the increasingly unify automotive world, C30 gives us fresh air to breath. Well done Volvo !