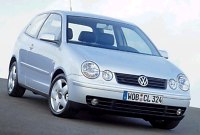 The new Polo is derived from the same platform as Skoda Fabia. When the third derivatives - Seat Ibiza - arrive, total volume will reach 1.2 million units annually. The Volkswagen-brand model will still be the biggest seller among them and account for about 650,000 cars. That should make it as popular as Peugeot 206 and Fiat Punto.

When Skoda Fabia was launched 2 years ago, it was renowned for solid build quality and huge interior space. When Dr. Piech thought it must take the crown of European Car of the Year, unfortunately, it was beaten by another star - Toyota Yaris. 2 years have gone, extra time and money spent in development allow the Volkswagen-brand model to challenge the Toyota in a stronger position. Perhaps it's time to revenge now ...

When we examine a mini car, the first to look is always packaging. In this aspect, the new Polo is rather conservative. Like Fabia, it has a spacious interior just shy of Honda Fit, but this is achieved by enlarging exterior dimensions rather than optimizing use of space. How big ? the new Polo is essentially as big as a Mk2 Golf, or in other words, bigger than all competitors excluding Fabia. Well, big isn't a fault, but heavy definitely is. The lightest 1.2-litre 3-door already weighs 1 ton, although its engine is made of aluminium alloy and has only 3 cylinders. Add a 4-valve head and 2 more doors, it reaches 1055kg, about 100kg more than competitors.

As a Volkswagen tradition, the interior of new Polo is solidly built and employs high quality materials. The dashboard and console is made of soft-touch plastics, buttons have damped feel when pressing, assembly gaps are narrow. Although the same description can also be applied to the old Polo facelifted in '99, the solid feel of the chassis, smoother ride quality and better noise insulation give the new Polo an even higher quality impression. In terms of quality, there is still no one else can match Volkswagen.

The cabin has plenty of space for 4 people, but unlike many of its new rivals, it does not pretend to be a MPV. Apart from the storage drawers under front seats, the cabin looks conservative and feels cold. The angular shape of console is particularly dull. However, the most disappointing is the exterior design, which is as conservative as Taliban's rulers. It looks neither pretty nor prestige. And worst of all, it actually looks uglier than its cheaper sister Fabia.

Powering the new Polo is a mix of old and new engines. The aforementioned 1.2-litre 3-pot is new and hopefully the best seller. It is an outstanding engine - free-revving, smooth and output a useful 65hp in the 12-valve version (in contrast, the 55hp sohc version copes hard with the heavy kerb weight). Having one less cylinder allows it to consume 5-11% less fuel than equivalent 4-pots, while a balance shaft cancels vibration generated from the 3-cylinder configuration. It also has aluminium head and block to save weight. Nevertheless, this engine is by no means innovative, it just follows the footprints of Opel's 1.0-litre unit which has all these good elements.

Other engines are old and less impressive:
1.4-litre 16V with 75hp - lazy and coarse at high rev.
1.4-litre 16V with 100hp - punchy but booming at push.
1.4-litre 16V FSI (direct-injection) with 85hp - not available until the second year.
1.9-litre SDI diesel with 64hp - er, an old fashion slow diesel.
1.4-litre TDI 3-pot pump-injection turbo diesel with 75hp / 144 lbft - from Audi A2, good but better with more power.
1.9-litre TDI pump-injection turbo diesel with 100hp / 177 lbft - powerful enough, but noisy at acceleration.
Due to the extra weight they carry, all Polos are expected to accelerate slower than competitors. This is not going to be changed until Volkswagen launch the Polo GTI (with 180hp 1.8T engine) and RSi (210hp version of the 1.8T) later. But they are at least a year away.

In the chassis department, the new Polo retains the popular suspension design of front MacPherson struts and rear torsion beam, but a rethink of tuning theory sacrificed Germanic stiffness for French suppleness, thanks to the success of Peugeot 206. The old Polo - no matter which versions - felt sporty to handle but less forgiving in ride quality. In contrast, the new generation rides much softer, quieter and more compliance. Especially on rough surfaces, it glides over irregularities calmly. In addition to the slick gearshift, well-weighted steering and well calibrated pedals, it is surprisingly relaxing to drive. From family car point of view, it is unbeatable.

From keen drivers' point of view ?

There are some cars good at both comfort and excitement, but unfortunately the new Polo is not one of them. Slow aside, its body control and steering are not the greatest. Inevitably, the softer suspensions result in a fair amount of body roll and loss of instantaneous response. The electro-hydraulic steering feels good at first impression. It is light at low speed and firm up at speed more than Fabia to inspire confidence. It is also precise and quick at initial turn-in. However, once enter twisty roads and apply more lock, or approaching its grip limit, you will find little feedback through the steering wheel. And unlike the French rivals, it does not play any lift-off oversteer. Sadly, the new Polo is not as much fun to drive as its predecessor.

Therefore, Toyota Yaris is still firmly on the top, at least before Honda Fit is Europeanized. Volkswagen Polo might appeal to most customers, but it is too conservative and not fun enough for we car enthusiasts.