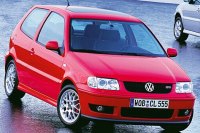 The second generation Polo has celebrated its 5-years old birthday with a facelift, or more accurately, a re-engineering. This came too late, as it was launched in Frankfurt motor show alongside the new Skoda Fabia, which based on the next generation Polo platform. Having heard that, are you still interested in the Polo ?

5 years ago Polo started a trend of high quality super mini. Today, it still look pretty and tidy. However, to match the advancement of build quality of other Volkswagen models, especially is the baby Lupo, the Polo received a big makeover involving renewal of 60% components. Of course, you have to know that the retooling cost, i.e., the largest portion of the budget, is far lower than the number suggests.

As already mentioned, upgrade of build quality has been the biggest concern of the re-engineering. Outside, you'll see the latest low tolerance assembly gaps; inside, the Lupo style facia and center console are made of high grade plastic and more important, with a stylish design. The twin main gauges have chrome surrounding rings look smart.

Improved refinement also found in the chassis and suspension, the former becomes stiffer while the latter gets better rubber bushing which improves ride quality and reduce NVH as well. There is a little bit improvement in handling but it still rides poorer than the best super minis.

Perhaps Mr. Piech has spent too much resources to his favourite VR6 and W-engines projects, the bread-and-butter four cylinder family lags behind competition. It consists of some old-tech 2-valve engines and some unrefined 4-valver, such as the 75hp 1.4-litre, 100hp 1.4-litre and 125hp 1.6-litre. The last one has been used in Polo GTI in Europe Continent for some time. It is quite harsh and reluctant at high rpm.

The GTI is by no means a class leader. It does not have the punch to compete against Peugeot 206GTI, which is no more expensive. Handling and ride are also inferior. Instead, the pick of the range is the "4-litre" turbo diesel. The three pot unit, displacing 1.4-litre and pumps out an impressive 75hp and 144lbft, provides fine performance in effortless driving manner yet returns 64mpg (that is, 4 litres per 100km).