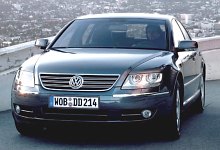 The name Volkswagen, or People's Car in English, represented Adolf Hilter's dream to offer every German family a car. But not a luxurious limousine. So why did Dr. Piech decide to take Volkswagen into the Mercedes S-class territory? unofficially speaking, this is a counter-attack to Mercedes' downstreaming product lineup. If Mercedes can build an A-class to steal sales from Golf, why not Volkswagen strike back right at the heartland of Mercedes - the S-class segment? If Dr. Piech's response seems too emotional, perhaps his successor, Bernd Pischetsrieder's explanation will convince you: until now just 1% of the Golf sold are the high-profit V6 model. If Volkswagen can lift its image to match other German premium brands, they may raise that figure to 5% or more, and that will earn them a lot of profit. Therefore, the mission of Phaeton is not to make a profit by itself but to lift the image of Volkswagen.

To many people, the step from Passat to Phaeton is too big and too risky. However, don't forget in 1989 there was a Japanese car maker succeeded entering the S-class territory from the very ground floor. Moreover, that car maker was just known as the producer of Corolla. Comparatively, today's Volkswagen is in a much stronger position - no matter image-wise or engineering-wise - to launch the challenge. It also has an established partner, Audi, to share many expensive components and manufacturing tooling. Phaeton has any right to be a worthy challenger to Mercedes S-class.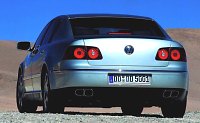 Unquestionably, Phaeton is a big car. Measuring just over 5 meters, its overall size matches a standard S-class. Its exterior design is conservative, but delivers a solid image while having strong resemblance to Passat, especially the front end design and swooping roofline. Without any surprise, build quality is first class, with tightly fit panels, perfectly finished paint and very narrow assembly gaps that pass Dr. Piech's "sliding finger test". Open and close the doors, you will feel this car is really solidly built. In fact, with a torsional rigidity of 37,000 Nm/degree, it is the stiffest chassis I know.

The interior shows a similar story, conservatively styled but beautifully built. It employs the best wood, leather and plastics to shame S-class, and assembled with solidity and fitness that no one else in the industry can surpass. Volkswagen is especially proud of the luxury equipment - a climate control which separates the cabin into 4 zones with individual adjustment and 18-way adjustable power seats with massager incorporated. The only slight disappointment of the cabin is: although rear passengers have abundance of head and legroom, it does not feel as big as S-class, blame to the swooping roofline and relatively short (2881mm) wheelbase.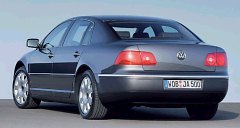 Unlike Lexus, Volkswagen's first attempt to the luxury segment provides a wide range of choice of engines. These include a 420hp 6.0 W12, an Audi-sourced 335hp 4.2 V8, a new 313hp / 553lbft 5.0 V10 turbo diesel, a 241hp 3.2 VR6 and at last a 2.5 V6 TDI. At launch, only the petrol W12 and VR6 are on sale.

The flagship Phaeton shares its 6.0-litre W12 engine with Audi A8. Ditto the Torsen-differential 4WD system which is called 4motion by VW or Quattro by Audi. The compact W12 is undoubtedly an engineering achievement, but because we have already discussed it so much, we are not going to repeat its technical analysis in this report. The same goes for the 3.2-litre VR6, which comes from Beetle RSi and Golf R32. What you need to know is only that the VR6 is mounted longitudinally in the Phaeton and drives through the front wheels. Although 6-speed manual is available to the V6, most customers will opt for the ZF 5-speed Tiptronic which is compulsory in the W12.

Start the W12 engine, it idles without being noticed. Even cruising on motorway, the engine noise is barely heard. Volkswagen really employs a lot of sound-deadening materials to insulate the whole cabin, even using double-layer windows like the last generation Mercedes S-class. In fact, the Phaeton is not unlike that car - it is so richly engineered that it tips the scale at a Rolls-Royce-rivaling 2319kg, some 300 or more kilograms heavier than the equivalent S600, 760Li and sister car A8 W12. Ridiculously, Phaeton already employs aluminum bonnet, doors and boot lid to save weight. Although its steel monocoque chassis is considerably heavier than A8's aluminum spaceframe structure, the main reason for overweight is its uncompromising pursuit of quality and refinement.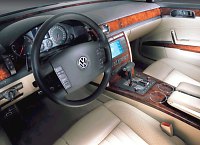 The combination of weight and remarkable sound insulation makes the car feel slower than it is. Theoretically it can accelerate from rest to 60mph in under 6 seconds, but it never feel that fast. Volkswagen also claims it can touch 178mph if electronic limiter is disabled (you can really do that in dealers), but that is pointless for a luxurious car so calm. The point is, Phaeton is not very involving to drive, thus any more performance won't add any more fun. Being a luxurious car, it works out perfectly, providing ride quality that nearly isolate the occupants from the road. Like Mercedes and BMW, it employs continuously variable pneumatic springing in all 4 corners, plus Skyhook (by Mannesman-Sachs) adaptive damping. The air suspensions lower ride height at high speed to improve stability, it also adjusts stiffness according to road conditions, speed and driving style. It works especially well at comfort mode, providing magic carpet level of comfort, but less satisfying in sport mode on rougher surfaces, where ride quality could be harsh and suspension noise is pronounced.

Turn into corners, although sports mode sharpens turn-in and keeps body roll in control, although the 50-50 split all-wheel-drive system provides bags of grip, although the 365mm diameter front brakes with 8-pot Brembo calipers reduce speed quickly, you can feel the sheer size and weight of the car. Compare with new A8, the setting of Phaeton's chassis bias towards safe understeer. That means it won't turn into corners as eagerly as 7-series and S-class. Its steering is also less communicative, even remote, just in the tradition of Volkswagen. This Volkswagen is a very capable car, but again, it fails to excite its driver.

If you spend more time on motorway, you will probably find the Phaeton makes sense. The powertrain is so good, the chassis is effective, the cabin is so refined. Only the Mercedes-rivaling price tag makes little sense. Yes, no matter how open-minded AutoZine is, it is still questionable whether a Volkswagen-brand car worth the same money as a Mercedes-Benz or BMW. I particularly dislike the car's lack of innovation and character, as it just wants to match its rivals rather than offering something different. In this aspect, Toyota was cleverer with Lexus. On one hand the first LS400 broke new ground in quietness and drivetrain refinement, on the other hand it was priced so attractive that immediately lured buyers from Mercedes.

Phaeton is built in Dresden plant alongside sister car new Audi A8. Although their chassis are different, they share many other components, such as engines (W12, V8, V10 TDI and 2.5 TDI), gearbox, 4-wheel-drive hardware and suspensions. The capacity of Dresden is just 33,000 cars a year, expect the Phaeton will account a smaller portion of that. Volkswagen didn't talk about making a profit, but as we have already said, Phaeton is born to change the way you see Volkswagen - from People's Car to Rich People's Car.