Lupo 1.2 TDi - the first "3-litre" car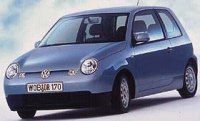 Lupo 1.2 TDi is the first so-called "3-litre car" in the world - consumes just 3 litres of fuel to run 100km. How does it achieve this ?

Firstly, a turbo diesel engine using VW's pump injection technology is a must. The 1.2 litres unit has 3 cylinders only, thus reduced frictional energy loss. Although being extremely frugal, it generates a useful 61hp, enable 102mph top speed and 0-60mph in 13.8sec.

Then, a sequential manual gearbox with "economy" auto mode is employed. Just like a Tiptronic, it enables the driver to shift manually by push and pull the shifter. However, to achieve the claimed 100 km per 3 litres fuel, you must keep the gearbox in the "economy" auto mode and let the computer to choose the right gear.

As seen in a Golf several years ago, an electronic engine cutoff system has been equipped. When the Lupo is running into traffic jam and stopped, if the brake pedal has been pressed for 3 seconds, the engine management system will cutoff the fuel supply and stop the engine. Once the throttle pedal is pressed, the engine starts and pull again.

Of course, weight and aerodynamic drag reduction would benefit the fuel consumption too. The Lupo gets an aluminium bonnet, magnessium wheels and light weight suspensions components, thus weighs only 800kg, some 200kg lighter than other models. Then there is a set of low rolling resistance tyres which sacrifice a little bit grip. Refinement to the aerodynamic design of the nose, skirts and undertray helps reducing Cd to 0.29.

VW tested the car in a route combining city and motorway and resulted in 94.4mpg, a record for any mass production conventional-engined car in today. However, some people said Lupo 1.2 TDi is more an advertisement than a real benefit to the environment, as its higher price prevent it from being sold at a meaningful scale.