| | |
| --- | --- |
| Published on 11 Oct 2008 | All rights reserved. |
| | |
| --- | --- |
| | Golf VI is not really Golf VI. It is Golf 5.5 at best... |

34 years history, 5 generations, 26 million units sold, European No. 1 best seller... I suppose most of our readers are familiar with the achievement of Volkswagen Golf. However, what made it so successful is worth thinking. Though always been the benchmark of the family hatchback class, the Golf has never been a trend setter or innovator. Radical is not an adjective we would use to describe it. Build quality ? yes, undoubtedly good, but it is not the main reason people trusting it, because it never came close to Japanese cars in quality surveys. The key to its success is actually one word:

Consistency

. Look at its rivals, sometimes stylish and sometimes ugly, sometimes radical and sometimes conservative, sometimes great to drive and sometimes boring. No one else in this class evolve consistently and stick to its core values generation after generation like the Volkswagen. Like BMW 3-Series and Porsche 911, it built a strong reputation through consistent evolution.

If consistency is good to Golf, then the latest evolution Golf VI must be better than ever. You may remember the outgoing Mk5 presented an unusually big leap forward. It brought a younger look, a classy multi-link rear suspension (in response to Ford Focus), advanced turbocharged direct-injection engines and double-clutch gearbox. It drove so well that Wolfsburg considered a major upgrade would be unnecessary this time. Therefore for the first time in its history, the new generation Golf is built on the underpinnings of its predecessor. Works are concentrated on new packaging, improving NVH and fine tuning everything. In other words, Golf VI is not really Golf VI. It is Golf 5.5 at best, or I would describe it as a mid-life upgrade of Mk5.


| | |
| --- | --- |
| | In the seas of radically styled new cars, the conservative Golf is actually quite outstanding... |

From the pictures, you can see the same location of hard points resulted in an identical shape to the last car, which looks too boxy these days. Nevertheless, you may say conservatism works in line with the core values of Volkswagen. In the seas of radically styled new cars, the conservative Golf is actually quite outstanding. (There are more than one ways to judge beauty) Moreover, a new horizontal grille and slim headlamps reassembling Scirocco bring a classier image. In natural sunlight it looks more elegant than in pictures. What a pity the rear end doesn't look any more special despite of new horizontal taillights.

Volkswagen said 60 percent of all components are new to Golf VI. If this were true, then most components must be used in the exterior and interior packaging. Sometimes I don't quite understand how car makers count the number of components. Sharing the engines, gearboxes, steering and suspensions alone would contribute to more than 50 percent of all components, so there must be some tricks in the counting. Anyway, once you are in the cabin, you might forget that you are riding on the Mk5 platform. Why ? Because the new Golf is ultra-refined. Its ride is so smooth and quiet that you might assume you are in an executive car. Wind noise, tire noise, suspension noise and engine noise are barely audible. It sets new standard of refinement for the C-segment. To achieve this, Volkswagen gave it new engine mounts, quieter tires, extra sound deadening materials, more effective door seals and thicker laminated glass.


| | |
| --- | --- |
| | Volkswagen said 60 percent of all components are new, I doubt... |

The cabin looks as conservative as exterior, but its build quality is another upgrade from the already outstanding Mk5. Panel fit and finish are better than ever. Soft-touch plastics cover even larger area. Controls are made even higher quality and more ergonomical. You can have very classy optional equipments, such as touch-screen infotainment system, radar cruise control, rear-view camera and even an automatic parallel parking system like Passat CC and Toyota Prius. As usual, the seats are well shaped, multi-adjustable and comfortable. Space is still competitive front and rear.

Although the new Golf shares the same underpinnings with Mk5, we can hardly complain. Not many C-segment rivals employ independent multi-link rear suspensions like it. Not many's electrical power steering weighs as linear and deliver decent feel. Not many has a wide range of advanced petrol and diesel engines. These include the excellent 122hp 1.4 TSI direct injection turbo, 160hp 1.4 TSI direct injection twin-charger and 2.0 TDI common-rail turbo diesel. The Golf therefore combines great drivability, refinement and frugality. Moreover, none of its rivals have 6-speed manual gearbox as standard and offer 6 or 7-speed DSG gearbox as option.


| | |
| --- | --- |
| | What makes the new Golf special is its ultra-refinement... |
| | |

Our pick of the range is the 160 hp 1.4 TSI twin-charger. Compare with the same unit in Golf V, it lost 10 horsepower at the top end but none of its tractability. It still produces 177 lb-ft of torque from 1500-4500 rpm, which enables a flexible driving character and relaxed motorway cruising. Equipped with 7-speed DSG gearbox, it can accelerate from rest to 60 mph in 7.6 seconds. Most amazing, its EU combined fuel consumption figure is improved from the old car's 39 mpg to 47 mpg, while CO2 emission is reduced from 174 to 139 g/km !

In curves, the Mk6 Golf retains the fine handling of Mk5, with excellent body control, composed ride and a secured feel. Optional adaptive damping (like Scirocco) improves things a little - sharper in Sport mode and softer in Comfort mode - although Ford Focus still feels sportier and more communicative. However, what makes the new Golf special is its ultra-refinement. Everything happens smoothly and quietly. It deserves to be called a junior executive car.

Verdict:





| | |
| --- | --- |
| Published on 2 Jun 2009 | All rights reserved. |
Golf GTI

| | |
| --- | --- |
| | Mk6 GTI is no quantum leap from Mk5... |
Volkswagen tells us this is the 6th generation Golf GTI. Pardon ? What's new in it ?

If you talk about styling, I would say the new car is just a Mk5 with a facelifted nose and new taillights. I doubt if these subtle changes can differentiate it enough from the rest of the range. While the previous GTI had a prominent black mask to let you identify it from distant, in the new car you have to get close to spot its honeycomb mesh grilles or the GTI logo or the different shape fog lamps or the 17-inch alloy wheels – ironically, the latter are carried over intact from the old car. After a brief attempt of youthful design, Golf GTI returns to its conservative tradition.

The conservatism is even more apparent in the cabin. No one would get excited about its dashboard design, which I find remarkably similar in architecture to the ancient Mk2 Jetta available in China. Nevertheless, if you can shift your attention from style to quality, you will easily appreciate its classy materials, smooth switchgears and unrivalled fit and finish. The GTI's bucket seats might look more classical than stylish, but they are very supportive. Driving position is spot-on, and the flat-bottom steering wheel is nice to hold. We only hope the driver seat can be mounted a couple of inches lower, like that in Scirocco.

Volkswagen stresses that the engine of GTI is a new one with codename EA888, first debuted in Audi last year. It is said to have a stiffer yet lighter block and stronger internals to withstand higher stress. However, I find its specifications not that different from the old 2.0 TFSI engine. Capacity is still 1984cc, thanks to the same bore and stroke dimensions. It also employs the same technologies as the old engine – intake variable valve timing, variable intake manifolds, direct injection and low-inertia turbo. The rumored Valvelift mechanism is not available here, unlike the Audi version of EA888. Even the output figures are remarkably close to the outgoing GTI engine – horsepower barely increases from 200hp at 5100 rpm to 211hp at 5300 rpm, while peak torque remains at 206 lb-ft, although it arrives 100 rpm earlier and last 200 rpm later. Gearbox is still that 6-speed manual or DSG twin-clutch.
| | |
| --- | --- |
| | ... but it is still the most sensible choice for most people. |
That means the new GTI is faster than the old car by a margin hardly perceptible in real world. We are talking about 149 mph versus 146 mph, or 6.6 sec versus 6.8 sec for 0-60 mph sprint. However, you do feel the new engine a little bit keener at low rpm, and smoother and quieter in the better insulated cabin of Mk6. Few four-cylinder engines possess these qualities – eager, refined and highly flexible. It pulls consistently from as little as 1500 rpm and keeps spinning freely all the way to 7000 rpm cut-out. It is also remarkably fuel efficient, delivering 38.6 mpg in European combined cycle.

The chassis has a similar all-round character. Though more relaxed and refined than ever, it still displays excellent grip, fine body control, good balance and a predictable handling. The steering remains accurate and well-weighted, if not the sharpest. Compare with the old car, it is slightly more responsive to turn-in. Maneuver in tight corners is also tidier, thanks to the new XDS electronic differential – a brake-based pseudo limited slip differential like Alfa Q2 and Fiat/Lancia's TTC – which applies soft braking at the inside wheel to transfer more power to the outside wheel, reducing understeer and wheel spin. It works surprisingly well in reality.

However, to show the superiority of Mk6, you will probably need to pay for the optional ACC Adaptive Chassis Control, which came standard in Scirocco. Its key element is continuous adaptive damping suspension. Three modes are offered: Normal is the truly adaptive mode which works best under most circumstances. Comfort and Sport modes offer slightly more extreme ride and handling at either sides of Normal. These modes also link to throttle response and steering weighting to deliver a noticeable change of character.

As before, Golf GTI is not meant to offer huge performance or the sharpest handling. It won't beat Ford Focus RS or Mitsubishi Lancer Evo as a B-road thriller, but it is definitely the more sensible car for everyday driving, one that combines comfort, refinement, economy, quality and taste at an affordable price. At the same time, it still offers solid performance and handling to satisfy 90 percent drivers. A quantum leap from its predecessor it may not be, but given how good the old car was, it actually doesn't need to change that formula.
Verdict:





| | |
| --- | --- |
| Published on 23 Feb 2010 | All rights reserved. |
Golf R

| | |
| --- | --- |
| | Can the turbo four machine better than its V6-powered predecessor ? |
Tastefully styled, impeccably built and powered by a marvelous V6 engine, the outgoing Golf R32 was the most desirable hot hatch to me in the past decade. Now having switched to a low-carbon four-pot turbocharged engine and wrapped in the slightly less desirable clothes of Golf Mk6, can the new generation Golf R better its predecessor ? It is quite doubtful to me.

Yes, I know the German would not have introduced the new car if it could not achieve higher performance and better handling again. In fact, the Golf R has 270 horsepower and 258 lb-ft of torque on tap, 20 hp and 22 lb-ft more than R32. Its engine comes straight from Audi S3, which means it is based on the older EA113 unit instead of the EA888 of Golf GTI because the latter is not robust enough. Power aside, the four-cylinder turbo engine is lighter than the old V6. In addition to other optimization, the whole car is 70 kg lighter than before. 0-60 mph acceleration is cut by nearly a second to 5.5 seconds. In case of DSG gearbox, the new record is 5.3 seconds compared to the previous 6.2 sec. Although I don't believe such figures can be easily repeated in real world, the new car is still decisively faster than R32 without question. It is greener too, with 199 grams of carbon-dioxide emitted per kilometer, down from 257 g.

What it can't quite emulate is the smoothness, clean throttle response at very low rev and the sound quality of the narrow-angle V6. By the standard of high performance four-cylinder engines, this one is remarkably refined - strangely, more so than the one installed to Audi S3. However, in terms of subjective qualities, a four-cylinder will never match a well-tuned six-cylinder engine, especially is one as good as the old VR6. Sadly, Volkswagen group is phasing out the VR6 for the better of its fleet emission - and by the way save costs. Consequently, the bloodline dated back to the Mk3 Golf VR6 has finally come to an end.

The Golf R also looks less elegant than R32. Its enlarged cooling intakes at both sides of the front bumper look a little rough, and the thin grille (like all Mk6 Golf) is no where as special as the chromed mask of R32. Elsewhere, both cars look similar. Their tails are distinguished from lesser Golfs by centrally-mounted twin-exhaust. Both cars employ 18-inch alloy wheels, one inch larger than GTI's, and larger brakes consisting of 345mm and 310mm discs front and rear. As expected, the suspension is lower and stiffer than GTI's. What's new is the availability of adaptive damping and ACC adaptive chassis control. The latter provides one switch to alter suspension firmness, steering weighting and throttle response altogether.
| | |
| --- | --- |
| | Despite of faster reaction, the new 4motion does not entertain like Evo or STi... |
As before, the most powerful Golf needs all-wheel drive to tame its power, so 4motion is standard. This explains why it is heavier than GTI by 127 kilograms. The latest, fourth generation Haldex multi-plate clutch system is more responsive than the previous one. Previously, its hydraulic pressure was built by a mechanical pump driven by the speed difference between the input and output shafts, so there is no torque transfer when the rear wheels do not slip. The new system functions the same way, but its hydraulic pressure is built by an electric pump and assisted by a high-pressure accumulator so that, when the electronics detect the rear wheels slip, the multi-plate clutch can engage much more quickly with the readily available oil pressure. What it doesn't change is the way it transfers torque in normal condition - without tire slip, all the torque goes to the front wheels.

On the road, the Golf R still feels like a front-wheel drive machine. However, find a twisty road and push it harder, its 4motion starts to make sense. Compare with Golf GTI, it displays slightly less understeer and more enthusiasm to turn into corners. Its added traction and lack of torque steer give you confidence to attack corners at higher pace. Ditto the tighter body control and powerful braking. Nevertheless, the 4motion does not allow 4-wheel drift like Evo or STI. It is not as entertaining to drive as a result. In fact, you may find the lighter, two-wheel-drive Scirocco R deliver a sharper driving experience.

Oddly, the Golf R is more about covering back roads with comfort and refinement of a premium car. Compare with boy racer cars like Ford Focus RS and Renault Megane RS, its ride is smoother and its cabin is much quieter. On highway, its 225/40 tires generate no more noise than the Golf GTI, which is no small achievement. On the downside, the Golf R never feels as fast as it should. Despite of those eye-popping 0-60 mph figures, in real world it doesn't feel as powerful as the aforementioned Ford and Renault. As Autocar magazine found out in a comparison test, it is comprehensively outclassed by its rivals for pure acceleration. CAR magazine questioned whether it is sufficiently better than Golf GTI to justify its £30,000-plus price tag, which is 30 percent dearer before you add the most-wanted leather sports seats and DSG gearbox. The same can be said to the previous R32, but I would say the latter's V6 engine and more elegant design fulfill the job of a premium performance hatch better. The new R, satisfy neither the keenest drivers nor image chasers.
Verdict:




| | |
| --- | --- |
| Published on 27 May 2011 | All rights reserved. |
Golf Cabriolet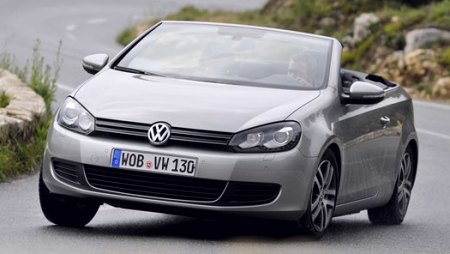 Golf Cabriolet used to be the most popular open-top 4-seater in the world. According to wikipedia, Volkswagen sold over 600,000 units of Golf Cabriolet from 1979 to 2002. This would be seen as a dream come true to any other car makers. Not Volkswagen. Ridiculously, the Golf Cabriolet was never given the internal respect (hence investment) it deserved. One should remember that it was not the own son of Wolfsburg, but the brainchild of Karmann. The latter was also responsible for its assembly throughout the years. Because of the slimmer profit margin, Volkswagen did not find the motivation to update it in sync with the regular Golf. Consequently, the Cabriolet was only ever available in Mk1 and Mk3 body, skipping Mk2 and Mk4. That is why in many people's mind the car was somewhat associated with an outdated image.

Now the situation is over. As Karmann got bankrupted two years ago, Volkswagen took back the initiative of its development and production. It even acquired the Osnabrück plant from Karmann for the assembly of the new Golf Cabriolet, which is based on the latest Mk6 platform. Driving dynamics is guaranteed by its multi-link suspensions, torque-vectoring braking, DSG gearbox, and the excellent range of TSI and TDI engines. Interior build quality is the best in the industry, as you can expect for a Golf variant. Therefore we can concentrate our inspection to the fabric roof system and the chassis conversion from tin top to open top.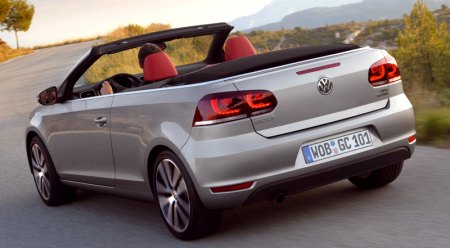 Style-wise, this car is easily the best looking Golf Cabriolet ever. Not only it has a faster and lower windscreen than other Golfs to promote a sportier look, but the roof system is finally integrated flawlessly with the chassis. Previous Golf Cabriolets had a roll-over hoop in place of B-pillars to provide the necessary chassis strength. Looking like a basket handle, it was an eye sore when the roof dropped down. Thanks to the chassis reinforcement at invisible locations, the new car can have the roll-over hoop discarded, leaving a clean shoulder line running straight from the windscreen to the tail. Moreover, unlike Audi A3 Cabriolet and Mini Convertible, the Golf Cabriolet does not have fixed roll-over hoops behind the rear headrests. Its roll-over protection bars are stowed invisibly behind the cabin and pop out only when the car flips. This makes its appearance sleeker and more upmarket than its counterparts, and reminds me of the old Peugeot 306 Convertible.

The engineering of the soft top is beyond criticism. It opens in a remarkable 9.5 seconds, can be operated at speed up to 30 km/h and, when it is up, insulates noise and heat as well as the retractable metal roof of VW Eos. Boot space is a reasonable 250 liters regardless of the position of roof. It eats little into the cabin too. The rear seats are roomy enough for sub-six footers to sit all day, thanks partly to the concave front seatbacks and arm rests. Moreover, the rear seatbacks are properly angled, unlike many so-called 4-seater cabriolets which straight up their seatbacks to make room for soft top storage.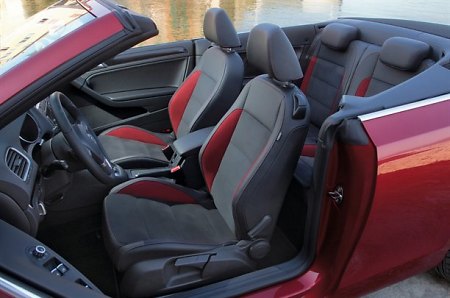 On the road, the driving experience is close to flawless. The structural reinforcement made to windscreen frame, underbody cross members, side panels and doors made the chassis impressively stiff. Apart from a little body flex over poor surfaces and a little earlier appearance of understeer, the Cabriolet handles and rides as well as the hatchback. There is no squeaks and rattles at all. On highway with the roof up, wind, road and suspension noise are subdued. Its quietness and refinement are class-leading.

Furthermore, the conversion from tin top to soft top adds only 140 kg to the kerb weight. This mean a mid-level 1.4 TSI twin-charger engine with 160 horsepower is already sufficient to offer spirited performance, let alone the range-topping 211 hp 2.0 TSI engine. Less demanding drivers may consider the rest of the range: 105hp 1.2 TSI, 105hp 1.6 TDI, 122hp 1.4 TSI and 140hp 2.0 TDI. None of them are pigs.

However, the best news is pricing. Despite of its class-leading roof, refinement and build quality, the Golf Cabriolet still undercuts Eos, A3 Cabriolet and 1-Series Cabriolet by a large margin. That's a lot of car and sophistication for the money ! I have no doubt that it will extend the successful history the last two generations enjoyed. Karmann or not is just irrelevant.

Verdict: