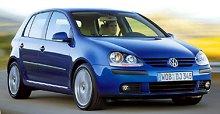 Since its launch in 1974, Golf had been the King of hatchbacks. The first and second generations established its reputation as a well-built, fine handling hatchback. It earned no. 1 sales in Europe and became a benchmark every other rival manufacturers take as. Unfortunately, Volkswagen took the wrong direction in the making of Golf III (1992) and Golf IV (1997) - it put priority on quality instead of driving dynamics, conservative instead of innovative. As a result, Golf became heavy, uninteresting to drive and dull to look. In 1998, Ford introduced a revolutionary hatchback - Focus - and overtook Golf in worldwide sales chart. Meanwhile, Peugeot 206 also beat Golf in the European market. In 2002, Golf's accumulated sales figure finally surpassed the legendary Beetle's, but it had lost its momentum.

In the development of Golf V, Volkswagen rethought the strategy and decided to make it as good to drive as Ford Focus. It took Focus as the benchmark and followed its footprints to switch to multi-link rear suspensions, which is much more sophisticated than the outgoing semi-independent torsion-beam axle. The new suspension geometry allows a higher roll center and better body control - it is stiffer in lateral direction and softer in vertical direction. In this way, body roll is reduced while ride suppleness is improved. The suspension tuning philosophy was also changed. Volkswagen hunted the engineers behind Ford Focus and adopted a strategy similar to the Ford - soft springs / stiff dampers, in contrast to the stiff springs / soft dampers of traditional Volkswagen cars. Volkswagen gets really serious this time.
The new chassis also improves handling and ride. It is built on Volkswagen Group's A5 platform, first introduced by Touran and then Audi A3, and will be shared by many other Seats and Skodas in the future. The new chassis is 80% up in torsional rigidity. This not only reduces NVH but also improves the precision of handling. The A5 platform also employs a new electric power steering for the benefit of lightness, low energy consumption, free of kickback and low price. So, how does it handle and ride in reality?
On the road, the Golf V handles and rides remarkably well - at least in the optional sport suspension setting. The standard suspension setting does not control body movement very well, but the ride is soft and very quiet. Of course, keen drivers must choose the sport setting, which sharpens the chassis and controls body movement as good as Ford Focus. The ride is still refined enough, although not as brilliant as Focus, but the stiffer chassis and superior noise insulation make the Golf far quieter and therefore feeling more expensive.
However, in terms of real talent, Ford Focus is still the one to be beaten. Its hydraulic steering feels super communicative. In contrast, Golf's electric steering lacks feel, although it is precise, well-weighted and free of road shock and vibration - just like sister car Audi A3. Attack a corner, Golf still biases more towards understeer compared with Focus, but you know this is the character of all Volkswagen products. Anyway, the new Golf has finally re-established itself as a fun-to-drive car. Good news.
Volkswagen admitted the 4-link suspension is expensive, but it is essential to make Golf V matching the handling and ride of Focus. It would rather save some money elsewhere, such as the cabin. Yes, the Golf V's interior is no longer as expensive as Golf IV. For instance, the lower half of the dashboard is made of hard plastic, leaving only the upper half as soft-touch plastic. This is still a nice cabin, feeling more expensive than most rivals, however. Better news is that the cabin is now roomier, especially at the back, being noticeably roomier than Renault Megane and marginally better than Focus. Strangely, the Golf's wheelbase is shorter than them, but its extra width and height and better use of space allow it to offer more legroom, shoulder room and headroom to the rear passengers. Well done!
Externally, the new generation Golf is again bigger than its predecessor - 5.7cm longer, 2.4cm wider, 3.9cm taller and its wheelbase is 6.7cm longer. (Seems that the trend of growth is unstoppable.) The new body is smoother, sleeker and more dynamic than the conservative Mk IV, but drag coefficient of 0.32 is not exactly remarkable.
In the Golf V, we can see Volkswagen has renewed its whole line of 4-cylinder engines. The old 1.8-litre 5-valve-per-cylinder engine and its turbocharged version have finally gone. Ditto the strange 2.3-litre V5, whose market positioning was always embarrassing. In place of them is a range of new FSI direct-injection petrol engines. FSI technology gives them an advantage over rivals in terms of fuel economy. The base 1.4FSI pumps out 100hp. 1.6FSI pumps out a remarkable 115hp. It is the 16-valve version of the aluminium-block unit being used by A3. Variable intake manifolds enhance torque delivery. 2.0FSI is the same as A3's, with variable intake manifolds and twin-balancer shafts. Most people will find the 1.4FSI underpowered, 1.6FSI too noisy and therefore prefer the extra punch and smoothness of the 2.0FSI. However, performance chasers will love the 250hp 3.2-litre VR6 to be launched later. Its performance will surpass the Mk IV's 2.8 VR6 and match the outgoing R32.
In the diesel side, Volkswagen also gives Golf V some strong diesel engines. Like A3, there is a 105hp 1.9TDI 8V and 140hp 2.0TDI 16V to choose from. From 2005, they will be toppled by a 175hp 2.5TDI. Volkswagen's diesel engines always provide strong power and torque. What a pity their refinement does not match the best rivals, say, Fiat group's Multijet family and Ford/PSA's TDCi / HDi series.
Nevertheless, in terms of transmission, Golf is a clear winner. Most of the models are offered with a 6-speed manual gearbox, while the incredibly smooth 6-speed DSG double-clutch transmission is available on 2.0FSI and 2.0TDI and will be compulsory on 3.2 V6.
Overall speaking, Golf is a better, more modern hatchback than Ford Focus - our winner of the class for the past 5 years. It is roomier, quieter and feels more expensive. It has better engines and drivetrains. Now it even rides and handles close to the level of Focus. Its talents finally matches its reputation.