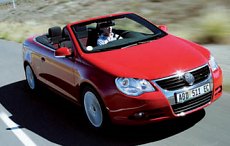 Eos is the Greek Goddess of dawn. Volkswagen uses this romantic name to represent its first coupe-cabriolet. However, most people know it is actually a Golf Coupe-Cabriolet. Although no body panels bar the grille are shared between them, Eos shares the same wheelbase, the same engines, gearboxes, steering and even the same dashboard with Golf. Volkswagen would argue that its suspension bits come from Passat, but what it didn't say is that the suspensions of Passat were also derived from Golf's – the only difference is track width. So, Eos runs wider tracks than Golf, otherwise it is every bit a Golf Coupe-Cabriolet.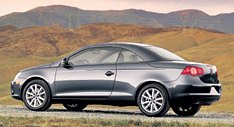 The engines available include the familiar 115hp 1.6 FSI, 150hp 2.0 FSI, 200hp 2.0 TFSI turbo, 250hp 3.2 VR6 and 140hp 2.0 TDI turbo diesel. Transmission could be either 6-speed manual or 6-speed DSG. All Eos are front-wheel-drive, including the most powerful V6, because the extra underfloor reinforcement underneath the B and C pillars rob the space for usual Haldex 4WD system.

Like Volvo C70 and Opel Astra TwinTop, the Eos employs a more advanced folding roof consisting of 2 horizontal pieces, 1 rear screen and 2 side frames. This makes the roof more compact to store, thus save the requirement for an extra-long boot. Besides, the longer horizontal section means the windscreen does not need to tilt close to the driver's head. The folding roof mechanism is supplied by Oasys (like Volvo C70). It must be very expensive, because it is a full-length panoramic glass roof with a sliding sun roof incorporated – none of its rivals got this feature. The roof opens and closes by electric motors in 25 seconds.


While the roof seems more upmarket than rivals, the cabin is not as spacious as Volvo C70 (admittedly, the latter is more expensive). The short wheelbase of Golf compromises rear legroom while the upright seatback is uncomfortable. The chassis reinforcement eats 250mm into the width of the rear seats. Therefore the rear seats are not suitable for adults for long journey.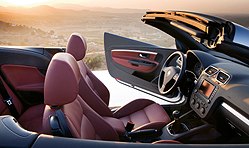 The handling and ride characteristic is typical Volkswagen style – lots of grip, safe and mild understeer. Eos employs softer springs and dampers than the Golf, so it rolls more in corners, but rides comfortably. The chassis is rigid by the standard of coupe-cabriolet. The 2.0 FSI turbo engine suits the Eos best, as it provides plenty of bottom-end torque to pull the heavy car, while its superb refinement enhances the relax feel when the driver is enjoying open air motoring.

However, the Eos is not cheap. Like other Volkswagen products, it charges premium price for the same specifications as its mainstream rivals. Judging from its high-standard refinement and quality, it may worth that extra money. Volkswagen used to successfully establish a niche status for its Golf Cabriolet, so it does not bother to compete with rivals on price.